Peace Initiative: Etc.
Peace Project: Etc.
Publish Date:
17th January, 2018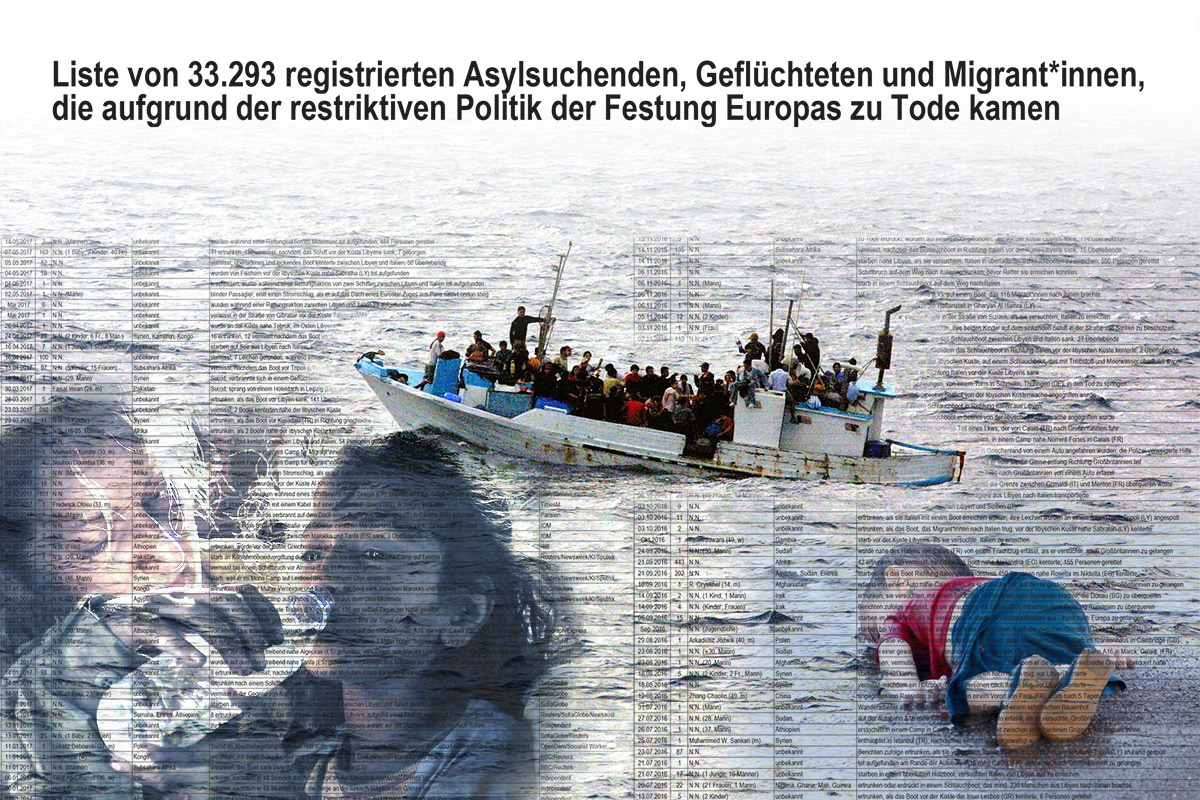 "On September 2, 2015 a three-year-old Syrian refugee, Aylan Kurdi, was found lying on the beach in Bodrum, Turkey."

"On October 21, 2016, a young refugee from Somalia who came to Germany to seek asylum and begin a new life in Europe was convinced by Neo-Nazis to throw himself from a tower block in Schmoelln, eastern Germany."
These two children, as well as millions of other refugees, fled from their hometowns in order to avoid war, fear and hunger and sought a new life in another country where they could find freedom and peace. However, many of those who left, filled with the hope of a brighter future, were left stranded onboard boats, and some were finally pushed into the cold sea where their precious lives were taken and their dreams forever buried.
Germany's daily newspaper Tagesspiegel has posted a list of the refugees, numbering 33,293, who died on the way to Europe from 1993 to May of this year, covering a total of 46 pages. Among these refugees, there were some instances of special circumstances surrounding their deaths, but most of them drowned in the Mediterranean Sea during their fateful journey. Even for those who had managed to make it to shore on the European mainland, there was only an even more terrible death awaiting them. Many refugees were sold as slaves through human trafficking auctions, some froze under harsh weather conditions, some were killed by violence, and still others lost their lives at refugee detention centers.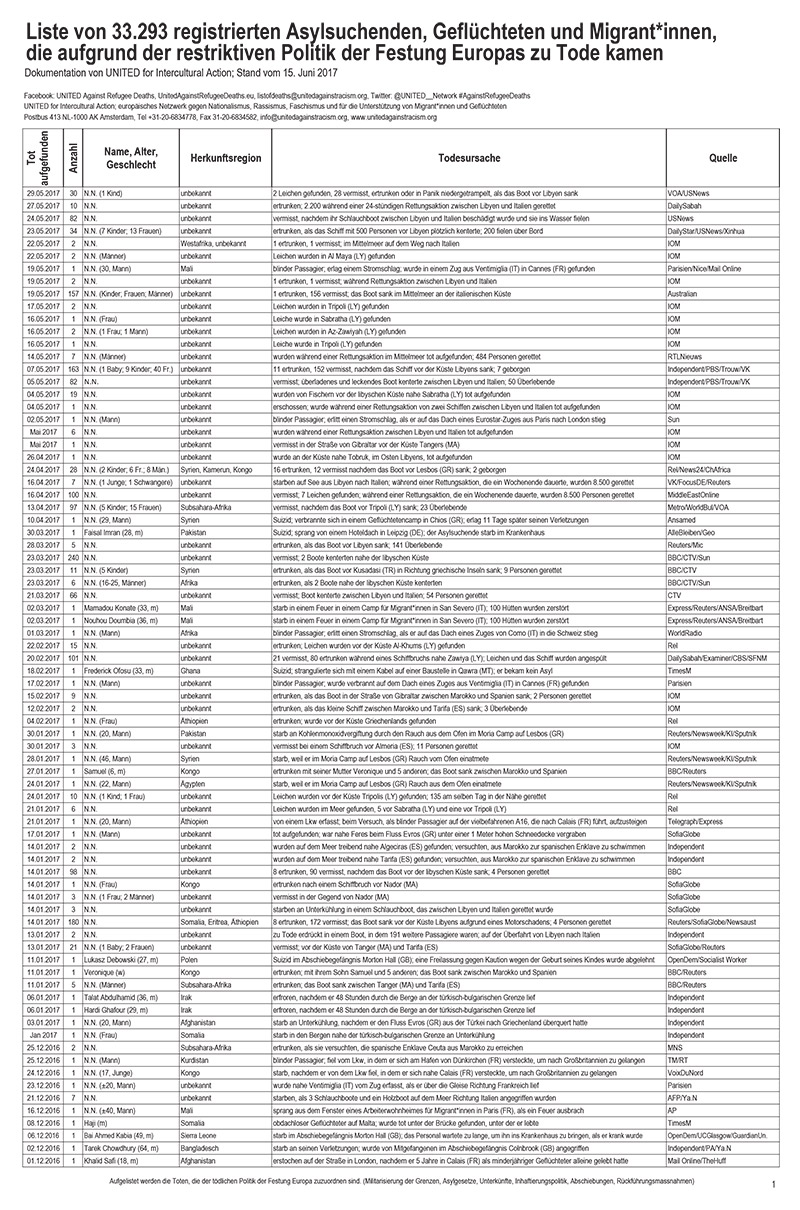 A PDF file listing all the refugee deaths can be found on the homepage of the German Daily Tagesspiegel
"We wanted to leave a record of asylum seekers, refugees and immigrants who were killed by the border control policies both within and outside the borders of the European continent." This statement was given by Tagesspiegel in light of the fact that the list of refugees around the world is getting longer and longer each moment. In an age that claims to be free of borders, millions of people are forced to live outside the traditional borders of their home countries. They flee from the horrors of hunger, drought and war that exist in their homeland which clearly reveals that people recognize refugees only as much as they do and the seriousness of the situations are created by the dismissal of the international community.
According to the International Organization for Migration (IOM), from earlier this year, about 3,033 people are reported as dead or missing from the Mediterranean Sea, and this report of the 3,033 Mensch (Men) was published on the Tagesspiegel Newspaper's official Facebook page "Spiegel Online".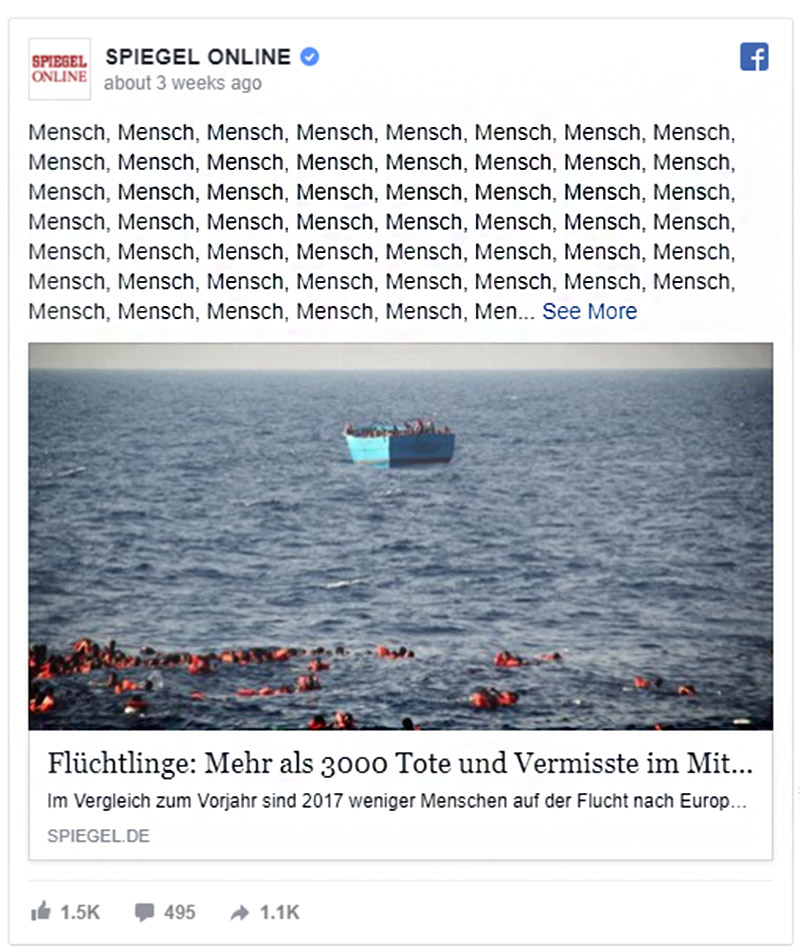 Although Europe's concerns and worries about the potential burden of accepting refugees, including an increased economic burden and anti-immigrant sentiment among the citizens, are continuing to increase, there are still many refugees that go on the long journey in search of freedom and peace and cross the sea that they cannot return from. Now, people around the world are responding positively to the position of Tagesspiegel, which has given a name to each person, one by one, with the intention of remembering each of them.
So far neither the state nor the law has been able to compensate for the lost lives of these victims. However, the most important thing that must occur even before compensation can be discussed, is that war and terrorism, the root causes of the increase in refugees, must be eliminated. As we are now living in the time when the tragedies occurring in the Mediterranean Sea are still ongoing, we must ensure that we have sufficient policies and proper enforcement powers to resolve this issue completely.
We must not pass on the current reality of these refugees to our descendants and we must ensure that there are no more names added to the list of the 33,293 refugees who lost their lives in the quest for peace.