Conflict-Awareness and the Implementation of Peace Education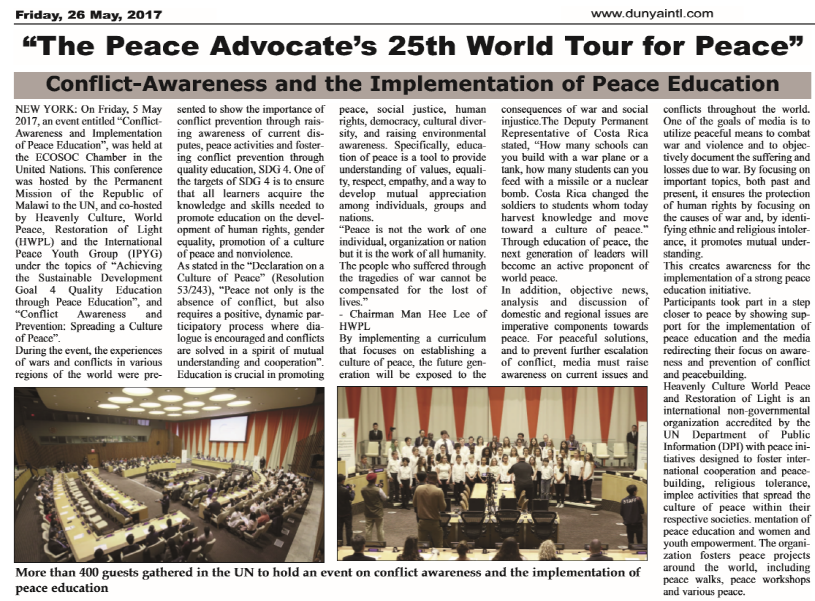 Conflict-Awareness and the Implementation of Peace Education
More than 400 guests gathered in the UN to hold an event on conflict awareness and the implementation of peace education.
On Friday, 5 May 2017, an event entitled ¡°Conflict-Awareness and Implementation of Peace Education¡±, was held at the ECOSOC Chamber in the United Nations. This conference was hosted by the Permanent Mission of the Republic of Malawi to the UN, and co-hosted by Heavenly Culture, World Peace, Restoration of Light (HWPL) and the International Peace Youth Group (IPYG) under the topics of ¡°Achieving the Sustainable Development Goal 4 Quality Education through Peace Education¡±, and ¡°Conflict Awareness and Prevention: Spreading a Culture of Peace¡±.
During the event, the experiences of wars and conflicts in various regions of the world were presented to show the importance of conflict prevention through raising awareness of current disputes, peace activities and fostering conflict prevention through quality education, SDG 4. One of the targets of SDG 4 is to ensure that all learners acquire the knowledge and skills needed to promote education on the development of human rights, gender equality, promotion of a culture of peace and nonviolence.
As stated in the ¡°Declaration on a Culture of Peace¡± (Resolution 53/243), ¡°Peace not only is the absence of conflict, but also requires a positive, dynamic participatory process where dialogue is encouraged and conflicts are solved in a spirit of mutual understanding and cooperation¡±. Education is crucial in promoting peace, social justice, human rights, democracy, cultural diversity, and raising environmental awareness. Specifically, education of peace is a tool to provide understanding of values, equality, respect, empathy, and a way to develop mutual appreciation among individuals, groups and nations.
¡°Peace is not the work of one individual, organization or nation but it is the work of all humanity. The people who suffered through the tragedies of war cannot be compensated for the lost of lives.¡± – Chairman Man Hee Lee of HWPL
By implementing a curriculum that focuses on establishing a culture of peace, the future generation will be exposed to the consequences of war and social injustice.The Deputy Permanent Representative of Costa Rica stated, ¡°How many schools can you build with a war plane or a tank, how many students can you feed with a missile or a nuclear bomb. Costa Rica changed the soldiers to students whom today harvest knowledge and move toward a culture of peace.¡± Through education of peace, the next generation of leaders will become an active proponent of world peace.
In addition, objective news, analysis and discussion of domestic and regional issues are imperative components towards peace. For peaceful solutions, and to prevent further escalation of conflict, media must raise awareness on current issues and conflicts throughout the world. One of the goals of media is to utilize peaceful means to combat war and violence and to objectively document the suffering and losses due to war. By focusing on important topics, both past and present, it ensures the protection of human rights by focusing on the causes of war and, by identifying ethnic and religious intolerance, it promotes mutual understanding. This creates awareness for the implementation of a strong peace education initiative.
Participants took part in a step closer to peace by showing support for the implementation of peace education and the media redirecting their focus on awareness and prevention of conflict and peacebuilding.
Heavenly Culture World Peace and Restoration of Light is an international non-governmental organization accredited by the UN Department of Public Information (DPI) with peace initiatives designed to foster international cooperation and peacebuilding, religious tolerance, implee activities that spread the culture of peace within their respective societies.
mentation of peace education and women and youth empowerment. The organization fosters peace projects around the world, including peace walks, peace workshops and various peace.