"Talk & Walk to Prevent Violent Extremism" in SADC"
Link : https://southernafrican.news/2017/05/31/talk-walk-to-prevent-violent-extremism-in-sadc/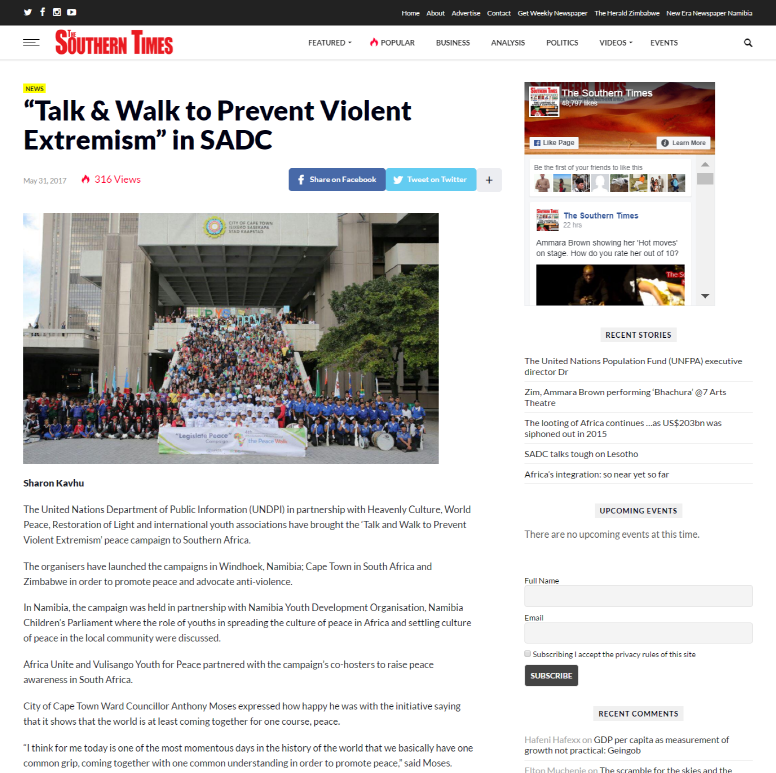 Sharon Kavhu
The United Nations Department of Public Information (UNDPI) in partnership with Heavenly Culture, World Peace, Restoration of Light and international youth associations have brought the 'Talk and Walk to Prevent Violent Extremism' peace campaign to Southern Africa.
The organisers have launched the campaigns in Windhoek, Namibia; Cape Town in South Africa and Zimbabwe in order to promote peace and advocate anti-violence.
In Namibia, the campaign was held in partnership with Namibia Youth Development Organisation, Namibia Children's Parliament where the role of youths in spreading the culture of peace in Africa and settling culture of peace in the local community were discussed.
Africa Unite and Vulisango Youth for Peace partnered with the campaign's co-hosters to raise peace awareness in South Africa.
City of Cape Town Ward Councillor Anthony Moses expressed how happy he was with the initiative saying that it shows that the world is at least coming together for one course, peace.
"I think for me today is one of the most momentous days in the history of the world that we basically have one common grip, coming together with one common understanding in order to promote peace," said Moses.
"When I look at this event, I see how people can interact with a common goal in mind which is peace. I think it is very important, that someone needs to take the stand for world peace especially the youth. The youth are no longer the youth of tomorrow but are already in action.
"The Declaration of World Peace is a basic human right for people to live in freedom. It is important that organizations, institutions, government and even the private and public sector so that we can live in a world where we feel that we are free, where there are opportunities for people but we also live within this day. What is of fundamental importance is how relational this peace is. We can have one day session and everybody is gone but I think it needs to be a continuation where we can take the youth to the next level and also how we can interact with different stake holders to promote peace within our world."
In a statement, the peace campaign organisers said violence extremism has negatively affected the stability and prosperity of the globe.
"Today's global community is facing widespread extremism that accompanies violence with radical views, which has become a great concern on stability and prosperity of the globe," highlighted the statement.
"National governments around the world have responded to the contemporary issues of extremism by domestic policies and international cooperation on security and education. Along with the national efforts, international NGOs are organizing campaigns to raise public awareness on the need for peace and tolerance and further to prevent violent extremism."
The 'Walk and Talk to Prevent Violent Extremism' peace campaign was held in various regions of 85 cities in 43 countries including Beijing, New York, Paris, Seoul, Sydney, and Tokyo from the 19th of May to date.