NGOs Hold a Campaign on "Talk & Walk to Prevent Violent Extremism" for a Culture of Peace
Link : http://albaiulianul.ro/international/item/6520-ngos-hold-a-campaign-on-talk-walk-to-prevent-violent-extremism-for-a-culture-of-peace.html#itemCommentsAnchor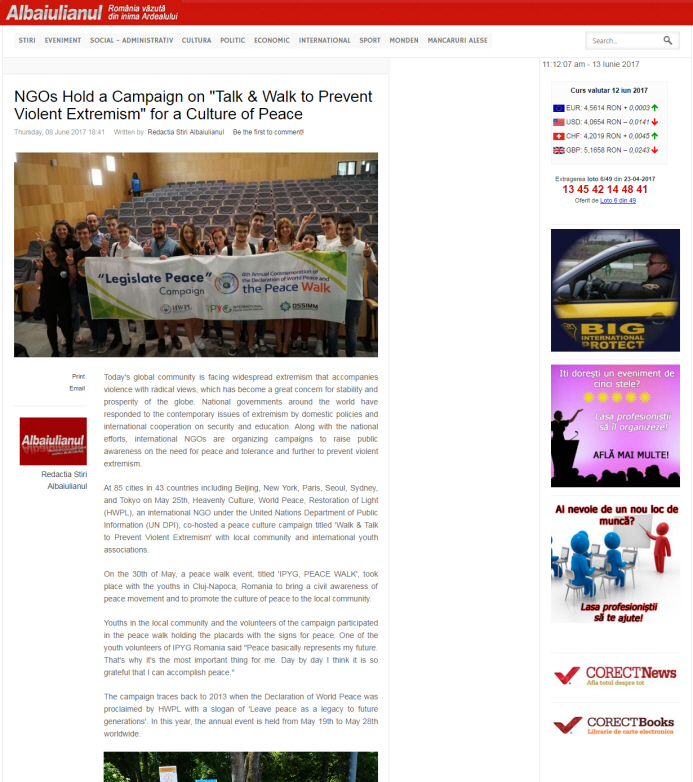 Today's global community is facing widespread extremism that accompanies violence with radical views, which has become a great concern for stability and prosperity of the globe. National governments around the world have responded to the contemporary issues of extremism by domestic policies and international cooperation on security and education. Along with the national efforts, international NGOs are organizing campaigns to raise public awareness on the need for peace and tolerance and further to prevent violent extremism.
At 85 cities in 43 countries including Beijing, New York, Paris, Seoul, Sydney, and Tokyo on May 25th, Heavenly Culture, World Peace, Restoration of Light (HWPL), an international NGO under the United Nations Department of Public Information (UN DPI), co-hosted a peace culture campaign titled 'Walk & Talk to Prevent Violent Extremism' with local community and international youth associations.
On the 30th of May, a peace walk event, titled 'IPYG, PEACE WALK', took place with the youths in Cluj-Napoca, Romania to bring a civil awareness of peace movement and to promote the culture of peace to the local community.
Youths in the local community and the volunteers of the campaign participated in the peace walk holding the placards with the signs for peace. One of the youth volunteers of IPYG Romania said "Peace basically represents my future. That's why it's the most important thing for me. Day by day I think it is so grateful that I can accomplish peace."
The campaign traces back to 2013 when the Declaration of World Peace was proclaimed by HWPL with a slogan of 'Leave peace as a legacy to future generations'. In this year, the annual event is held from May 19th to May 28th worldwide.