May 25 becomes a Day of Peace around the world
Link : http://www.indiannewslink.co.nz/may-23-becomes-a-day-of-peace-around-the-world/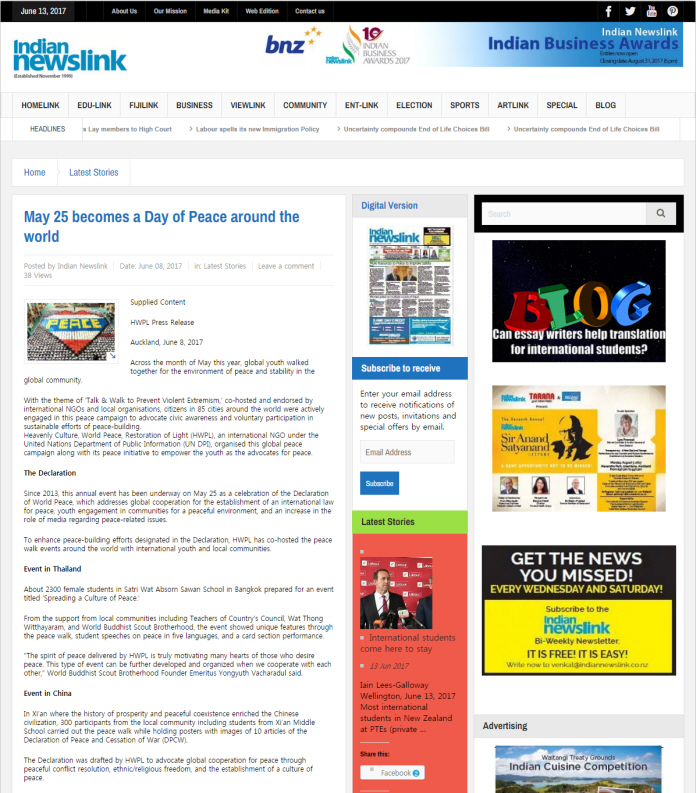 Across the month of May this year, global youth walked together for the environment of peace and stability in the global community.
With the theme of 'Talk & Walk to Prevent Violent Extremism,' co-hosted and endorsed by international NGOs and local organisations, citizens in 85 cities around the world were actively engaged in this peace campaign to advocate civic awareness and voluntary participation in sustainable efforts of peace-building.

Heavenly Culture, World Peace, Restoration of Light (HWPL), an international NGO under the United Nations Department of Public Information (UN DPI), organised this global peace campaign along with its peace initiative to empower the youth as the advocates for peace.
The Declaration
Since 2013, this annual event has been underway on May 25 as a celebration of the Declaration of World Peace, which addresses global cooperation for the establishment of an international law for peace, youth engagement in communities for a peaceful environment, and an increase in the role of media regarding peace-related issues.
To enhance peace-building efforts designated in the Declaration, HWPL has co-hosted the peace walk events around the world with international youth and local communities.
Event in Thailand
About 2300 female students in Satri Wat Absorn Sawan School in Bangkok prepared for an event titled 'Spreading a Culture of Peace.'
From the support from local communities including Teachers of Country's Council, Wat Thong Witthayaram, and World Buddhist Scout Brotherhood, the event showed unique features through the peace walk, student speeches on peace in five languages, and a card section performance.
"The spirit of peace delivered by HWPL is truly motivating many hearts of those who desire peace. This type of event can be further developed and organized when we cooperate with each other," World Buddhist Scout Brotherhood Founder Emeritus Yongyuth Vacharadul said.
Event in China
In Xi'an where the history of prosperity and peaceful coexistence enriched the Chinese civilization, 300 participants from the local community including students from Xi'an Middle School carried out the peace walk while holding posters with images of 10 articles of the Declaration of Peace and Cessation of War (DPCW).
The Declaration was drafted by HWPL to advocate global cooperation for peace through peaceful conflict resolution, ethnic/religious freedom, and the establishment of a culture of peace.
In his congratulatory speech, Liu Li, Vice President of Xi'an Middle School said, "Today, this event is globally hosted throughout the world with a common voice of peace. Peace, development, and education are the main projects in the globe today, and it is meaningful and honorable that all of us can be part of the project."
Event in South Africa
On May 27, 800 youth were gathered at Civic Centre, Albert Luthuli Plaza in Cape Town to celebrate the 4th Commemoration of the Declaration of World Peace and Africa Day.
Cape Town City Ward Councilor Antony Moses highlighted the role of youth in social campaigns to bring out positive changes.
"I think today is one of the most momentous days in the history of the world, in that we basically have one common grip, coming together with one common understanding to promote peace. We see the diversity and how people can interact with a common goal in mind, which is peace. Someone needs to take the stand for world peace, especially the youth. The youth are no longer the youth of tomorrow but are already in action," he said.
Event in South Sudan
Having deep scars of national conflicts from the devastating civil wars for decades, with 300,000 deaths and 2.7 million refugees, the new, young state of South Sudan was the very result of the hope of peace and stability, with the majority support of 99% for independence in the region.
With the help of the UN Refugee Camp and Community Aid for Relief and Development Organization (CARDO), 5000 community members from government, school, business, and NGOs participated in the peace walk held in two different venues on May 25, and exchanged cards with messages of peace made by local students.
As Peace Project Officer from National Development Initiative, Makoy Yuahnis Kuong said, "Embracing peace is our duty. We hope that leaders can listen to the voice of the people crying for peace. As long as we have the power to do so, we must continue to encourage and support peace activities like this peace walk."
Event in Germany
In Frankfurt, on May 27, the peace walk event held at Romer Plaza and Willy-Brandt Plaza displayed culturally colorful features.
It included a drum performance, photo session, face-painting, and a flash mob, which all attracted citizens to be more aware of the peace campaign offering easy access to civic participation in peace building.
Gernot Lennert, Research Director of German Peace Society (DFG-VK), enunciated the significance of this approach, saying, "It was fresh that HWPL does the peace movement very brightly and cheerfully. I will study and research about HWPL and (its peace initiative of) the international law much more. I want to make peace through co-working with HWPL."
Event in Republic of Korea
Every year since 2013, international youth and local citizens in major cities of South Korea gather to walk for peace.
The Declaration of World Peace was announced by Chairman Man Hee Lee of HWPL, as the beginning of a global campaign for peace building initiatives.
This Declaration was accompanied by 30,000 people marching for peace, and has become an example of advocacy for peace by citizens which many peace walk events in other countries model themselves on.
In his congratulatory speech, Chairman Lee emphasised the importance of individual contribution to peace to "make an end to war and establish a world of peace as a legacy for future generations, which is the very task of every one of our global family."