Korean peace group lauds global peace walk vs violent extremism
Link : http://www.businessmirror.com.ph/korean-peace-group-lauds-global-peace-walk-vs-violent-extremism/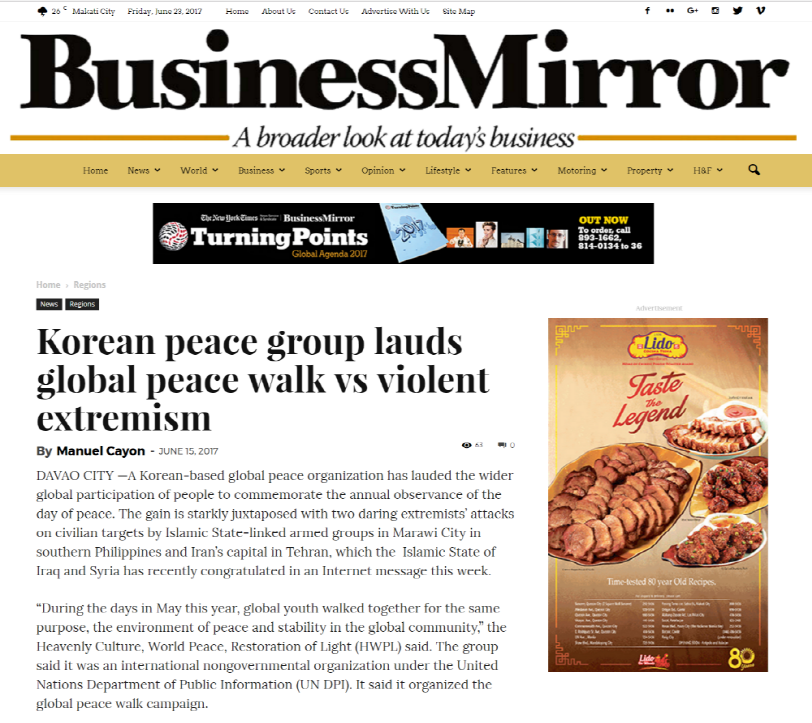 DAVAO CITY —A Korean-based global peace organization has lauded the wider global participation of people to commemorate the annual observance of the day of peace. The gain is starkly juxtaposed with two daring extremists' attacks on civilian targets by Islamic State-linked armed groups in Marawi City in southern Philippines and Iran's capital in Tehran, which the Islamic State of Iraq and Syria has recently congratulated in an Internet message this week.
"During the days in May this year, global youth walked together for the same purpose, the environment of peace and stability in the global community," the Heavenly Culture, World Peace, Restoration of Light (HWPL) said. The group said it was an international nongovernmental organization under the United Nations Department of Public Information (UN DPI). It said it organized the global peace walk campaign.
The HWPL said "citizens in 85 cities around the world have actively engaged in this peace campaign to advocate civic awareness and voluntary participation in sustainable efforts of peacebuilding".
The group said it started the campaign in 2013 to commemorate every May 25 the International Declaration of World Peace.
Last month it said 2,300 Thai female students in Satri Wat Absorn Sawan School in Bangkok joined a peace walk, heard speeches in five languages and presented their messages through their prepared cards. They were also joined by teachers of Country's Council, Wat Thong Witthayaram and members of the World Buddhist Scout Brotherhood.
"The spirit of peace delivered by HWPL is truly motivating many hearts of those who desire peace. This type of event can be further developed and organized when we cooperate with each other," the HWPL quoted Emeritus Yongyuth Vacharadul, founder of World Buddhist Scout Brotherhood, as saying.