NGOs conduct peace project for ethnic harmony
Link : http://www.pajhwok.com/en/2017/05/02/ngos-conduct-peace-project-ethnic-harmony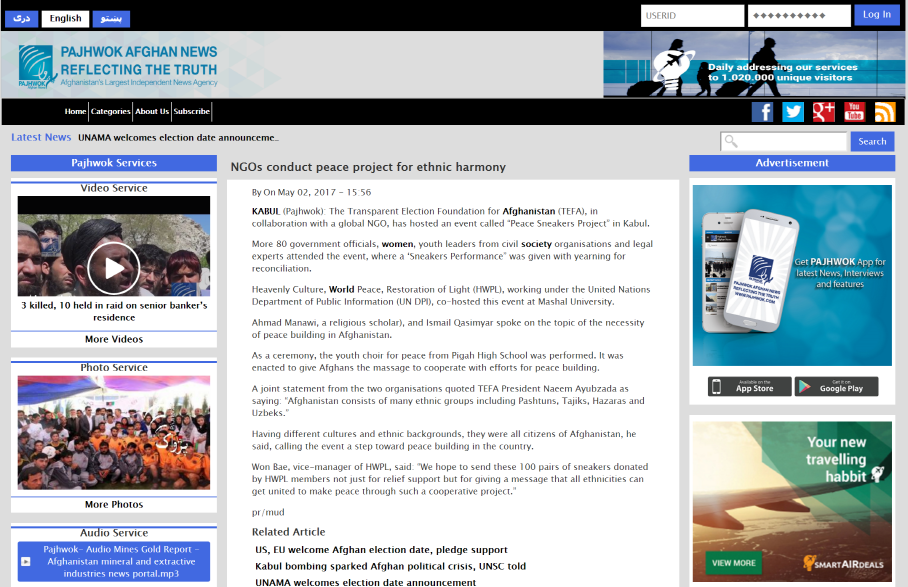 KABUL(Pajhwok): The Transparent Election Foundation for Afghanistan(TEFA), in collaboration with a global NGO, has hosted an event called "Peace Sneakers Project" in Kabul.
More 80 government officials, women, youth leaders from civil society organisations and legal experts attended the event, where a 'Sneakers Performance" was given with yearning for reconciliation.
Heavenly Culture, Wolrd Peace, Restoration of Light (HWPL), working under the United Nations Department of Public Information (UN DPI), co-hosted this event at Mashal University.
Ahmad Manawi, a religious scholar), and Ismail Qasimyar spoke on the topic of the necessity of peace building in Afghanistan.
As a ceremony, the youth choir for peace from Pigah High School was performed. It was enacted to give Afghans the massage to cooperate with efforts for peace building.
A joint statement from the two organisations quoted TEFA President Naeem Ayubzada as saying: "Afghanistan consists of many ethnic groups including Pashtuns, Tajiks, Hazaras and Uzbeks."
Having different cultures and ethnic backgrounds, they were all citizens of Afghanistan, he said, calling the event a step toward peace building in the country.
Won Bae, vice-manager of HWPL, said: "We hope to send these 100 pairs of sneakers donated by HWPL members not just for relief support but for giving a message that all ethnicities can get united to make peace through such a cooperative project."