Afghan CSOs collaborate with the International Peace NGO to raise Awareness the International Law for Peace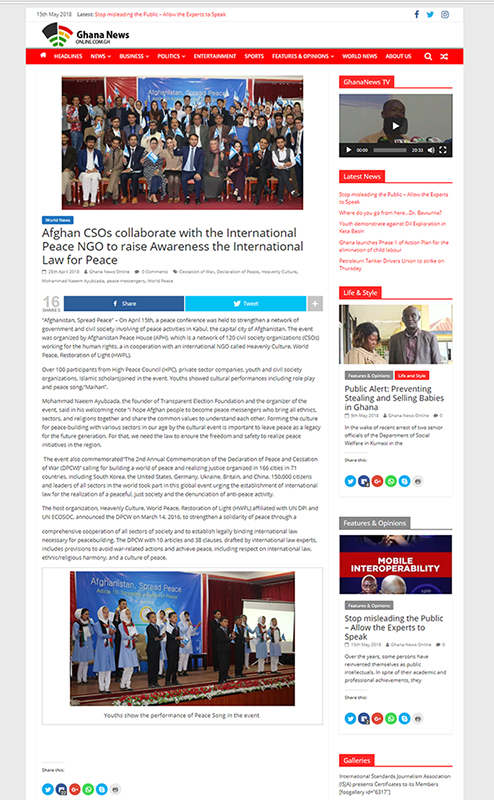 Afghan CSOs collaborate with the International Peace NGO to raise Awareness the International Law for Peace
"Afghanistan, Spread Peace" – On April 15th, a peace conference was held to strengthen a network of government and civil society involving of peace activities in Kabul, the capital city of Afghanistan. The event was organized by Afghanistan Peace House (APH), which is a network of 120 civil society organizations (CSOs) working for the human rights, a in cooperation with an international NGO called Heavenly Culture, World Peace, Restoration of Light (HWPL).
Over 100 participants from High Peace Council (HPC), private sector companies, youth and civil society organizations, Islamic scholarsjoined in the event. Youths showed cultural performances including role play and peace song,"Maihan".
Mohammad Naeem Ayubzada, the founder of Transparent Election Foundation and the organizer of the event, said in his welcoming note "I hope Afghan people to become peace messengers who bring all ethnics, sectors, and religions together and share the common values to understand each other. Forming the culture for peace-building with various sectors in our age by the cultural event is important to leave peace as a legacy for the future generation. For that, we need the law to ensure the freedom and safety to realize peace initiatives in the region.
The event also commemorated"The 2nd Annual Commemoration of the Declaration of Peace and Cessation of War (DPCW)" calling for building a world of peace and realizing justice organized in 166 cities in 71 countries, including South Korea, the United States, Germany, Ukraine, Britain, and China. 150,000 citizens and leaders of all sectors in the world took part in this global event urging the establishment of international law for the realization of a peaceful, just society and the denunciation of anti-peace activity.
The host organization, Heavenly Culture, World Peace, Restoration of Light (HWPL) affiliated with UN DPI and UN ECOSOC, announced the DPCW on March 14, 2016, to strengthen a solidarity of peace through a comprehensive cooperation of all sectors of society and to establish legally binding international law necessary for peacebuilding. The DPCW with 10 articles and 38 clauses, drafted by international law experts, includes provisions to avoid war-related actions and achieve peace, including respect on international law, ethnic/religious harmony, and a culture of peace.