1. Signing MOU/MOA on Peace Education
Currently, HWPL has signed MOUs with 314 institutions and schools around the world including India, USA, and the Philippines for the implementation of peace education. Also, MOAs have been signed with 13 countries including Guatemala and Ethiopia as well as education ministries to prepare for peace education at a governmental level.
Status of Countries that Signed MOA/MOU on Peace Education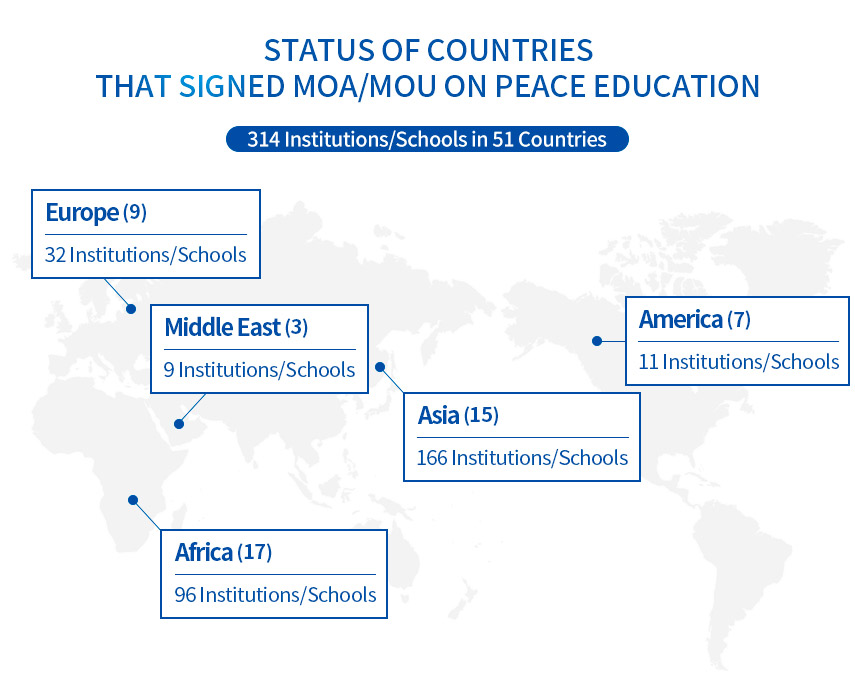 2. Training Peace Educators
Education should not just end in terms of delivering knowledge, but should continue to examine, teach, and help students until they make their own everything they have learned. For this, HWPL appoints local teachers and professors as peace educators and provide training to them regularly.
3. Peace Education Webinar
The Peace Education Webinar, which anyone interested in peace education can participate in, is a platform to share the current status of peace education and various ideas of peace educators around the world. Through various webinars conducted in different countries or even continents, they share news about peace education as well as various educational methods.
4. Peace Education Campaign
To overcome the public education crisis, educational inequality, and problem of student alienation caused by pandemic, HWPL is conducting the #TeachingGoesOn campaign with teachers all over the world. Through the campaign, they sympathize that the driving force behind the global education crisis lies with teachers who are the backbone of education, deliver consolation and love to teachers around the world, and discuss various ways to support teachers to overcome the crisis without losing courage. Even though schools are closed and have changed to online classes, teachers and students are getting closer by expressing love and trust to each other in various ways.