2021 Webinar for Sustainable Peace Activities
From 17 November to 30 November, HWPL and many countries united for the purpose of sustainable peace development after the pandemic in 2021, proposed peace activities necessary for each country, and discussed development plans for current activities. Amongst various difficulties that arose due to the pandemic, those who met online after a month received sincere comfort and encouragement from one another as they understood each other's national situation.
1. 2021 Proposal for Sustainable Peace Action (*https://ask.un.org/faq/203718)
During the online meeting, the peace messengers had an opportunity to propose peace activities that could be practiced in each respective country or city during the COVID-19 pandemic. Some of them will be introduced at this time.

At a meeting with India, the United States, Sri Lanka, Liberia, Gambia, Comoros, and Sierra Leone, Syed Abdullah Tariq — the President of the World Organization of Religions and Knowledge — proposed peace education at an educational institution he operated. Mr. Siju Thomas Daniel, the Founder of the SCEAD foundation, gave a presentation on creating a platform for HWPL peace activities and peace education through global technology utilization.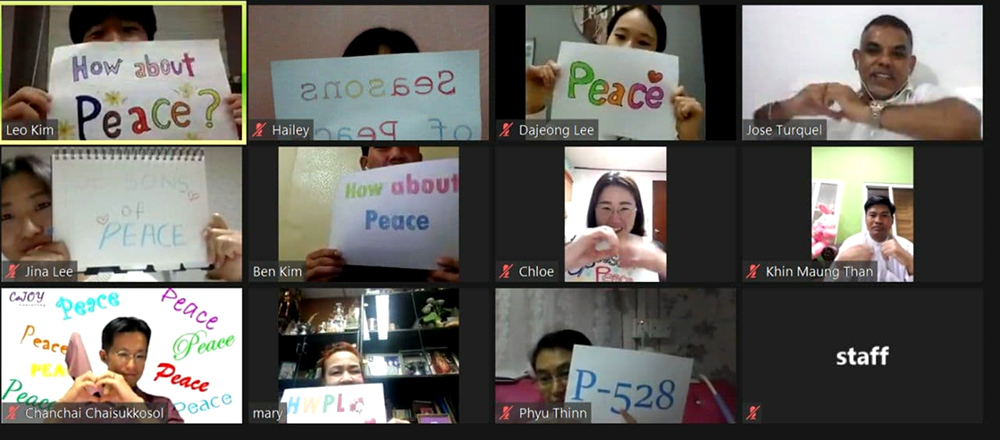 The meeting with Sudan, Rwanda, South Sudan, East Timor, Myanmar, and Thailand discussed methods to make known the importance of peace to the rest of the world. They presented ideas for various peace projects, such as posting peace interviews of their individual citizens on social media, peace theater performances for conflict zones, peace workshops for community leaders, peace seminars for all societal classes, and national solidarity building seminars for peace. Together, they emphasized the importance of fostering peaceful citizens by spreading a culture of peace.
Ibrahim Yusuk Is'hag, Executive Director for Darfur Organization for Humanitarian and Legal Aid, appealed and stated, "As you know Sudan is the most affected country in Africa by war and conflicts. Sudan is in need of peace building activities. Building peace needs both local and international mechanisms. For the international mechanism, HWPL peace activities should be continued in my country Sudan."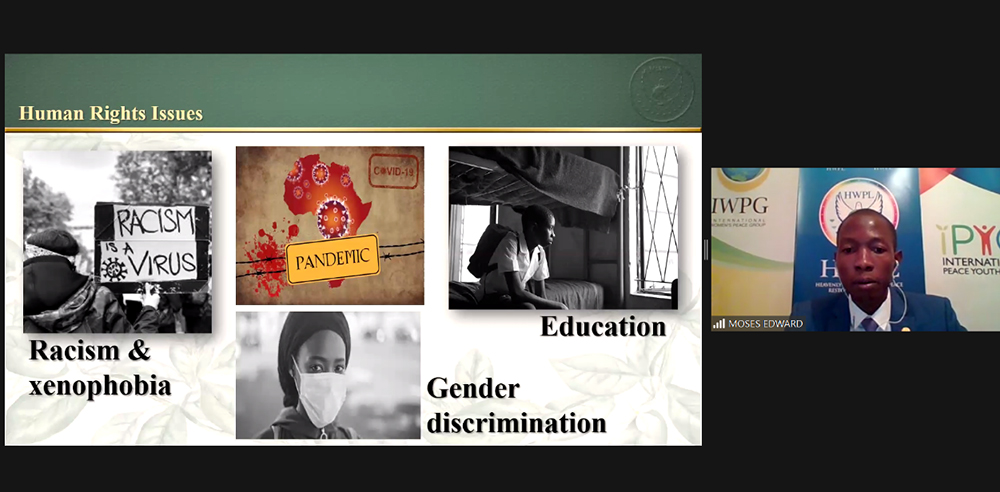 The meeting with Kenya, Uganda, and Cambodia held a question-and-answer session after conducting an awareness survey regarding human rights. The participants shared their opinions regarding issues related to human rights, sought solutions, and set plans for future activities. Ms. Lyndah Mwaura, the Program Leader for Leona Foundation, stated, "As International NGOs, there is a need for more digitized human rights campaigns and possibly working with the community members in this campaign" and she presented activities centered around human rights that could be approached and worked on by the experts of each section.
Mr. Makau Peter Kithuka, an Advocate for the High Court of Kenya, stated that "during the Covid-19 period, the importance of upholding human rights cannot be overstated. Human rights safeguards under international law should not be subservient to municipal laws. Respect for human rights should be reflected in how States enforce various Covid-19 containment measures i.e. quarantine, lockdowns (cessation of movement into and out of designated areas and curfews). Failure to uphold human rights during Covid-19 is a time bomb with the potential to breach peace as has been witnessed in many African countries. Let us resolve to cooperate with and tap in the expertise of international and local non-governmental organizations in areas of human rights protections during the pandemic." Mr. Makau Peter Kithukamm proceeded to urge efforts in addressing human rights issues in Africa.

At the meeting with Iraq, Egypt, and Tanzania, five youth group leaders presented an online activity they wanted to work together with HWPL on as a peace policy. The five policies they presented were peace through cultural exchange, peace discussion and content development, two types of online peace activities, peace workshops, and online cultural exchange and communication.
Pakistan and Kosovo, where the seeds of peace education have begun to be sown, planned a vision and direction for peace education. At a meeting of 110 religious leaders from 11 countries including Lithuania, Moldova, Cyprus, Morocco, Poland, and the Ukraine, time was spent to understand activities for the implementation of the Declaration of Peace and Cessation of War (DPCW) and peace education, which are HWPL's core projects. Peace projects such as Religious Peace Camps that religious leaders could implement were also planned and discussed.
At a meeting with Germany and France, 27 youth group leaders participated to discuss solutions and safeguards to prevent cyberbullying, one of the elements that threatens peace amongst European youth. The youth group leaders recognized the need for youth-centered activities to directly resolve this issue with empowerment, and plan to conduct a Youth Empowerment Peace Workshop (YEPW) for one year in order to establish a peace work policy.
2. List of HWPL's "Advances for Sustainable Uninterrupted Peace" Online Conferences In November
Event Title
No. of
Participants
No. of
Countries
Participating Countries
1
PYG Peace Messengers — the Unceasing Way Forward for Sustainable Peace
12
1
United States
2

HWPL Africa General Meeting

91
5

Cameroon, Ghana, Kenya, Nigeria, Malawi

3

PA talk

41
1

Philippines

4
Peace: Best Protection for Children's Rights
Theme: Achieving SDG 16 and Spreading a Culture of Peace during Pandemic
667
4

Indonesia, Nepal, Philippines, Rwanda

5

2021 HWPL&IPYG Peace Policy Contest

38
3

Egypt, Iraq, Tanzania

6

HWPL Gwangju Jeonnam Online Peace Conference

34
1

South Korea

7

The Role of the Peace Messengers in the Post COVID-19 World

46
8

Armenia, Egypt, Ethiopia, Georgia, Iraq, Israel, Lebanon, Tanzania

8

One Youth with YEPW

41
2

Bangladesh, India

9

Webinar for Enhancement of Human Rights Based on Bottom-up Approach in Humanities

34
2

Bangladesh, India

10

HWPL Peace Education & Public Relation Collaborative Webinar – 2020 Spreading Culture of Peace

40
5

Afghanistan, Bangladesh, India, Maldives, Pakistan

11
A steady March Toward Peace
Program 1: YMETM(You Mean Everything To Me)
Program 2: 2021, We "Make" Together
17
5

Cameroon, East Timor, South Korea, South Sudan, Thailand

12
A steady March Toward Peace
Program 1: YMETM(You Mean Everything To Me)
Program 2: 2021, We "Make" Together
12
3

Rwanda, South Sudan, Sudan

13
A steady March Toward Peace
Program 1: YMETM(You Mean Everything To Me)
Program 2: 2021, We "Make" Together
12
3

East Timor, Myanmar (Burma), Thailand

14
A steady March Toward Peace
Program 1: YMETM(You Mean Everything To Me)
Program 2: 2021, We "Make" Together
5
2

Somalia, Sudan

15
A steady March Toward Peace
Program 1: YMETM(You Mean Everything To Me)
Program 2: 2021, We "Make" Together
7
4

Cameroon, Myanmar (Burma), Rwanda, South Sudan

16
A steady March Toward Peace
Program 1: YMETM(You Mean Everything To Me)
Program 2: 2021, We "Make" Together
3
1

Burundi

17
A steady March Toward Peace
Program 1: YMETM(You Mean Everything To Me)
Program 2: 2021, We "Make" Together
28
7

Burundi, Cameroon, Myanmar (Burma), Rwanda, South Sudan, Thailand, Vietnam

18

Realization of the DPCW: Spreading a Culture of Peace with Peace Messengers around the World

190
7

Comoros, Gambia, India, Liberia, Sierra Leone, Sri Lanka, United States

19
Educating with Hope


– Upholding the Rights of Women and Children #PeaceEducation

38
5

Eswatini, Lesotho, Mauritius, South Africa, Zimbabwe

20
2021 Roadmap Towards Spreading Peace Among Religions,


Meeting (Making a Culture of Peace with Citizens of Peace)

110
12

Cote d'lvoire, Cyprus, France, Lithuania, Malaysia, Moldova, Pakistan, Poland, Spain, Tunisia, Ukraine, United States

21

Youth Empowerment Peace Workshop-Peace and Education

17
4

Madagascar, Morocco, Mali, Tunisia

22

Youth Empowerment Peace Workshop-Cyber Bullying

19
2

France, Germany

23
Implementation of Peace Education In and Out of School
– Planning 2021 with Direction of Education in the Post COVID-19
64
10
Cote d'lvoire, Cyprus, France, Germany, Madagascar,
Malaysia, Mali, Morocco, South Korea, Tunisia
24

HWPL Online Media Peace Forum – The Role of Media for Peace Journalism in COVID-19 Pandemic Era

42
11
Algeria, Austria, Cote d'lvoire, Germany, Hungary,


Madagascar, Malaysia, Mali, Morocco, Tunisia, United States

25

Round Table: Localization of the HWPL Seminar on SDGs

66
12

Austria, Cote d'lvoire, Cyprus, France, Germany, Lithuania, Madagascar, Malaysia, Mali, Moldova, Morocco, Tunisia

26

Creative Cooperation for Communication

42
1

Zambia

27

HWPL Peace Educators Web Conference for the Development of Peace Education in Romania

48
1

Romania

28

COVID-19 and Religion

24
3

Germany, Luxembourg, Romania

29

Tolerance and Solidarity – Fighting COVID-19 as an United Society

63
7

Albania, Bulgaria, Croatia, Germany, Romania, Spain, Uzbekistan

30

2021 The Visions, Directions, and Plans of Peace Education

27
2

Kosovo, Pakistan

31

HWPL Daejeon Branch Online Conference

44
2

Pakistan, South Korea

32

HWPL Shaping 2020s Peace Citizens: Global Leaders for the Peace Era

48
7

Canada, Federated States of Micronesia, Fiji, Papua New Guinea, Solomon Islands, South Korea, United States

33

Human Rights & COVID-19 in Africa: Promotion of Cooperation for Human Rights

85
3

Cambodia, Kenya, Uganda

34
2021 Peace Education Vision Forum for the Spread of a Culture of Peace in East Africa
(Partnership for Sustainable Peace and Development in the COVID-19 Era)
154
2

Kenya, Uganda