6th Annual Commemoration of the Declaration of World Peace and Peace Walk
"The World's Call for Peace, Urging Support for the Declaration of Peace and Cessation of War"
In May of this year, marking the 6th Annual Commemoration of the Declaration of World Peace, around 70 countries will host various events and peace walks with the participation of all citizens.
These events are aimed at mobilizing a worldwide network of youths and citizens to spread the culture of peace in their respective communities and to urge for cooperation for building sustainable peace within the global society. Especially in Seoul, South Korea, where the Declaration of World Peace was first proclaimed, there will be a gathering of all family members of peace for the commemoration on May 25th.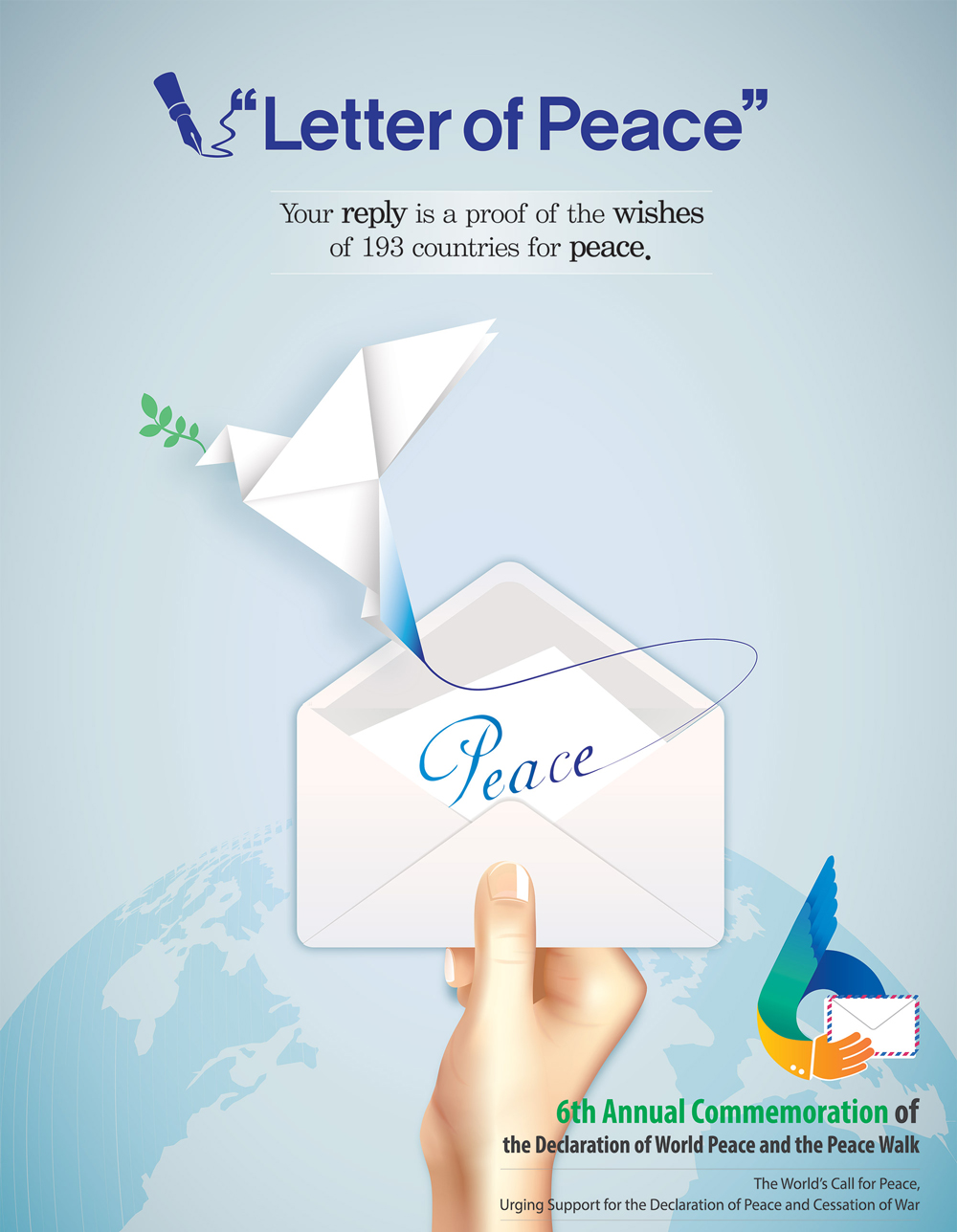 The Declaration of World Peace, which was proclaimed in 2013, addresses the value of the combined effort of all members of society as they work together as peace messengers towards the realization of peace by transcending the boundaries of religion, nationality and ethnicity and giving love equally like the light, rain and air.
It includes principles such as the fact that the heads of each state must sign an international agreement—a commitment to bring all wars to an end, that all youth must unite in an effort to stop wars and pursue the restoration of peace, and that the media must report responsibly and promote a message of peace to the world.
Such values from the Declaration of World Peace led to the drafting of the Declaration of Peace and Cessation of War (DPCW) as an advanced designation of global responsibility to establish a legally binding international legal framework for peace.
This year's event will be focused on the "Peace Letter Campaign" led by the International Peace Youth Group (IPYG), an affiliated youth organization of HWPL. The campaign is aimed at urging for the support of the heads of each state to develop the DPCW into a legally binding document by submitting it as a resolution to the UN. It also works to instill within students and the youth a sense of responsibility as those who play a major role in the work of peace that goes beyond their own country, ethnicity, culture or religion.
As part of the movement, to this day Letters of Support for the Peaceful Unification of the Korean Peninsula have been written by European government officials, experts in the legal field, heads of community organizations, and the International Centre for Black Sea-Baltic Studies and Consensus Practices, an organization mainly composed of former heads of state in Eastern European countries.
IPYG has also collected around 400,000 Peace Letters that urge for the world's support of the DPCW and world peace and has delivered them to the leaders of 193 different countries around the world.
At the commemoration celebration this year, participants will call for replies from the heads of state to the peace letters that have been already sent to them through the Peace Letter Campaign and additional messages of peace written by citizens will be delivered to high-level officials of governments and international organizations in 193 different countries worldwide.