1st Annual Commemoration of the Declaration of Peace and Cessation of War (DPCW)
Let Us Make a World of Peace for Our Future Generations
On March 14 2017, HWPL hosted the 1st Annual Commemoration of the DPCW with 1,800 participants in governance in Seoul, South Korea.
Faced with the uncertainty of global cooperation regarding current issues, HWPL organized the forum to discuss a new approach to an international peaceful order. In commemoration of the DPCW's proclamation on the same date in 2016, the forum reaffirmed the importance of the global peace movement currently in progress under the Legislate Peace Campaign.
Within a single year, the campaign has seen tremendous results in raising awareness of peacebuilding activities, empowering youth and women to join the work of peace and educating the public concerning the value of life and peace, all in collaboration with civil society actors, the press and media, government officials, and religious leaders around the world. It brought the world a step closer towards establishing the principle of an international law for peace through the introduction of a UN resolution based on the DPCW.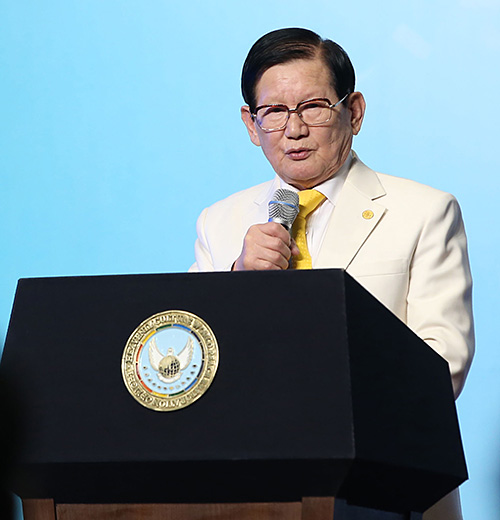 Chairman Man Hee Lee of HWPL shared a message from the bottom of his heart, calling for all the global citizens to join the peace-building efforts.
He emphasized that peace-building "is not an individual task", but "is relevant to everyone" and should be the common purpose of the global community.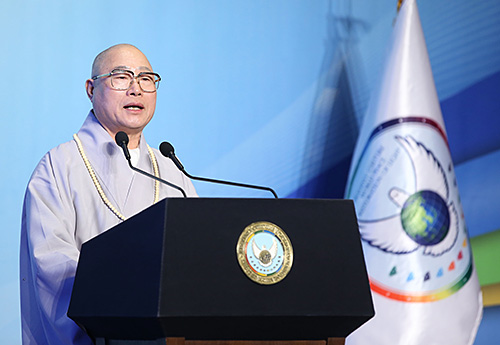 He also put forth the role of religion as a bridge-builder of peace rather than the core of conflict and violence by adding
"our orientations must be one for peace. Whether it is the religious or secular world, there is no exception."
Bup Hye Kim, chairman of the Buddhist Central Council for National Unification, offered a picture of the concrete action plans of HWPL for achieving peace.
"Youth and women are the main scapegoats in war, but even in this reality we must face the fact that youth and women are voluntarily standing at the forefront to build the foundation of peace with HWPL," he said.
At the end of the event, during their interviews, speakers and participants were eager to share their experiences at the forum and their plans on working with HWPL.
---
Monk Bup Hye Kim
– Chairman of Buddhist Central Council for National Unification
Q. What responsibility does the 1st Annual Commemoration of DPCW give you as a religious leader?
A. The peace movement led by Chairman Man Hee Lee is something we, religious leaders, couldn't do. If we give our full support and join this work of peace, it will fuel the movement. I am very honored and grateful to have a messenger of peace in Korea who started this movement. What Chairman is doing should not be the work of an individual. But rather, every religious person needs to partake in this peace movement for the world with greater roles.
---
Mr. Young Ki Bae
– Ethics Vice-Chairman of Sungkyunkwan Confucian Elders Committee
Q. How does scripture dialogue led by HWPL affect inter-religious activities?
A. As far as I know, there isn't any religious sector, denomination or organization that promotes their identity in peace by deeply studying, comparing, and discussing different scriptures. I am witnessing that HWPL distinguishes itself by managing this dialogue systematically, and I am also participating at the dialogue, bringing a perspective from Confucianism. I believe such system [WARP Office] is beneficial to bringing inter-religious dialogue and harmony.
---
Ms. Alexis Fox
– Student from United States
Q. How was today's event?
A. Today's event was really magnificent. Speeches were amazing. And it was amazing to see all the people gathered here. He (Chairman Lee) said even it is not an easy road (to peace), but he still takes it, because otherwise no one else will. It is possible to make a difference even just one person. You can still do something if you go out there. You can just do little things every day to work towards peace, and if everyone does that, the big difference will be made.
---
Efforts of promoting a peaceful coexistence through HWPL initiatives contribute to conflict resolution by raising mutual understanding that can restrain hostility. HWPL hosts seminars and cultural events at both local and national levels with local communities in order to overcome religious and ethnic boundaries.
Many leaders and citizens cooperating with HWPL continue to spread a culture of peace in their respective regions and deliver their hopes and efforts to areas that are severely afflicted by armed conflicts such as Syria, Israel and Palestine. (To know more about last year's event,click here)