2022 HWPL Peace-Loving New Year's Meeting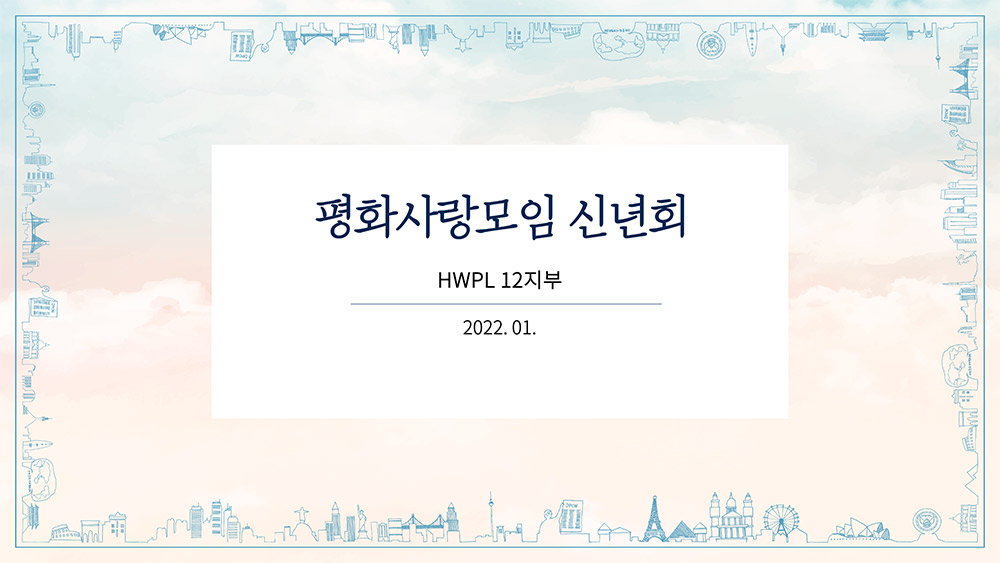 From January 17 to February 4, the 12 branches of HWPL held the "2022 HWPL Peace-Loving New Year's Meeting" online with the theme, "War and Cessation of War, Meaning and Tasks of an Era of Peace" to carry out peace activities continuously even in the midst of a pandemic.
Peace supporters working in Korea from all walks of life including politics, religion, education, youth organizations, media, civil society, and more gathered at this event, to share the results of HWPL peace activities done in 2021. They also presented their activity plans for 2022 and discussed ways to cooperate to achieve peace.
Ven. Seong Oh, the Vice President of the Taego Order of Korean Buddhism, encouraged those who attended the event to engage in peace activities saying, "Since the monks are also religious leaders who want a peaceful, happy, and war-free world, we joined in the peace activities thinking that this peace is a good thing."
Mr. Kyeong-chan Son, the Former Member of Gyeongsangbukdo Provincial Assembly, shared the difficulties he faced while working as an HWPL Peace Ambassador and cases to overcome them. He said, "Since Chairman Lee is a representative of a religious organization, he is mostly misunderstood by many. But seeing and checking it with my own eyes, Chairman Lee feels proud of HWPL's peace movement and shares it with many people. And I have written several articles about it through the media."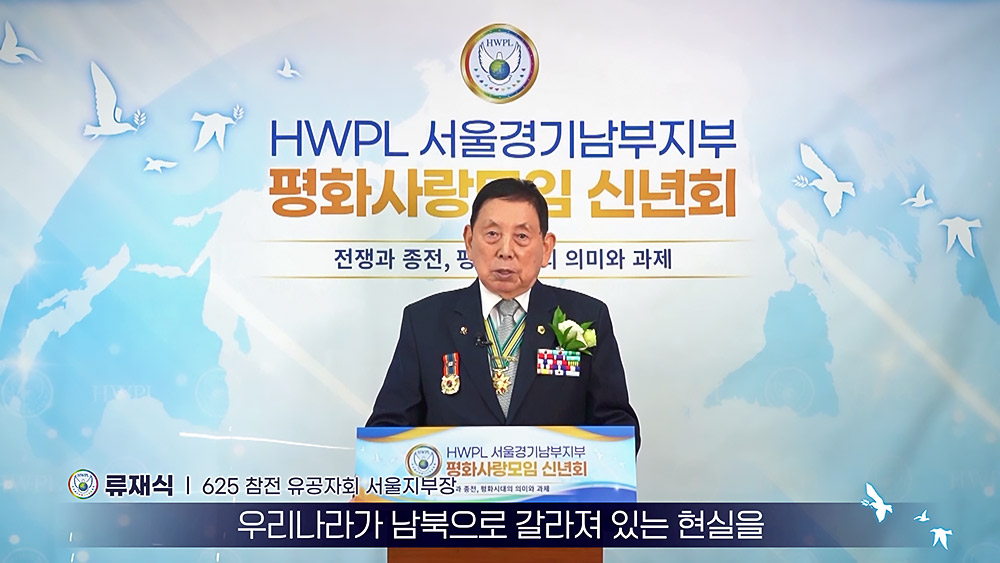 Mr. Ryu Jae-sik, Seoul Branch Manager of the Korean War Veterans Association, wished for peace saying, "During the Korean War, I participated in the war as a student who put down a pen and held a gun. Chairman Lee Man-hee who was also a war veteran like me said that young people should not be sacrificed through war. So I hope that with HWPL, Chairman Lee, and all the family of peace gathered here, the Korean Peninsula, the only divided country, will bloom in the world of peace where there is no war."
Mr. Kim Hyeong-cheon, the Head of Administration of Gyeongin Daily, said, "I think all social leaders should play the role of mediators while calling for peace in their respective fields. As an HWPL Publicity Ambassador, I am dedicated to promoting peace through my job which is in the field of media. I look forward to the day when COVID-19 ends and we can do various peace activities by seeing each other face-to-face. Please be healthy and strong."
Mr. Kwang Sik Hong, the Director of Sang Rok Association, urged participation in peace activities as an HWPL Publicity Ambassador. He said, "I am grateful for your attendance in HWPL's peace activities, but I think it is more rewarding when we make known the valuable work of peace as it is a way to become a true messenger of peace. Let us become a messenger of peace to deliver and realize peace together with me and HWPL. We are one!"
Mr. Gwang-Ja Im, Abbot in Daejonggyo General Headquarter Samilwon Monastery in South Korea, expressed his earnestness for peace by saying, "It breaks my heart to see young people and children who have never blossomed in their lives go through a painful war. Social leaders should gather together to debate and discuss on ways to end wars and take the lead in spreading a culture of peace. I believe that HWPL's peace activities are the only answer to peace that can end wars in the world."
The attendees of this New Year's Meeting became one heart with a common goal of "peace" regardless of their gender, age, religion, and occupation. They also had a time of resolution to leave eternal peace free of wars as a legacy to the future generations.
In particular, HWPL's Southern Seoul & Gyeonggi Branch, one of the 12 branches of HWPL, decided to conduct peace activities that citizens can participate in so that a culture of peace can be established between citizens and neighbors and the heads of each organization and leaders can make a way of peace. As a result, HWPL plans to discuss and practice peace activities so that they can become our daily lives, not something hard or difficult.