A Call for Building a World of Peace and Realizing Justice
The 2nd Annual Commemoration of the Declaration of Peace and Cessation of War (DPCW) to be held on March 14th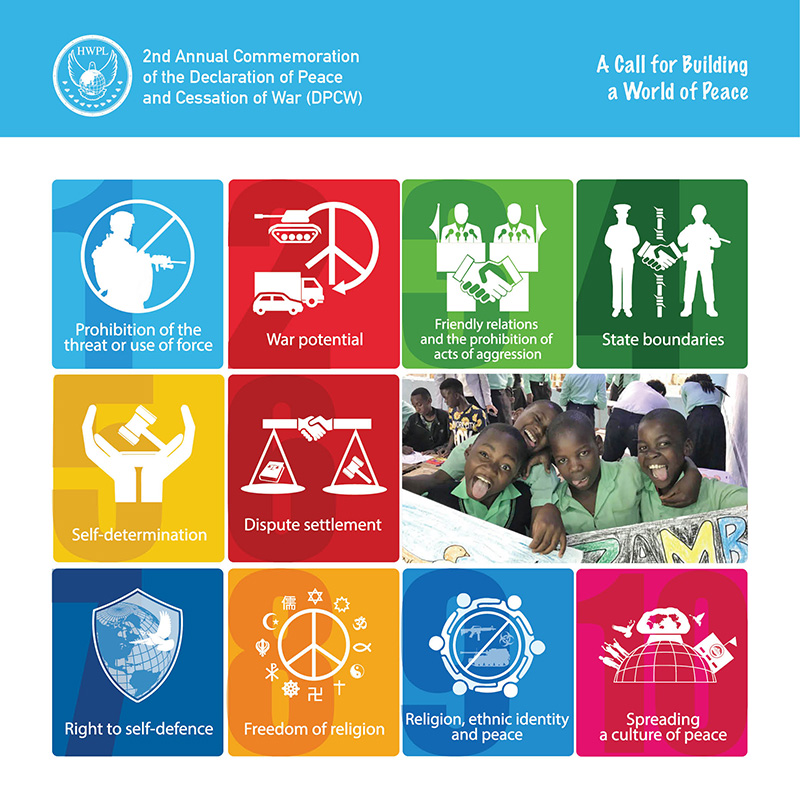 OVERVIEW
The 2nd Annual Commemoration of the Declaration of Peace and Cessation of War (DPCW) will be held on 14 March 2018 in Seoul, South Korea, and other major cities of the world. This event will be about the outcomes thus far and future action plans for implementing the DPCW, which HWPL proclaimed on 14 March 2016 at 3:14 pm as a solution for establishing global peace and resolving conflicts.
The DPCW is a product of an initiative that was launched at the 2014 World Alliance of Religions' Peace (WARP) Summit, where political and religious leaders, youth, women, civil societies, and journalists gathered from around the world to discuss comprehensive cooperation for achieving peace. The Summit's participants agreed that developing an international legal instrument on the cessation of war is a priority. According to such agreement, HWPL inaugurated its International Law Peace Committee in 2015, and the Committee members drafted the DPCW.
(Find more about DPCW)
This event will introduce the outcomes of advocating the DPCW, building a culture of peace, and promoting religious harmony based on the principles in the DPCW. Also, HWPL will issue an official statement against anti-peace actions, and leaders of different religious groups will make a joint statement calling for religious freedom and human rights protection.
Especially, under this year's theme of "A Call for Building a World of Peace and Realizing Justice," the world will see the magnificent commemoration to be held by 126 events in 108 cities of 62 countries worldwide.
KEYWORDS
Building a World of Peace
HWPL's mission is to bring wars not to a temporary halt but to a complete end, and to create sustainable peace in the current generation. For this goal, HWPL is working through a global peace network to advocate the DPCW, promote religious harmony and prevent interfaith conflicts, and spread a culture of peace through education, press, and civil society, all in accordance with the principles set out in the DPCW.
Realizing Justice
Justice is the ultimate ideal of law and essential condition for peaceful coexistence. Through the DPCW, HWPL aims to establish an international legal instrument that contains provisions concerning international cooperation, respect for international law, freedom of religion, and spreading of a culture of peace, as the basis for building a world of peace.
This is to overcome armed conflicts among nations, violence and discrimination arising from religious or ethnic rivalries, and other disputes caused by unreasonable standards, and thus realize justice which HWPL defines as a fair social system, equality, and a social consensus achieved according to the given procedures and rules.
Currently, there are fierce challenges and attempts to thwart this work of peace, which an absolute majority of global citizens aspire and support, with false information and distortion from religious, ideological, and socio-economic motives. In response, HWPL will issue a statement to the whole world to denounce such actions and to strengthen a solidarity of peace among all sectors of society and citizens as a way to realize justice for global peace.
PROGRAM
Below is the program of the main event that will take a place in Seoul, South Korea. Event programs in overseas may be various according to the local conditions.
TIME
PROGRAM
14:30-14:35
Opening: Performance
14:35-14:40
Video: Outcomes of the DPCW (10 Articles and 38 Clauses) Initiative
14:40-14:55
Opening Remarks: HWPL Chairman
14:55-15:00
Congratulatory Message Video: Congratulations from the World's Leaders
15:00-15:15
Congratulatory Address
15:15-15:20
Video: Cases of Religious Suppression
15:20-15:30
Speech: Leaders of Main Religious Groups Participating in HWPL WARP Office
– Outcomes of Article 9 "Religion, Ethnic Identity and Peace" Activities
15:30-15:35
HWPL's Official Statement
15:35-15:40
Speech: IPYG General Director
15:40-15:45
Speech: IWPG Director
15:45-16:30
Closing Remarks: HWPL Chairman
16:30-16:40
Performance
16:40
Photo Session and Closing
HWPL is strengthening its peace network with all sectors of society around the world, and this network is playing a pivotal role in connecting peace activities of the UN, governments, and citizens. The participating government officials and civil society representatives will enhance and advance implementation of the DPCW by establishing collaborative governance, and will advocate for making the DPCW legally binding. Education experts will find ways to establish collaborative governance with government officials in the field of education and propose the direction of peace education for children and youth. The standards for determining a trustworthy religious scripture will help prevent violence and conflicts caused by ideological differences and foster harmony amongst religions.