Chapter 10. Efforts towards Preservation of Heritage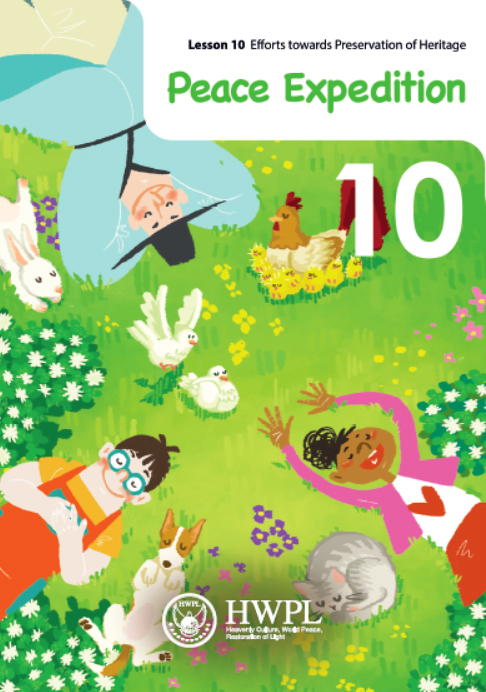 Section 1. Preserving and Utilizing Heritages
Heritages contain the mentality, culture, and history of the people who once lived there. Heritages can also be called the epitome of a group's identity. People find answers to their identity such as who they are, where they came from, and how they should live, through heritages. Another reason for its importance is that it connects the past, present, and future. Let's take Angor Wat of Cambodia as an example. Angor Wat shows the greatness of the Khmer Empire that came to an end in the 15th century. In 1860, the French naturalist Henri Mouhot, after discovering Angor Wat, said, "One of these temples—a rival to that of Solomon, and erected by some ancient Michael Angelo might take an honourable place beside our most beautiful buildings. It is grander than anything left to us by Greece or Rome…." According to recent LiDAR (Light Detection and Ranging) results and excavation data, around 900,000 people once resided in and around the Angor Wat heritage in the 13th century. You can see how great the Khmer empire was when you take into consideration that only 100,000 to 200,000 people lived in Paris and London, which were considered big cities even then. Cambodia went through decades of a civil war during the latter half of the 20th century, and Angor Wat served as a major motivation to restore the physical, economic, and humanitarian destruction that occurred due to the civil war. The Angor Wat restoration and conservation project united public sentiment and fostered patriotic pride in the people. Like this, Angor Wat not only serves as a link between the Khmer Empire of the past and current Cambodia, but it is also becoming a springboard for Cambodia to go towards a better future.
Section 2. Heritage and Peace
UNESCO designates locations filled with memories of wars and violence as world heritages to create a springboard for restoration and peace. The UNESCO World Heritage Committee designated the Auschwitz Birkenau German Nazi Concentration and Extermination Camp (1940-1945) as a world heritage in 1979. The location was recognized to be worthy of conservation as it serves as evidence to the world's worst genocide in human history. In 1996, Japan's Hiroshima Peace Memorial (Genbaku Dome) was designated as a world heritage. The Hiroshima Peace Memorial was the only building left standing during the Hiroshima bombing on 6 August 1945, and it has been perfectly preserved since the bombing. Visitors often re-think the importance of world peace and the complete destruction of nuclear wars after seeing the power of nuclear weapons and the devastation it can cause. Senegal's Island of Gorée, which was designated as a world heritage in 1978, was the largest slave center on the African coast, and it serves as a reminder of Africa's slave trade as one of the most tragic events in human history. Nelson Mandela was imprisoned for 20 years at Robben Island in the Republic of South Africa, which became a world heritage in 1999. The island also served as a prison for political prisoners under the apartheid regime in the 20th century, and it shows how democracy overcame oppression and racism. These locations hold painful memories of human history and not only serves as a bastion against wars and discrimination, but also serves as a historical reminder to create a peaceful future.
Section 3. The Greatest Heritage: World Peace
Mankind no longer considered war as a heroic event after witnessing the devastation of two world wars. Emergence of weapons of unprecedented power, such as nuclear bombs, aircraft carriers, fighter jets and tanks, the rapid sharing of war news due to the development of press and media, and the most inspired human rights awareness in human history has all affected people's negative perceptions of war. Also, unlike before, different sectors, including religion, arts, and science, began to raise their voices for the people to criticize wars. Eventually, the global consensus on peace led to the creation of the UN, an international body to prevent wars and maintain peace. The UN system, which is rooted in the Universal Declaration of Human Rights and the UN Charter, has been maintained for 75 years and has greatly contributed to world peace and the creation of international order. In addition, many non-governmental organizations have served as the ears and eyes of peace to publicize wars still happening across the globe. Yet, there are still blind spots of peace in the world, and we must solve the ongoing conflicts today. World peace is the greatest legacy we can leave to the future generations. World peace is the source of sustainable development and creation of new cultures. Human history shows that the 21st century is the most befitting time to achieve world peace. However, this does not mean there are no obstacles. Humanity of the 21st century is standing at a crossroads: self-destroy itself through nuclear wars, or achieve world peace for sustainable development. Will we leave war and pain or peace and prosperity? The choice is in our hands.
Heritages are invaluable because of the mentality, culture, value systems, and history that it contains. Heritages created according to the historical and cultural situations in the past are irreplaceable and largely influences a group's identity. They also link the past and present and serve as a springboard for a better future by accelerating sustainable development. Governments that have recognized the importance of heritages are investing political and financial resources to conserve heritages, and UNESCO is carrying out its designation and protection of world heritages based on its advanced perception that preservation of heritage and peace of mankind are directly related issues.
World peace is not only the biggest inheritance, but it is the best inheritance that we can leave for the future generations to protect humanity and heritages. Humanity is closer to world peace more than ever before. We will enter an irreparable path of co-destruction if we miss this opportunity and get sucked into the whirlpool of wars of latest equipment—including nuclear weapons. Therefore, let us achieve world peace, which is the greatest heritage, to leave as an eternal inheritance for the future generations.