Continuation of Peace Education during the Pandemic
Ladies and Gentlemen, Greetings. I am Dr. Oumar KEITA, Ambassador and the Permanent Delegate of the Republic of Mali to UNESCO. It is an honor for me to address every one of you on this occasion as we celebrate the 5th anniversary of the Declaration of Peace and Cessation of War (DPCW), proclaimed on March 14, 2016. I would like to thank Chairman Man Hee Lee for inviting me to participate in this prestigious event that gathers civil society actors and government representatives to express their commitment to building a world of peace through the DPCW. My congratulations also go to HWPL's International Law Peace Committee members who have contributed to the development of this legal framework, which has already produced several concrete results for the realization of peace.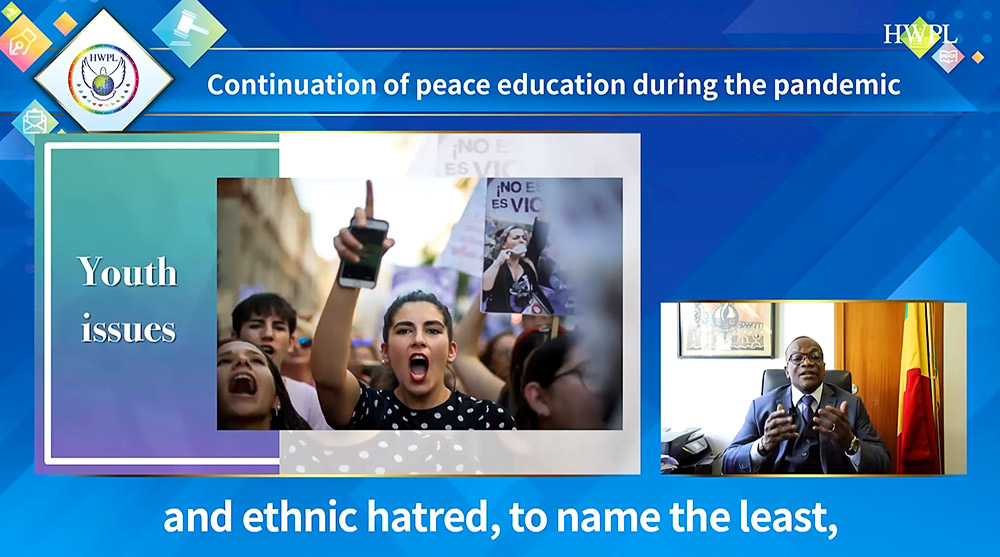 As you know, the current health crisis, past and present conflicts, religious and cultural prejudices, and ethnic hatred, to name the least, have all hindered the progress of peace in our international community.
However, these various ills should not halt our efforts and prevent the pursuit for progress going forward, but on the contrary, in a spirit of cooperation, we must unite to ensure peace at domestic and international levels. In this regard, we should consider the need for a comprehensive legal approach that would guide citizens in their daily lives, regardless of their nationality, ethnicity, and religion. This is where the preamble of the 10 articles and 38 clauses, the DPCW, comes in.
Peace must be an inalienable right for all, and everyone must be able to enjoy an environment free from any form of threat or fear. That is why we hope that the DPCW can become an effective legal instrument for peace. Major international organizations such as the UN and UNESCO were created with the very same objectives several decades ago. Indeed, peace is a necessary condition for economic and social development in our respective countries. We all agree that development is not possible without lasting peace. Therefore, we must unite behind the objectives pursued by HWPL embodied in the DPCW, which emphasizes on the reduction of deadly weapons, the prohibition of religious conflicts, and the spreading of a culture of peace.
In the forums we have had over the past two years, I experienced the impact of HWPL's peace initiatives. I've seen that harmony and cooperation with other similar organizations can create the synergy that we need to work together, strengthen our efforts, and make all these peace initiatives more effective. This is why the exchange of our ideas and the sharing of our experiences are essential if we want to build peace, especially in the current social context.
This culture that we have chosen to share is also what HWPL is promoting through Article 10 of the DPCW, entitled "Spreading a Culture of Peace," and what is also manifested through peace education. Without a doubt, education is more than ever an absolute necessity in a world of confrontation.
And it is precisely why UNESCO was founded – to build a world of peace through education, science, and culture. SDG No. 4 of Agenda 2030 to "ensure inclusive and equitable quality education and promote lifelong learning opportunities for all" cannot be achieved by UNESCO's efforts alone.
But to achieve this goal, we need the involvement of governments, civil society, the private sector, youth, and NGOs such as HWPL to address educational challenges and build systems that are inclusive, equitable, and relevant to all learners. That is why we need to strengthen partnerships and encourage civil society and NGO initiatives towards our common goal.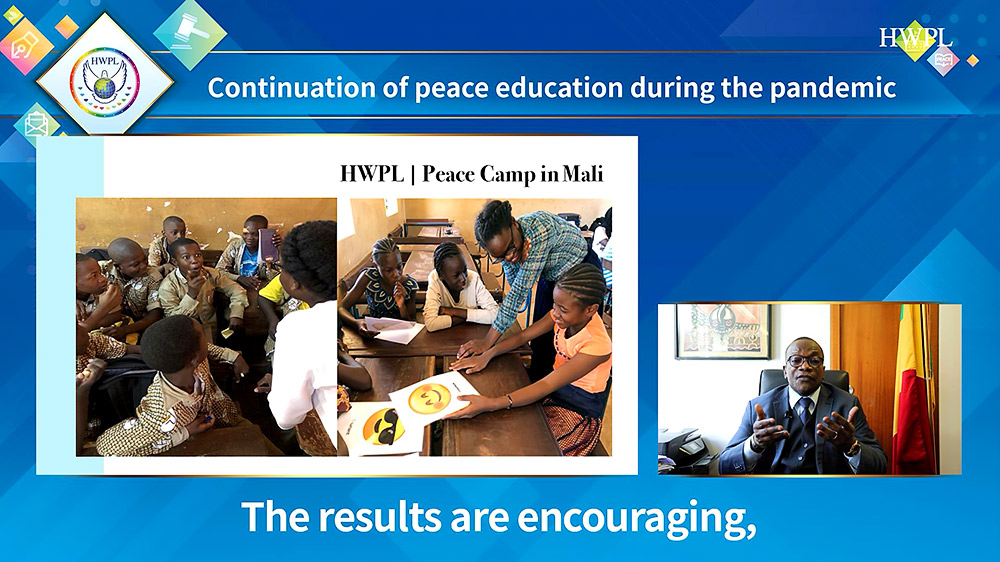 In my country, Mali, we deeply love peace. Malian people have a history rich with a culture of diversity and cohesion. It is in this way that we have welcomed the initiatives of HWPL with open arms.
In 2019, several peace camps were organized with students in schools in Mali. And in 2020, peace education training programs were conducted for our educators including teachers and professors. The results are encouraging, and the feedback from both teachers and students is positive. At the same time, I look forward to the prospective signing of a Memorandum of Understanding between HWPL and the Malian National Commission for UNESCO. It will solidify our partnership and facilitate cooperation for the implementation of peace education in Mali.
Ensuring access to quality education for all on an equal footing and promoting lifelong learning opportunities is a noble cause. But as we know, there is still a long way to go. That is why, through the DPCW, HWPL offers a comprehensive legal framework that would enable us not only to bring peace among nations, but also to teach the younger generations the values of peace and nurture them to maintain a peaceful world. I would like to conclude by reiterating my thanks to HWPL for its trust and commitment. I wish you all a great time. Thank you very much.
S.E Monsieur Oumar KEITA
Ambassador and Permanent Delegate of Mali to UNESCO