Conveying peace through microphones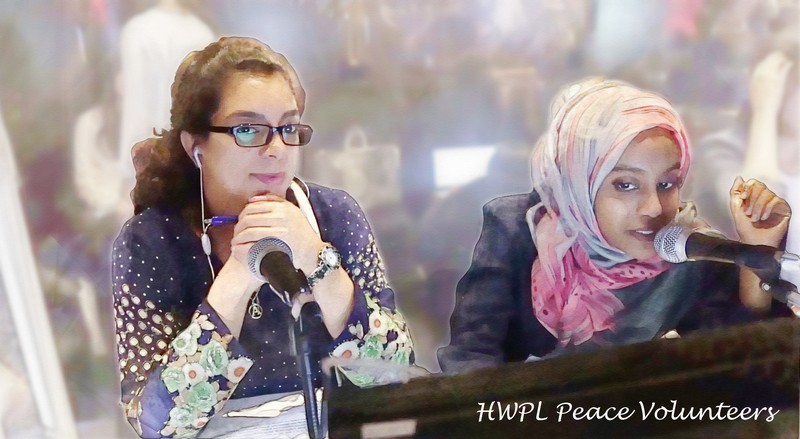 133 volunteers in translation and interpretation services were involved in the WARP Summit 2016, providing simultaneous translation into 19 languages including English, Chinese, Spanish, Arabic, French etc. Considering how the UN provides translation mainly into 6 languages, the WARP Summit was very extraordinary in providing translation service for so many different languages.
Interpreters were as vigilant as they could possibly be and focused all of their attention while translating for various conferences held during the Summit. Every single interpreter has a story to tell and we are happy to deliver the very special stories of two of these volunteers.
Arkan from Israel – Spreading messages of peace transcending language barriers
Arkan Atarya is an Arab from Israel who had witnessed the conflict between the Muslim and Jewish communities. As a volunteer, she participated in the Summit to translate all conferences for Arabic-speaking people.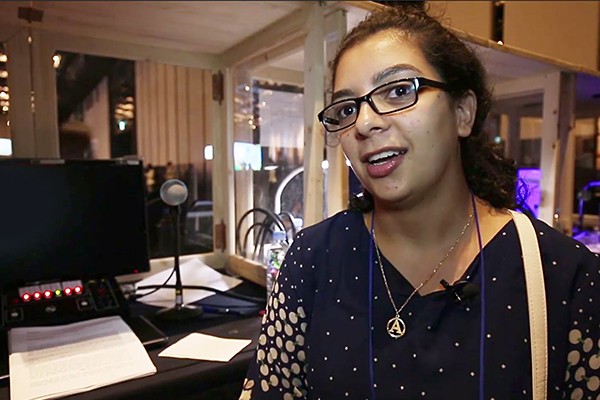 At an interview, she said,
"I have heard all the speeches from these people and I know they are working in their home countries to spread the message of peace.

 I hope that this organization (HWPL) will spread more in the world to have peace one day soon, hopefully. I am very honored to work with them and be part of this organization." 
Some of the qualifications to be an interpreter include extensive knowledge, interest, and intellectual curiosity in the fields which they translate for. The translators and interpreters who volunteered for this year's Summit had an extremely high degree of knowledge and interest in global peace and HWPL's projects.
"Interpreters should be aware of overall references to current political and social affairs. So, for this event, I tried to read news and study on peace to enlarge my knowledge and vision,"  said Arkan.
Hanan from Saudi Arabia – Experiencing unexpected, but precious moments of peace
Hanan Muhammed Abdullah, whose nationality is Ethiopian and hometown is Saudi Arabia, has lived and studied in Korea for 3 years. She volunteered for the WARP Summit to interpret English and Korean into Arabic.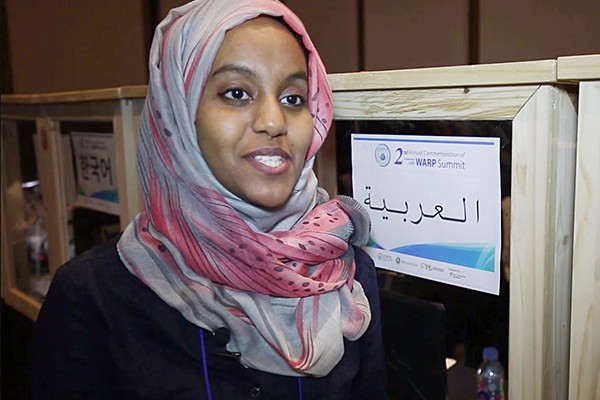 "Actually when I interpret or translate it's not easy to deliver one's heart. You try as much as your best to deliver what the speaker is saying.

 With my speaking tone, I try my best to deliver my voice through the microphone and deliver the peace message to all the people in the audience here." 
As a translator, Hanan learned humbleness and having a positive attitude in her life from listening to and delivering every word of the prominent peace leaders.
"This year I am very happy that I got a chance to work, and to translate and to volunteer in this event. I met a friend who is translating with me today. She is from Israel but she is Arabic. I have never expected to meet a person whom we can peacefully share about our experiences regardless of our nationalities and religions. I wish even a small piece of peace would be achieved in this world though I am not doing much." 
The translating volunteers who united under the common language of peace greatly contributed to the delivery of peace through every word they spoke.