Nanjing, China shall no longer be called the fortress of war, but that of peace
Nanjing, a city located in the Eastern part of China, is named after the four ancient fortresses. It has a rich history and culture, but it also has scars from its history of past wars.
Also called Jin Ling, this city was once the capital during the eras of six ruling dynasties, such as the Southern Tang Dynasty, Southern Song Dynasty, Ming Dynasty, and the Republic of China. Still, this place was left with tremendous suffering remaining from the time of Japanese occupation in which events such as the Nanjing Massacre, one of the worst atrocities in the modern era, occurred.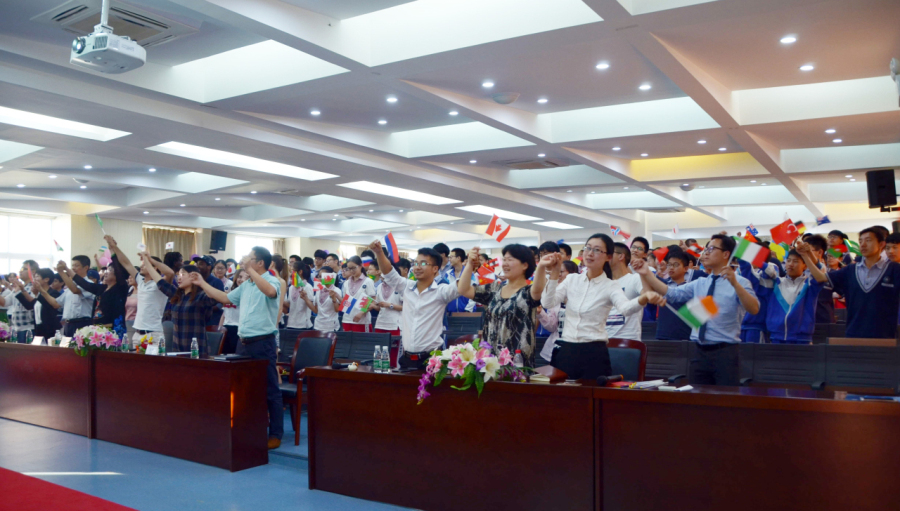 As a result of many efforts to bring peace back to this area, the flower of peace blossomed once again at Jinling Middle School Daishan Campus in Nanjing, China on 27 May 2017.
The 4th Annual Commemoration of the Declaration of World Peace, an event aimed at spreading a culture of peace and preventing violent extremism, filled Nanjing with abundant peace.
Mr. Wangjinghuai, principal of Jinling Middle School Daishan Campus,  Wang Jianling and Wuxiaobo, all of whom have  expertise in cultural exchange businesses,  were joined by HWPL and IPYG regional directors and 200 students at the middle school.
Students and guests discussed the means of eliminating violent extremism, as well as ways of protecting the rights of youths to live in a peaceful community.
The participants also held an international culture of peace art exhibition and peace walk for the students to actively raise awareness of the topic.
Students took a great interest in engaging in thoughtful discussions with the guests on a most inclusive and yet somewhat unfamiliar topic: peace. A student named Zhang Dayi said he perceives China as one of the safest countries in the world. However, it still faces numerous violent terrorist attacks and incidents in XinJiang and other regions from time to time. He expressed such concerns with a strong conviction that students should first affirm their solidarity in efforts of fundamentally eliminating violent activities from their communities. Just as the old Chinese saying states, 和为贵, which translates to "harmony is most precious", they will put their best efforts to protect peace as the most cherished value, so that one day there will be no more war or armed conflicts.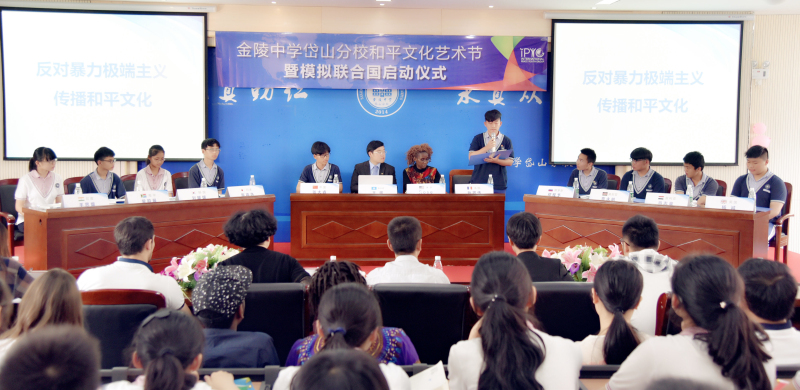 Another student named Sunshawei keenly pointed out that even domestic violence, school bullying and traumatizing events in society could be labeled as acts of violent extremism. By drawing this inclusive category on violent extremism, he wanted his fellow students and guests to know that the topic of this year's event is very relevant to our daily lives.
Participants were caught with great surprise at the insights and thoughtful responses that the students showed. This exchange gave them opportunities to prioritize promoting peace in their daily lives, as well as to affirm their solidarity in joining and supporting the peace-promoting activities carried out by HWPL and IPYG.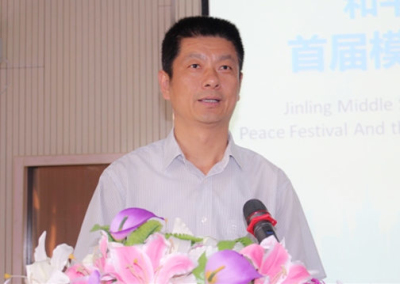 Mr. Wangjinghuai, Principal of Jinling Middle School Daishan Campus ,
Who made this commemorative event possible for his students, said that creating a harmonious and peaceful society must be accompanied by building its roots and foundation in peace through peace education. This middle school is determined to closely collaborate with HWPL peace education to carry out its diverse curriculum while focusing on promoting the value of peace.
Nanjing on that day truly became a fortress that blocks the passage of war and provides a way for peace. This commemorative event took place not only in Nanjing but also in Beijing, Shanghai, Qing Dao, and other major cities in China. As days continue to go by, more are joining the footsteps of bringing peace along with HWPL.