Opening Ceremony of Gwangju Yongmunsa temple Inter-Religious Alliance Office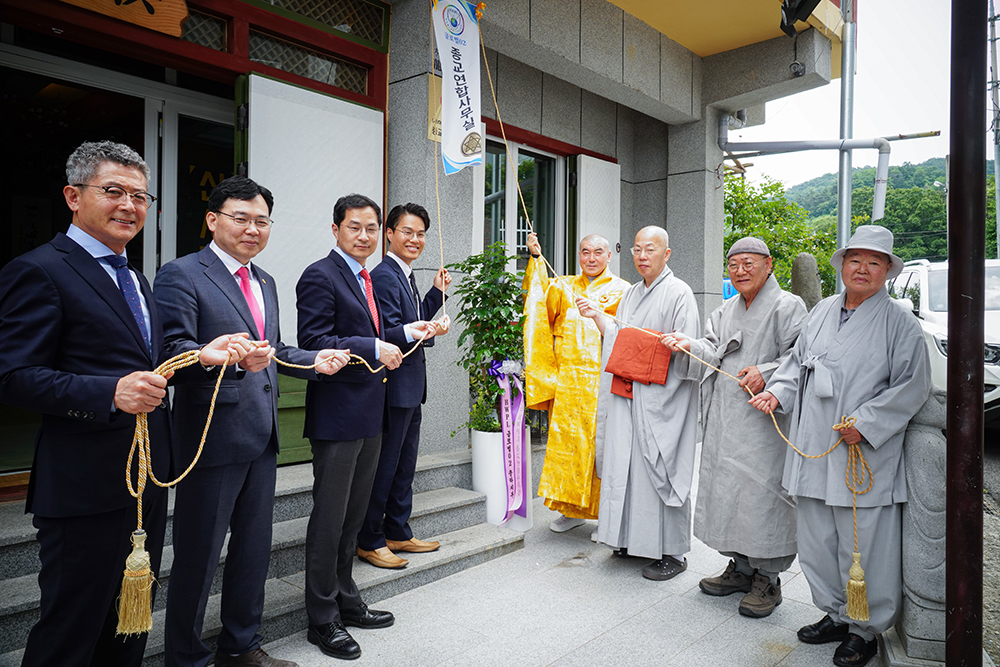 On June 5th, the plaque unveiling ceremony for the Interfaith Office of the HWPL Global 02 branch took place at Yongmunsa Temple in Duam-dong, Gwangju Metropolitan City.
Monk Seongjong, the chief monk of Yongmunsa Temple of Hyeonjo Gyejong of Korean Buddhism, has been an active member of HWPL for a long time. He expressed his hope for a space where religious practitioners could come together without prejudice, engage in dialogue, understand each other, and resolve conflicts to achieve peace.
The event was attended by Monk Seongjong, the chief monk of Yongmunsa Temple; Monk Hyeonjong, the chief monk of Hwarimjeongsa Temple in Gwangju; Monk Hyesung, the chief monk of Suhyosa Temple in Damyang; Monk Byeokam, the chief monk of Mireuksa Temple in Jeollabuk-do; Kang Gu Yeong, HWPL Head of Global 02; and Park Jae Young, Head of the Religion Department at HWPL Headquarters.
Monk Seongjong welcomed the continuous support and volunteering efforts of HWPL members, which revitalized the temples despite a decline in religious visits during the pandemic. He emphasized the importance of cooperation among different religions and mutual respect to achieve world peace, echoing the fundamental message of peace that "all religions are one," as promoted by HWPL's chairman, Man Hee Lee.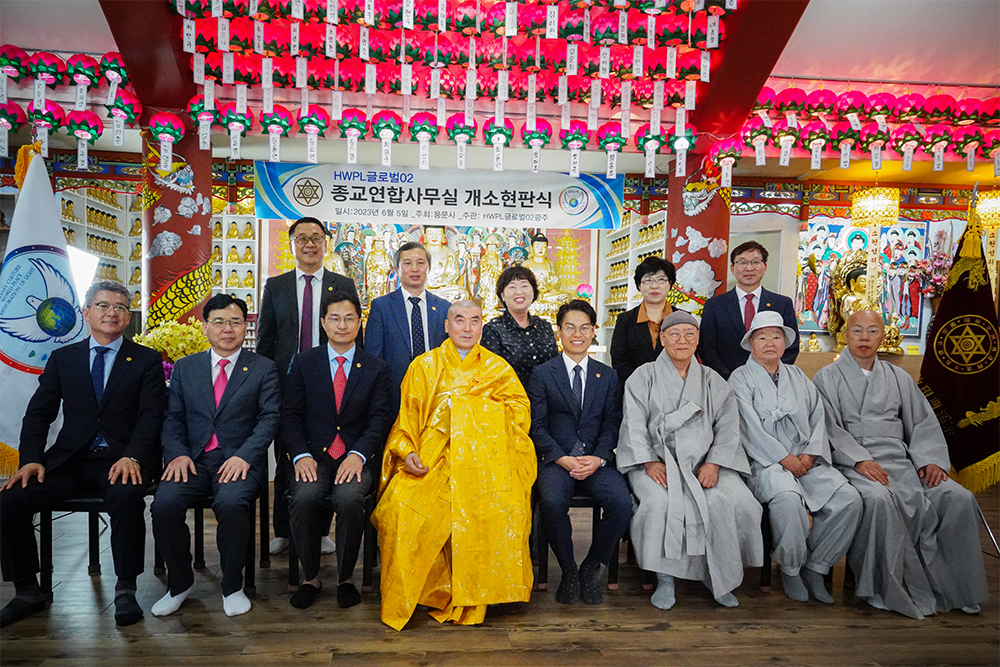 Kang Gu Yeong, Head of HWPL Global 02, expressed his hope saying "Today, we greet the solar term season of sowing the seed of grain. Thanks to the guidance of nature, I wish the seed of interfaith unity would spread from Yongmunsa Temple."  and urged everyone to remember that this event was being observed by all beings in heaven and earth.
Park Jae Young, Head of the Religion Department at HWPL Headquarters, thanked Monk Seongjong for embodying the action of promoting peace, which is often spoken about, but not always put into practice. He hoped that through learning and working together, Yongmunsa Temple would become a space of love and peace.
Monk Byeokam, who attended the ceremony, was deeply moved by the establishment of the HWPL Global 02 Interfaith Office at the temple and vowed to work even harder for peace in cooperation with the global 12 branches of HWPL in the Jeollabuk-do region.
Going forward, HWPL Global 02 aims to actively operate the Interfaith Office at Yongmunsa Temple as a communication platform for interreligious harmony.