Passion that Never Gives up – the Passion of Peace
"Only 30% of Moo Hyun's right calf muscles remain"
"The phone call informing that one of my former comrades in the military died during training"
"The youths of Korea have some homework that people have been unable to solve"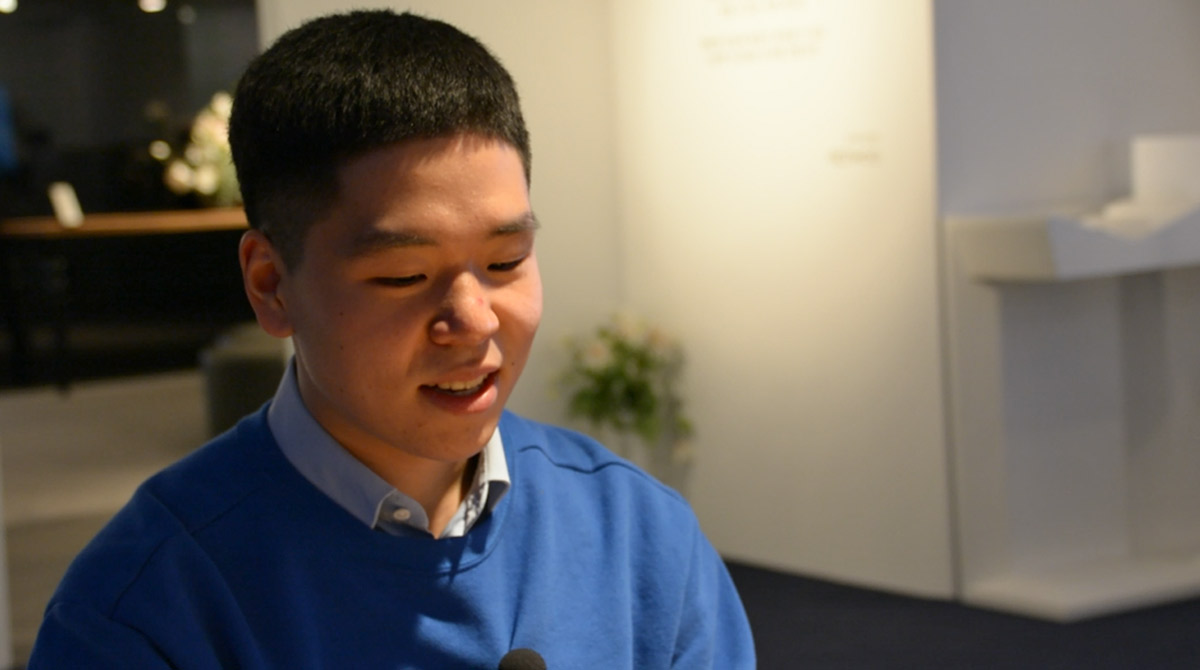 The person who has been living together with his snowboard for 20 years, former national athlete Moo Hyun Choi.
Now he is working step-by-step to achieve his goal as a peace activist. I was able to meet him and learn about the reason he began this work of peace.
When we met at a gallery in Gangnam, Korea, he was a bit shy first, but as he introduced himself and started telling his story, he indeed was an athlete.
"I am Moo Hyun Choi, a former Korean national snowboarding athlete. It has already been 20 years since I started snowboarding. There are many people who think I am between 30 and 40 years old, but I am actually only 26 years old."
Q. What are some rewarding aspects or points where you have been unsatisfied in your career?
"During my career as an athlete I was able to improve my skills bit by bit as I repeated my training until I was finally able to receive even better scores. I could see how over time I became the school representative, then the city representative and finally even the regional representative, so I kept training hard in order to become the national representative. My dream kept becoming bigger. The things I was able to see and achieve increased, so I started to look to even greater things farther ahead.
However, one thing I would say that has been regrettable is that because of the injuries I have suffered while training there are still many things that have become uncomfortable."
To the person who regarded snowboarding as everything, a serious injury to his right calf was incurred during one of the training sessions. He spent around 1 year in the hospital and repeatedly received surgeries. The doctor in charge even gave a grave diagnosis of a slim chance of recovery.
"Only 30% of Moo Hyun's right calf muscles remain"
Also, in the situation of not knowing when recovery would be possible, he received the question "now that you are a failed athlete, what will you do in your life?" Hearing the story up to this point, I began to feel a great sense of discomfort and dismay and continued the interview with a heavy heart.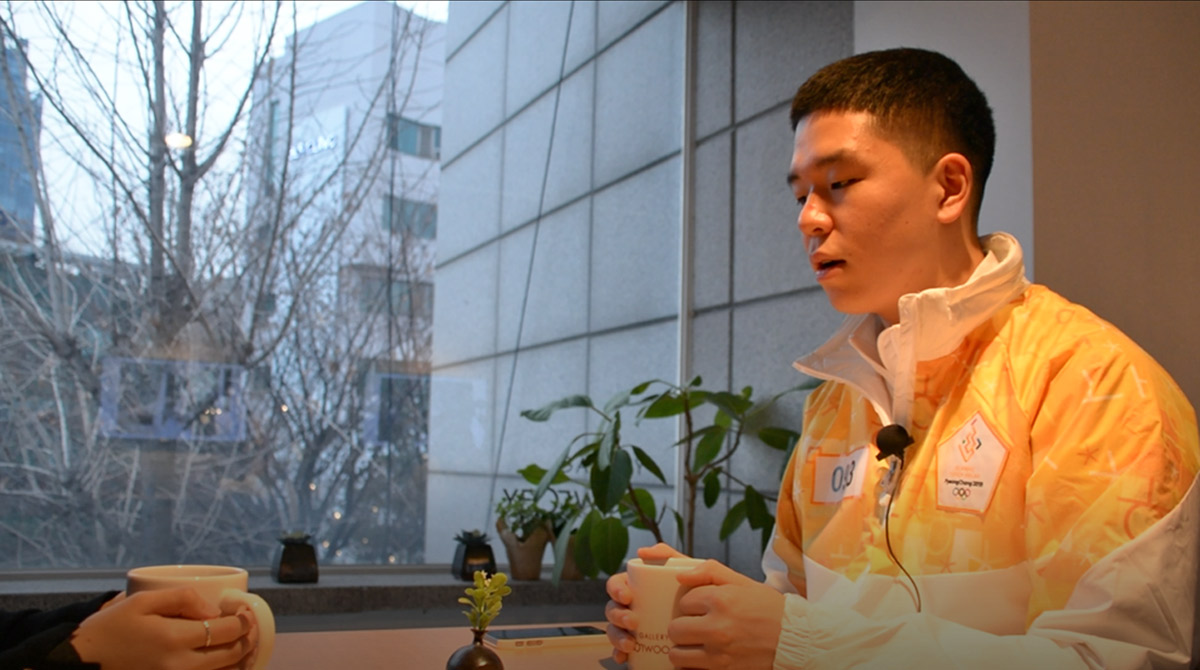 Q. Even though it was inconvenient with your leg injuries, you still ran in the Pyeongchang Winter Olympic Torch Relay. What were your thoughts while you were running with the torch?
"At first, I thought that the torch was a bit heavy… I actually had many thoughts before even beginning as one of the Torchbearers. When I had injured my leg, my right calf was severely damaged. After such a severe injury I think I was in the hospital for around 1 year. I was the weakest I had ever been in my life, so I really needed some type of goal that I could look towards.
So, I thought of being a peace activist. However, when I went back out into the world, the reality was that we are different than people from other countries because we are the only divided nation in the world. So, I decided to go to the army because I thought that it would become a special experience that other people in the world would be unable to do. That is why I chose the army.
So, I finished the entire thing and then focused on being a peace activist. In the meantime, however, I received some sad news. One of my comrades that had been with me during my time in the military died in the middle of one of the trainings. As soon as I heard the news, I went down to Pohang. That friend's father was also a soldier. His son, who had only joined the marines less than a year before, lost his life, so he was unable to even speak. I did not want this type of thing to happen again. I really wished that I would never again have to see any of my friends lose their lives while training for war….
The Pyeongchang Olympic Games Torch Relay spans a length of 2018km. There are 7,000 participants who run across this 2018km distance. They say that the 7,000 runners represent the total population of both South and North Korea. So, they have talked about how this is a "symbol of peace". For this reason, I ran while thinking about peace."
"One person…three people…ten people…fifteen…fifty…one hundred peace activists"
Q. I heard that you are currently involved in various peace activities.
"At first, the people who came together for the same purpose as I were only three in total. So, the three of us got together and started doing work to help others. Soon, the people who had received help also started to join and we became 10 people, and then shortly after the group grew to 15 people. In April of last year we went to Gyeongju, and along with 50 young people that had gathered from Seoul, Gyeonggi Province, Busan and Ulsan we ran to support those with pediatric cancer and leukemia.
Also, from August to October, we went to Japan and were able to gather together with 100 university students, young people and hobbyists, who historically had some issues in their relationships, through sports activities. They were able to put aside those issues, so their passion become one, and through that passion the people were able to become one and through this peace was completed in my eyes. Since we were able to accomplish this, I thought that this is how peace can be achieved. Also, last October I was able to meet May El Khalil, the founder of the Beirut Marathon, which has been seen as a symbol of peace, and make an exchange. Now we are able to join in the work of peace through sports and through running."
Q. What is your 'goal' for the future?
"My goal is world peace. Our country has gone through many things. From the Japanese Imperialist period, there have been many events such as the Korean war, the democratic uprising and so on. I think that through these things the people worked hard in order to make a difference. They were able to change many things because they put in so much effort to change. Now our youth in their 10s, 20s and 30s are creating programs highlighting hip-hop and rap culture, such as "Show me the Money", that are being received with great enthusiasm in China, Europe and America. However, there is one homework problem that the youth and citizens of our country have yet to solve, which I believe is unification.
Moving forward, we need to put forth even more efforts to solve this problem on a domestic, national and international level. When war breaks out, it is the young people who lose their lives first. Too much time has already passed. Now is the time for us to speak out. If the youth and the citizens unite as one and raise their voices for peace, then the world will not be able to ignore them. It is impossible to change the course of history with the strength of only one person. However, history can always be changed by people."
This is the Olympic Spirit that can be seen in practice through the many efforts of the athlete Choi Moo Hyun. With this heart, he concluded the interview by leaving this message for all of the youths and readers.
This is the Olympic Spirit that can be seen in practice through the many efforts of the athlete Choi Moo Hyun. With this heart, he concluded the interview by leaving this message for all of the youths and readers.
"Through sports, many people can set aside their ideals, their thoughts, and all of those types of things, and with a united passion and heart peace can be achieved when people join in the work of peace as one.".