The War is Over, but Where is the Peace?
The International Day for Mine Awareness and Assistance in Mine Action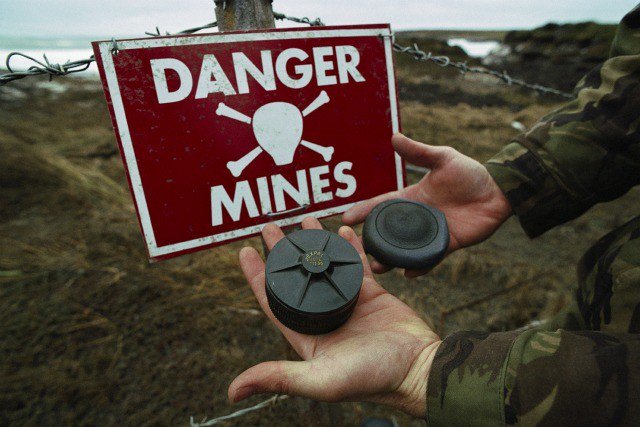 Step carefully…. take your time…. just one foot in front of the other. There is a hidden killer just below the surface of the earth. You can't see it, but it might be there waiting to strike. A remnant from the past that is too real to be considered just a memory or a simple scar from the war. Watch out…. don't step there…
This is the harsh reality that those living in past conflict-zones face on a daily basis because of the placement of mines and other explosives during war. Due to the uncertainty as to the exact placement of such mines, innocent citizens are unable to enjoy the basic rights of life and safety. In the midst of peace-building efforts and attempts to restore the communities torn apart by conflict, there remains the constant threat and danger presented by these destructive elements of war.
To bring attention to this issue the General Assembly of the United Nations established the 4th of April as International Mine Awareness Day. The hope was that this would provide a platform for states to take collective action, along with other international organizations and civil society actors, in the form of supporting national mine-action capacities in areas of need.
UN Secretary-General Antonio Guterres stated, "An unprecedented volume of landmines and unexploded weapons contaminates rural and urban war zones, maiming and killing innocent civilians long after conflict has ended. Mine action is vital."
The United Nations has been advocating for further action to be taken regarding the issue of landmines and other explosives that remain as an active threat to millions worldwide. However, it is estimated that approximately 110 million landmines still remain in the ground in various countries around the world. Despite many active attempts by civil society groups, international action campaigns and coalitions, state actors and other governing bodies to ban the use of such destructive weapons and remove the ones that are currently buried, these landmines pose a constant danger that hinders the ability of many citizens to go about their daily lives.
These landmines clearly show the lasting effects of war that continue to cause damage and loss of life even after the active conflicts have ceased. Weapons of war not only harm the intended enemy but instead cause widespread damage that spans beyond the boundaries of the battlefield. For this reason, a new international legal framework is necessary for the prevention of such tragedies in the future and promote the establishment of sustainable peace building.
Articles 1 through 3 of the Declaration of Peace and Cessation of War (DPCW) address the prohibition of acts of aggression and the banning of weapons of war. According to Article 2 Clause 3 of the DPCW "States should take measures to ensure that existing weapons of mass destruction, weapons capable of causing widespread and unnecessary suffering and weapons incompatible with international humanitarian law are gradually dismantled or destroyed." It has been witnessed by millions how the very presence of landmines has unjustly taken the lives of innocent civilians, so immediate action must be taken on an international level.
Reference: UN Photo/Eric Kanalstein (https://goo.gl/AoKUX9)
Sustainable peace is the sincere hope of the international community, but this is impossible to achieve while landmines and other war instruments continue to cause devastation around the globe. Many lives are being cut short or damaged beyond repair due to hidden weapons that those who planted have likely long forgotten about. To these individuals, the wars and conflicts have not ceased because true peace and safety have yet to be established.
International Mine Awareness Day calls on all states and members of the international community to unite under the shared values of peace and protection encompassed in this year's theme of "Advancing Protection, Peace and Development". These core ideals also come in direct alignment with the values and principals contained within the DPCW, which is now being advocated as an international legal instrument. In order for the development of peace to become a reality, the safety of citizens must be guaranteed.
Suffering from a war that has already ended is the reality for millions worldwide as the destruction of innocent lives from mines and hidden explosives continues. All global citizens should take a stand and let their voices for peace be heard so that the question of "Where is the peace?" can disappear from international dialogue.