[30th World Peace Tour] Bulacan Press Club signs MOU with International Peace NGO for "Peace Journalism"
Aimed at enhancing cooperation in the field of peace journalism, the Bulacan Press Club and a South Korea-based international peace NGO, Heavenly Culture, World Peace, Restoration of Light (HWPL) signed a Memorandum of Understanding (MOU) together on February 15th.
This MOU was signed by Frederick Silverio, President of the Bulacan Press Club, and Mr. Man Hee Lee, Chairman of HWPL, at the Philippine Sports Stadium where the Grand Peace Festival was held on the same day with approximately 30,000 participants.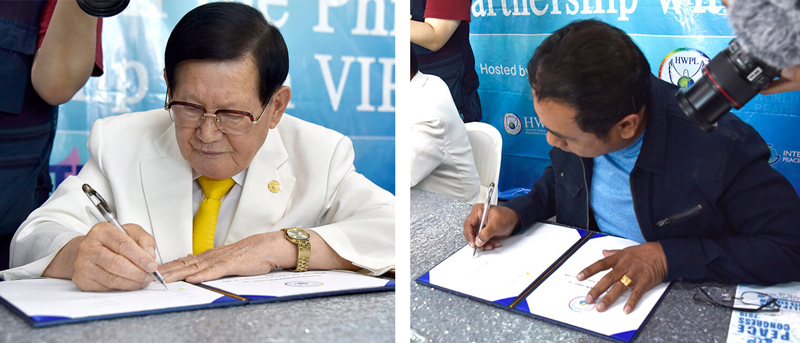 HWPL Chairman(Left) and Frederick Silverio, President of Bulacan Press Club(Right) are signing an MOU
The provisions of the MOU include strengthening ties for cooperation in the coverage of peace news by sharing peace-related articles and information in the international peace media platform called Peace Initiative (PI).
Officially launched in 2018, Peace Initiative  is "a global journalist network at work in the facilitation of a culture of peace as a contribution to conflict resolution and peace building through press freedom and freedom of information as stipulated in UN resolutions and other international agreements."
"This MOU between HWPL and the Bulacan Press Club is expected to allow more journalists from the 50 media agencies in the club to participate in producing and sharing peace-related news worldwide and to help establish a firm cooperative relationship in promoting peace journalism," said Mr. Ian Seo, Department of Public Relations, HWPL.
HWPL has already established partnerships with 600 journalists across Europe, Asia-Pacific, North America, and Africa to further develop the "Global Peace Media Network" as proposed by HWPL and global journalists, and since its creation PI has gathered around 200 peace-related contributions and opinions from civil society leaders globally.
Also, HWPL held a press briefing on the 14th of February with the participation of 15 members of the Bulacan-based reporters including Silverio, who is also a member of the HWPL media publicity ambassadors.