Art: It Moves Peace (series)
They say that a picture is worth a thousand words, but sometimes a simple painting can express a deeper meaning that words themselves cannot. Visual art has the power to move the hearts of onlookers in a manner that other forms of art fall short of achieving. Through this medium the deepest desires that lie within the hearts of their creators can be seen clearly by all around. Since peace is something that all humanity is greatly longing for, this type of artwork can be even more powerful.
(Google, "Picasso Congres Mondial, 1949", "Pablo Picasso dove of peace")
Visual art is not bound by the barriers of nationality, language or even culture and has an inherently universal nature that lends itself greatly to the concept of peace. Just as the dove has now become a universally recognized symbol of peace since its first use as the symbol of the First International Peace Conference held in Paris in 1949 after being created by Pablo Picasso, visual art has the power to connect the hearts of individuals regardless of external differences. A picture does not need an explanation to carry a message, yet that message can become a powerful force that shapes the attitudes and hearts of those it reaches.
In this 'Art: It Moves Peace ' series we will explore the realm of visual art and meet some outstanding individuals who truly show that the influence of visual art knows no bounds. Despite being single individuals, they have managed to create artworks that touched the hearts of many and carried a sincere message of peace. Both of these individuals prove that one does not need to be rich or powerful to make a difference, but that if you simply have the heart to make a change then anything is possible.
eL Seed
"I truly believe that art is the only way to keep us together and to remind us all that we are human."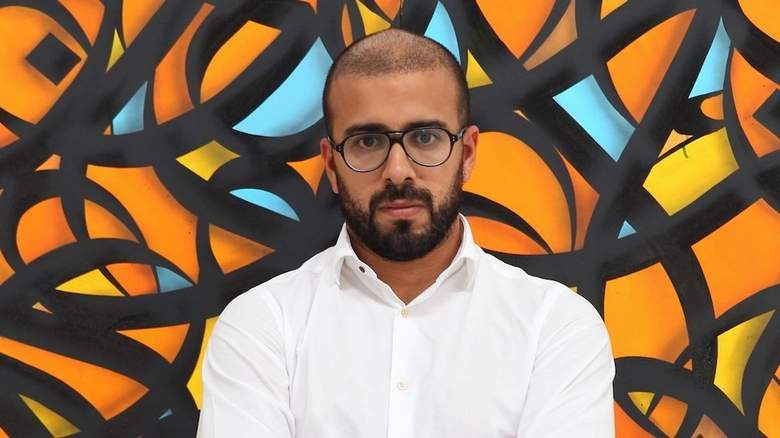 (Google, "El Seed, Street Artist")
eL Seed is a French-Tunisian street artist who has been working to unite communities and change people's views of peace through his own unique style of art. Considered a dreamer by some, eL Seed has diligently been spreading the message of peace around the world through his large-scale art projects that span across buildings, countries and cultures. Growing up, he had attempted to blend in with French society and gave up on connecting with his Tunisian roots; however, after learning standard Arabic in his teens, his interest in his own personal roots was renewed. From that moment on, he has been using Arabic script as his medium to create art that carries a sincere message of peace.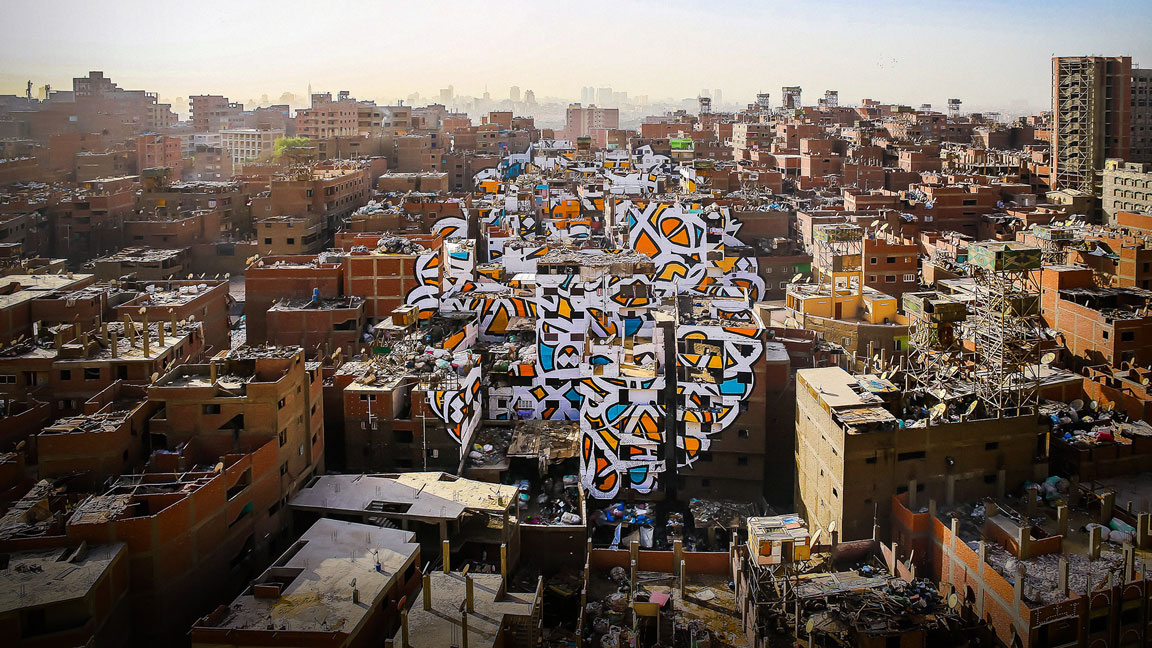 (Google, "eL Seed Shares Moving Experience of Creating Art in Cairo")
His career was never focused on making small-scale art pieces that would be owned by individuals, but rather he chose to make the world his canvas and began creating art in the streets. Through a style that he has since named "calligraffiti" eL Seed uses Arabic script, written in an almost illegible manner, to share his ideas of unity and peace. He has stated that even for those who cannot understand the text itself, the visual is enough to move and connect the hearts of those within the community.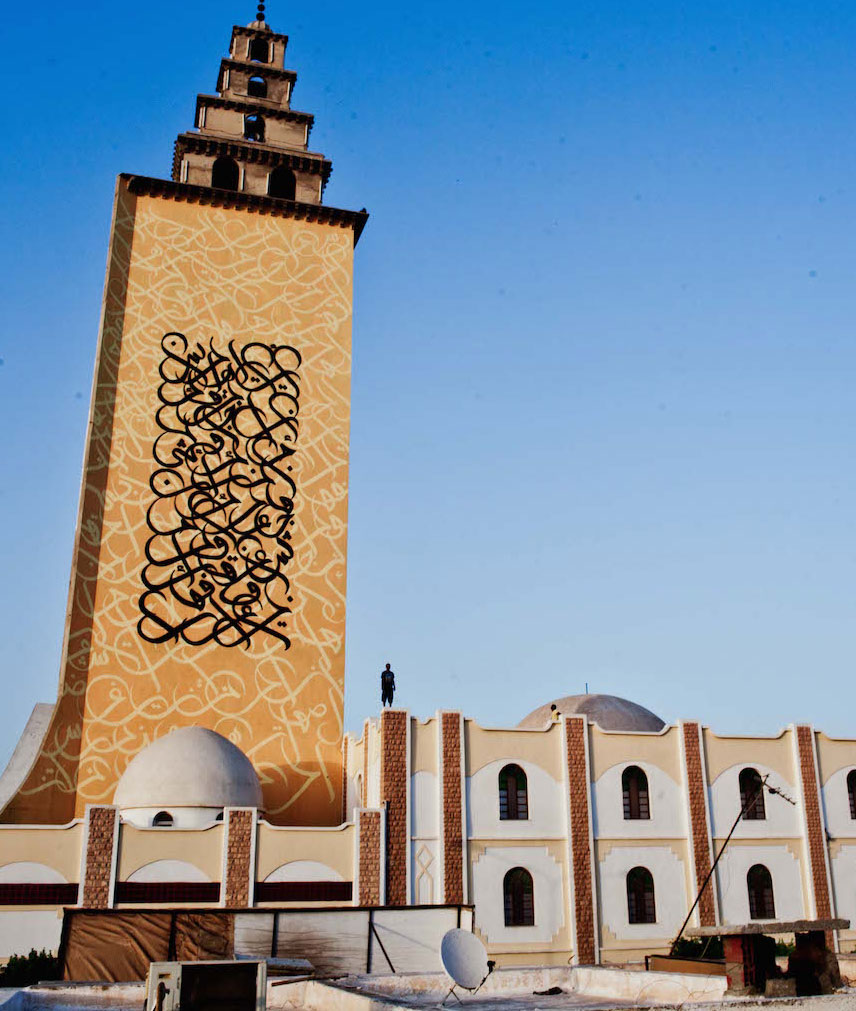 Jara Mosque in the Coastal city of Gabes
It was in 2012, shortly after the start of the Tunisian revolution, eL Seed rose to international prominence through his controversial painting of a minaret of the Jara Mosque in the coastal city of Gabes in Tunisia along with a quote from the Quran explaining how people were created in different tribes and nations so that they can better know one another. The purpose of this project was to make a statement and bring people in the community together through dialogue. eL Seed has explained during interviews that he purposefully tries to send a message through his artwork and that. "the aesthetic is really important, that's what captures your attention, but then I try to open a dialogue that's based on the location and my choice of text."
Since that first breakthrough on an international level, eL Seed has been painting building around the world, to send a single message of peace. He works to bring communities together in the face of adversity and shed light on some of the social issues that plague certain areas. He desires to open discussions that need to be had in order to peace to become a reality for those communities.
Some of his most famous projects include the Cairo project in which he painted a mural across 50 buildings that can only be properly seen from a neighboring mountain. Through this project he sought to bring attention to a community that had been marginalized and unfairly discriminated against for years. He also was commissioned by the Gyeonggi Museum of Art to install a 430panel laser-cut aluminum piece on the metal fence that divides the DMZ in 2017. He chose to include a quote from a North Korean poet for this project in hopes of sending the message to audiences to never forget the tragedy that divided the nation and to work towards a brighter future through reunification.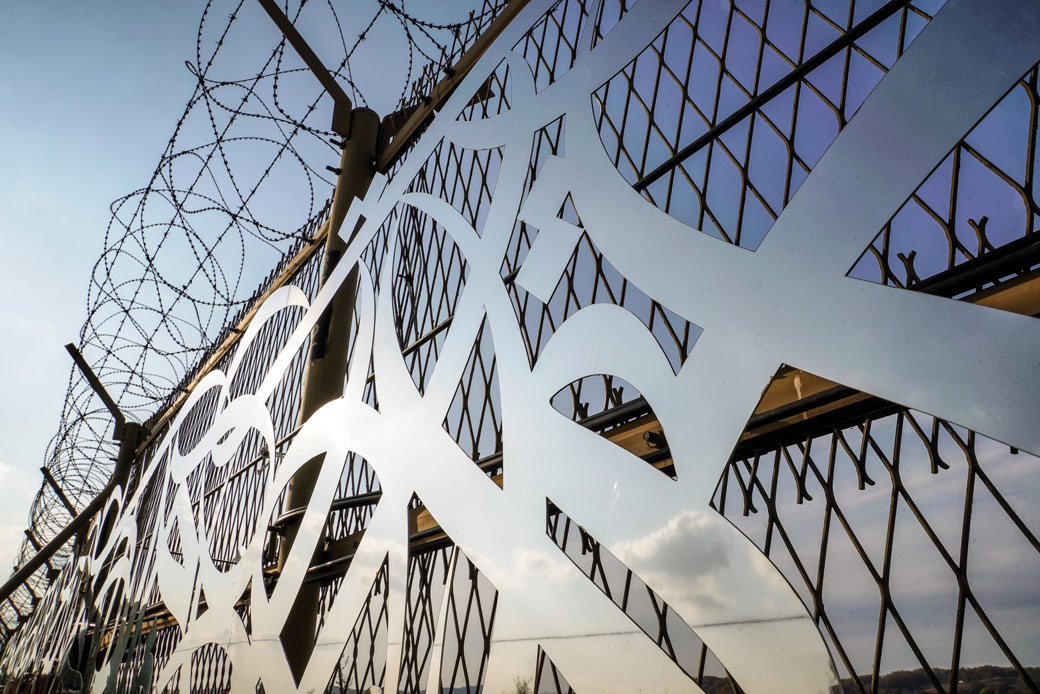 (Google, "The DMZ in 2017, 430panel by the Gyeonggi Museum")
Carrying his belief that art can unite individuals and allow the message of peace to spread, eL Seed continues to travel around the world creating art that provokes a discussion and breaks down prejudiced perceptions.
Ibiyinka Alao
"I Draw, Paint and Write about whatever I'm able to find, feel and sometimes understand. I feel that it is healthier to look out at the world through a window than through a mirror. Otherwise, all you see is yourself and whatever is behind you"
(google, "Iviyinka Alao of Nigeria and an arts ambassador to the United Nations")
Ibiyinka Alao is a visual artist from Nigeria who has since become Nigeria's Art Ambassador to the United Nations. From an early age he believed that colors held a deeper meaning and were a language in and of themselves. So, throughout his career Ibiyinka Alao has used a vibrant palette of colors to send messages of peace, harmony and unity to international audiences across the globe.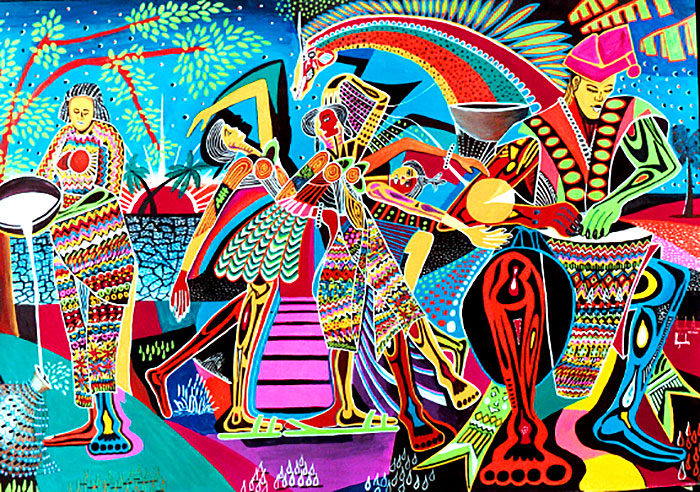 After being trained in architecture at the University of Ile-Ife Nigeria, Ibiyinka Alao began to pursue his true passion as an artist. Fueled by the idea that happiness can be understood through listening to silent voices and that art can fill the void that is within the hearts of all humanity, he began creating works of art that visually represent the message of peace. Through traditional African styles, his artworks display vivid colors that captivate audiences and allow them to truly feel the message he is attempting to send.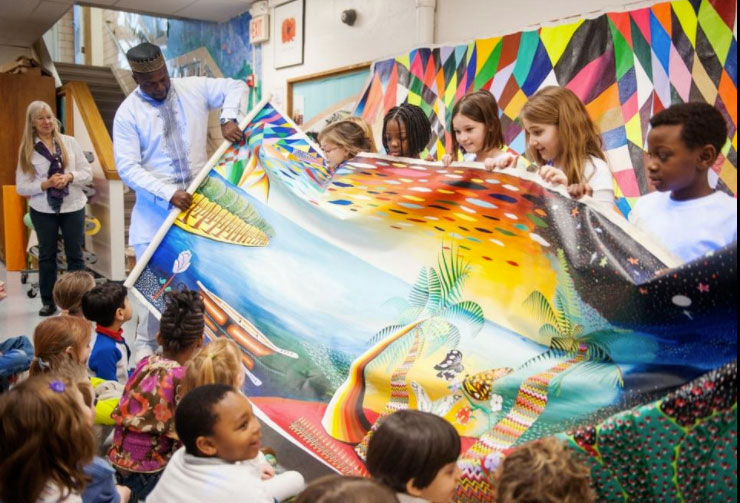 Ibiyinka Alao's artworks are now displayed in many prominent buildings and museums around the world, and he has since gone on to give many lectures and hold various workshops with students, ranging in age from elementary to university. He has not let his prominence in the international community to skew his views or change the direction he has taken in life, but rather he has used his position to make a greater statement and has expanded his work to reach even larger audiences.
It can be seen that both eL Seed and Ibiyinka Alao have clear visions of peace that drive their passion for art. Both have used the medium of visual art to spread messages of peace and unity, open up needed discussions in international communities and inspire the next generation to also take action. Through their efforts they have shown the world that anyone can make a difference and as long as they pursue their dreams with passion, miracles can happen.
Spreading a culture of peace is a necessary step towards the realization of peace, and art has the power to make such a movement possible. As seen through the examples of eL Seed and Ibiyinka Alao visual art has the power to break down barriers and transcend cultures, nationalities and even languages. People may be different on the outside, but inside all humanity has a longing for peace that words cannot always express. So, it is through art that this desire can be expressed, and the message can go out into the world and make a positive change for the future.