Cries from Death to Cries for Life, Democratic Republic of the Congo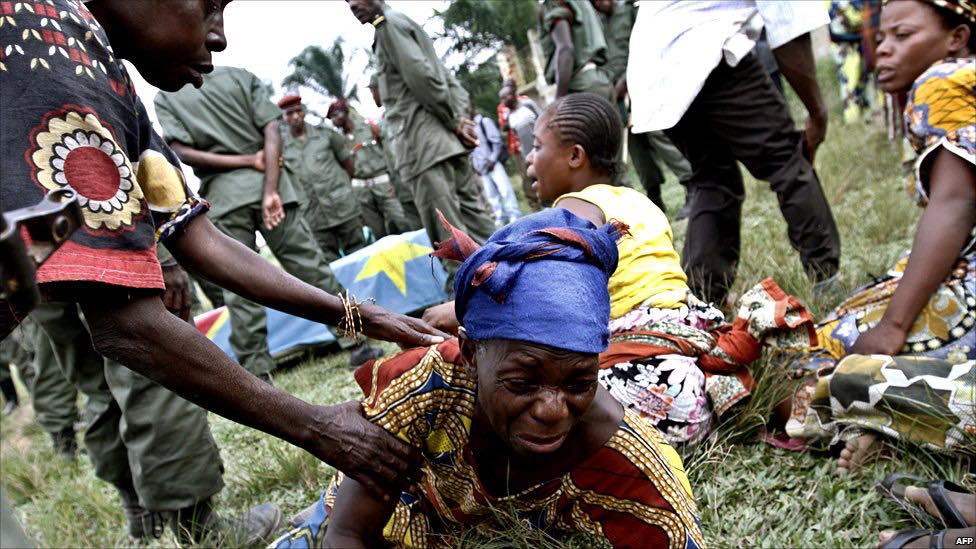 A woman in the Democratic Republic of Congo mourns her soldier husband killed by rebels accused of mass rape after seizing a town in the east. Reference from (http://www.bbc.co.uk/news/world-africa-12091143)
There is a land on the globe where women and youth have most difficult lives. 58 times greater possibility of rape than the United States, this is the place where 48 women are raped per hour, 1,152 per day, and 68 out of 1,000 women experience the sexual violence, which makes almost impossible to be calculated in statistics.
Such horrifying incidents of beyond-imagination violation of human rights have happened on a daily basis; they are tortured without mercy, raped in front of family members who are to be killed after the tragic moment, and forced to eat excrement, parts of body of their family. Youth on streets are the main target of killing without any reasons. This is really happening in Democratic Republic of Congo in Central Africa.
(See more about this on the report from Human Rights Watch, https://www.hrw.org/news/2014/06/10/democratic-republic-congo-ending-impunity-sexual-violence)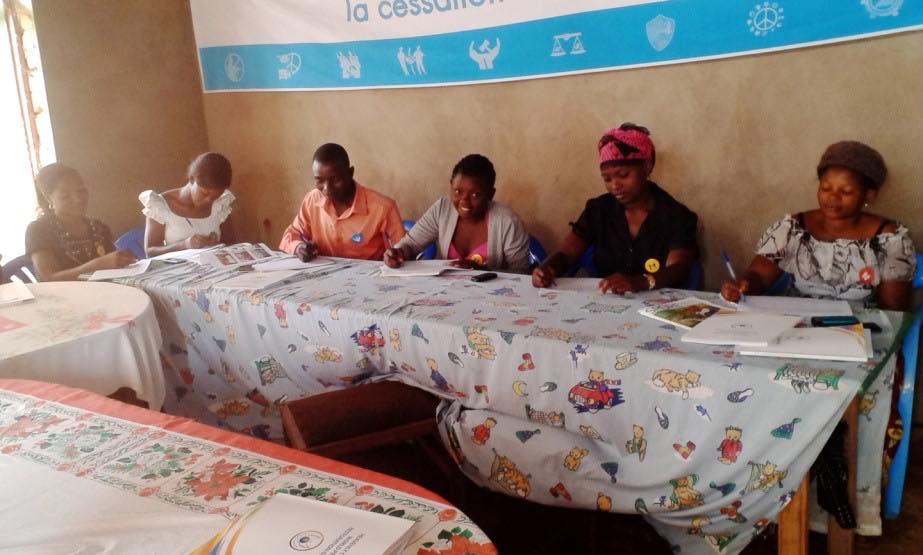 The very cause of this terrible reality in which the concept of human rights is strangled is war. It can be proved that the area of violence towards women and youth often coincides with the area of armed conflict. Since the independence from Belgium, the military coup in 1965 and the ensuing long-term dictatorship resulted in corruption and disorder leading to civil war in the country.
Among the series of civil wars, 4 million casualties were reported between 1998 and 2003 and 25 million people have lost their home and wandered foreign lands around the world as refugees. Any attention or practical measures from the international society have not been made yet.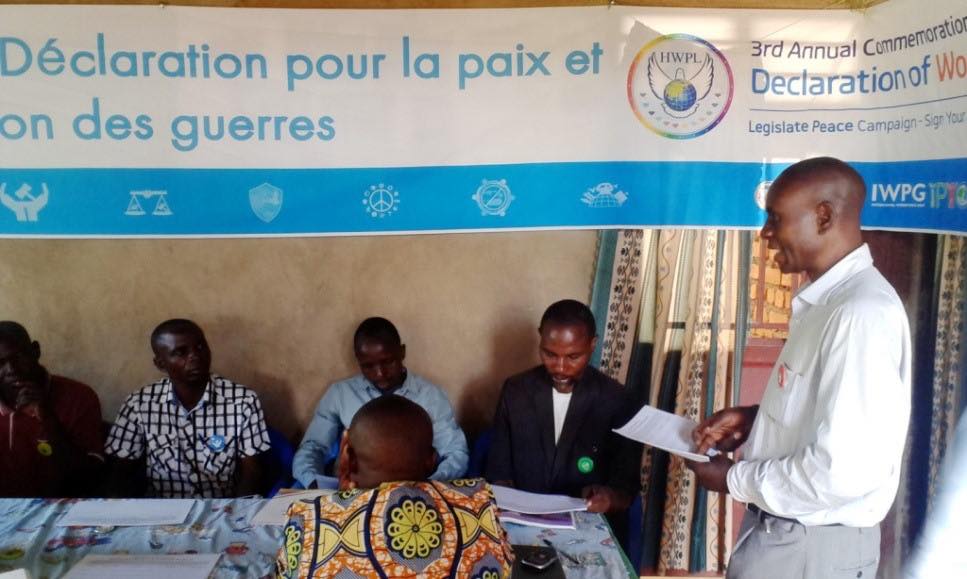 On March 14 this year, HWPL proclaimed the initiative on global peace in the name of Declaration of Peace and Cessation of War (DPCW) and provided practical action plans for development of peace. Fundamentally, this is to establish peace as a legacy to the future generations. The 10 articles of the declaration include checking all the challenges causing war and building a firm foundation of mechanism and policy that can maintain peace.
War not only destroys buildings and nature, but also paralyzes rational mind and devastate spirit. Long-lasting war also deprives people of their freedom that guarantees their standard of living. In this regard, DPCW emphasizes devices to reduce war behaviors and education as a tool for keeping this world sustainable with peace.
Also, it also states that religious harmony through inter-faith dialogues based on scriptures should be carried out in order for religions to restore their spirit of peace and contribute to making a peaceful world. This, having support from global citizens with their signatures, will be presented to the United Nations and governments of states to develop it into an enforceable legal basis.
A judicial mechanism is the last resort for those who have lost their lives as a result of war, like the Congolese. The will of civil society bursts out as support of DPCW, since the declaration encourages positive peace – mediating conflict based on law, defining war and violent behaviors as criminal activities and transforming production of weapons into facilities for universal benefit to citizens.
This is why 100 religious leaders in DRC called from door to door to receive signature in support of DPCW from 13,000 people.
The following is the support message for the Declaration of Peace and Cessation of War by Pastor Tshuma, ODI (Oneness Development Institute)Longing for the Declaration of Peace and Cessation of War to become an enforceable law in the DRC Pastor Tshuma / ODI (oneness Development Institute)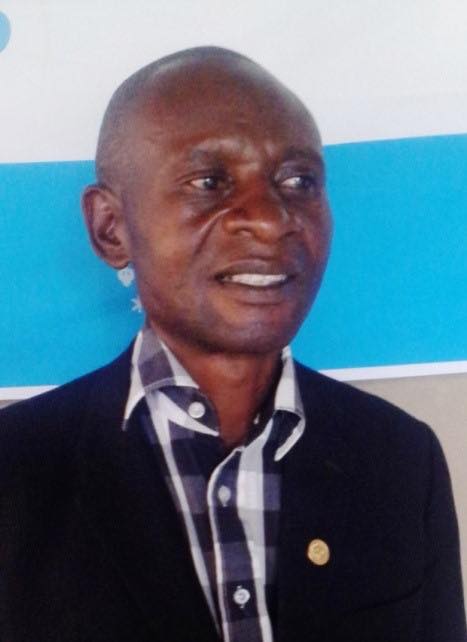 100 religious leaders from the Democratic Republic of the Congo (DRC), earnestly seeking for peace, gathered together in Beni Town, DRC on 25 May 2016. We participated in HWPL's Legislate Peace Campaign and held an offline signature ceremony, which is for the Declaration of Peace and Cessation of War (DPCW) to be introduced to the United Nations to become an enforceable international law.
We all promised to inform the DPCW to our congregation members, since it is such an important cause aiming to stop war and secure peace.
The main consequences of war on women, youth and children include poor health, poor education and poverty. During war, many people are massacred, and others are forced to flee their villages and seek safety elsewhere.
All victims, regardless of gender, suffer severe emotional trauma. They are living in fear of being killed and are angry towards those who killed their families. There is no hope before them. HWPL, however, brought hope to this desperate country. All 10 articles of the DPCW are just what DRC needs.
We gathered again, on 4 June, to count the signatures we had received in support for the DPCW to be developed into an enforceable law by all countries. We collected almost 6,000 signatures. This, however, was short of our goal. Accompanied by the youths and other volunteers from ODI (ODI works to bring unity among religious leaders and promote holistic peace in the DRC), we started to go from door to door requesting people humbly to support the DPCW through their signatures. Presently, we have collected 13,000 signatures. We believe that, the holistic peace is possible in DRC with HWPL as God's instrument in this world full of darkness.
Last but not least, we express our gratitude to God Almighty that called Mr. Man Hee Lee to the Holistic Peace Ministry in this world. We wish to express our sincere and deep appreciation for what he has done all over the world, and for accepting us to cooperate and work in partnership with HWPL. May God bless Mr. Man Hee Lee abundantly.