Delivering Love and Peace to Indonesia
A group of 11 Professors and Faculty Members from Indonesia Visited the Republic of Korea to Participate in the HWPL Peace Education Workshop
" Now, we need to work together for the world of peace in order to bring an end to war and armed conflicts and leave the full legacy of peace to our future generations."
– HWPL Chairman Man Hee Lee
In May 2018, a group of 11 professors and faculty members of national universities in Indonesia visited the Republic of Korea to learn about HWPL's concept of peace at an education workshop. Just three months prior to their visit, many universities in Indonesia including Universitas Islam Negeri Syarif Hidayatullah Jakarta have shared in the historic moment of signing a Peace Academy MOU with HWPL. For 3 consecutive days, the HWPL Peace Educators Workshop was designed to assist these universities in integrating HWPL's Peace Education into their curricula for the coming fall semester.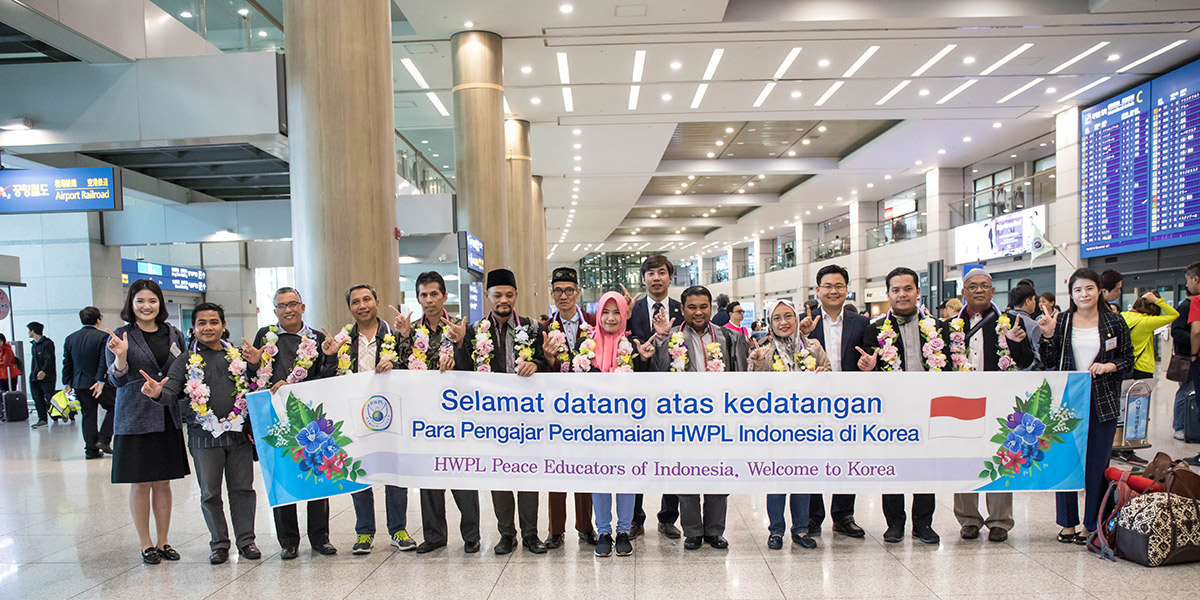 This workshop not only helped educators gain a better understanding of HWPL Peace Education but also closely examined the cases in other states and the concept of peace to share the mutual need for peace education. The workshop took a closer look at ▲Who is responsible to bring peace? ▲What's the key ingredient to make this world one of peace? ▲All humanity needs to be born again with the culture of peace.

▲ Group Discussion
When asked about HWPL's peace movement in the world's one divided nation, Korea, Prof. Ali Munhanif, a political science professor at Universitas Islam Negeri Syarif Hidayatullah Jakarta explained, "It is amazing to see a divided nation doing this work of peace. HWPL's peace work takes great significance in the run for ending the war on the Korean Peninsula and for its reunification. By taking Mr. Lee's purpose and his vision for peace and applying it to individuals, the environment, and governments, I am confident that it is possible to achieve peace solely by the hands of the people without any intervention from the government level or the religious leaders." He also stressed, "The peace values presented by HWPL are necessary for realizing reunification led by the people."
Dr. Rachmat Baihaky, Head of the Center for International Cooperation at Universitas Islam Negeri Syarif Hidayatullah Jakarta, highlighted the necessity of peace education proclaiming, "Peace is necessary because it is directly related to people's daily lives. I feel the need for peace education in a democratic country, [like] Indonesia where political discourse [is carried out] by different political parties. Educators have the responsibility of teaching and delivering peace. When I return home, I hope to become a peace messenger, share the ideas of HWPL Peace Education with others, and contribute to resolving political discourse in Indonesia."
The workshop's participants said they plan to apply HWPL peace education in both their schools and communities. Prof. Barsihannor Zuhri, the Dean of Adab and Humanities Faculty at Universitas Islam Negeri Alauddin Makassar added, "the workshop served as an opportunity to take one step further in thinking about what peace really is. I want to share the value of peace presented by HWPL when I return to Indonesia."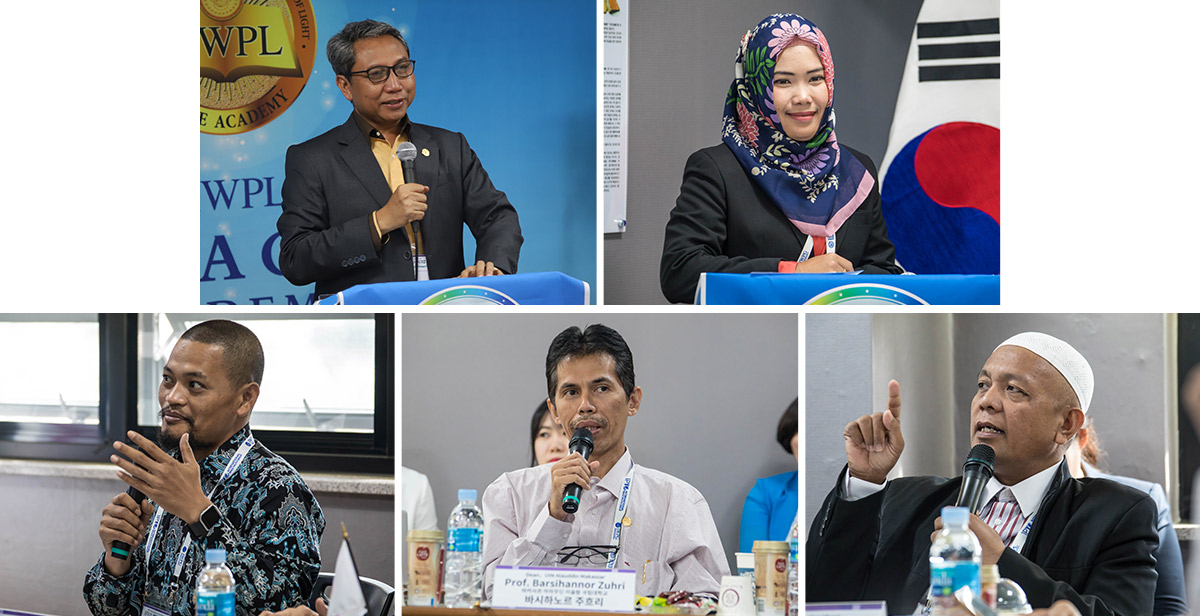 ▲ (From Top Left) Prof. All Munhanlf, Prof. Nur Hidayah, Dr.Rachmat Baihaky, Prof. Barshihannor Zuhr, Prof. Muhammad Iqbal Irham
Prof. Nur Hidayah, Vice Dean of the Medical and Health Science Faculty in Universitas Islam Negeri Alauddin Makassar, described the value of HWPL's peace education curriculum stating, "I've chosen the HWPL peace education curriculum as it provides universal contents and clearly provides the materials that are beyond the labels of ethnicities, religion, culture and language. I believe these textbooks serve to keep all humanity in order."
Prof. Muhammad Iqbal Irham, the lecturer of Islamic Spiritualism in Universitas Islam Negeri Sumatra Utara, also emphasized that he will conduct peace education for his students as an extension of this workshop. "What I recognized from learning about HWPL peace education curriculum is that we need to clearly spread the value of peace."
After the HWPL Peace Educators Workshop, professors at the universities in Indonesia plan to start training the peace educators at peace academies to promote its full implementation.