Greetings to family of peace around the world. It's a pleasure to have all of you here.
I'm sure everyone knows why we are gathered today – to celebrate the 5th Annual Commemoration of the Declaration of Peace and Cessation of War (DPCW). Over the years, we have worked together to cease war and achieve global peace. This all began when a promise was made at the HWPL World Peace Summit, before God and all people of the world. Politicians pledged to work towards a new international instrument, and religious leaders pledged to bring all religions together as one under God. I believe you still recall the promises made that day.
Since then, I have visited different countries to discuss the need for these two things – international law and interfaith harmony – to bring wars to an end, and we have agreed that they were needed. Not a single person refused peace or wanted war. Everyone, politicians or citizens, wanted global peace equally. So everyone promised before God and all people of the world to achieve peace and cessation of war together. Haven't we witnessed this? Also, heads of civil society organizations promised to call for this work to be completed. What happened after that? These agreements did not remain mere words on paper, but the HWPL International Law Peace Committee was established to actually draft a document. This committee, comprised of legal experts of different nationalities, drafted the 10 articles and 38 clauses of the DPCW. And the declaration was proclaimed to the whole world.
When was that day? It was the 14th of March, as you all know. People all around the world know about this achievement. They all know. Since the declaration was proclaimed, five years have passed. We are well aware of it. Now, we need to turn it into a reality. We need to create a peaceful world without war, a place of freedom, peace, and love, as a lasting legacy. Wealth and fortune cannot be a lasting legacy for future generations. Our duty is to leave a legacy of a warless world of freedom, peace, and love for our children and generations to come. I believe this is what we must do, and what I have been saying all along.
Then you might wonder which stage the two initiatives are at right now. As for international law, the HWPL International Law Peace Committee drafted the DPCW, which was sent out to the whole world, and the declaration was on its way to being adopted by the United Nations. But then, the world was hit with the COVID-19 pandemic. Even though the process has come to a halt for now, I believe our determination to achieve a world of peace hasn't changed a bit. I am confident that no one will reject this cause. Once the COVID-19 situation settles down, we will introduce the DPCW to the UN General Assembly so that it may be adopted. Isn't that what we should do?
When I visited the UN before, I talked about the need for this work to UN ambassadors of countries all over the world, and everyone rose and gave a standing ovation. So I believe there is no reason why the DPCW cannot be passed. Among the existing international instruments, there are provisions that allow the use of force in certain circumstances, which is why wars cannot be brought to a complete end with current international law. All weapons of mass destruction should be eliminated, and these weapons should be repurposed to benefit humanity. That way, wars will not break out.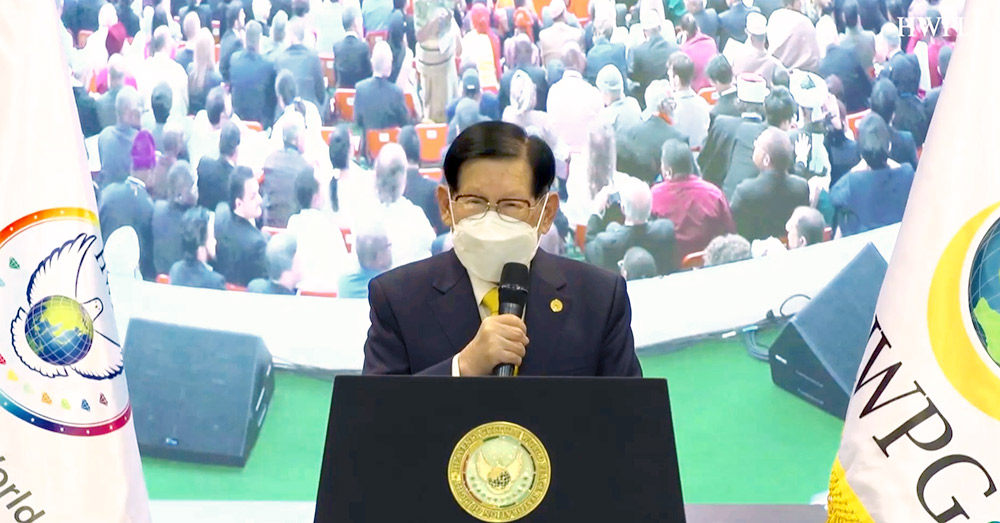 Another initiative is about religion. There is one God, and there is one truth, the word of God. But why are there so many different religions? Something must have gone wrong. For all religions to come together as one, I believe they should have the same understanding of the truth found in a religious text. Then, religions will be one in harmony.
Now, how can they find this truth? It is possible through comparing religious texts. The question is which scripture is most trustworthy, hopeful, and certain. There are many different scriptures; some of them mainly contain rules on good conduct from a cultural perspective, but this is the basics. Being only good and kind cannot stop wars from breaking out. It is said that about 80 percent of conflicts involve religious causes. This is not what religion is meant to be. Religion is meant to lead by example, and yet it is responsible for a large portion of conflicts. This is not right. If religions become one in harmony, wars will not arise from religious causes. Isn't that so?
To come together under one God, one goal, and one truth, religious leaders should bring their scriptures to the World Alliance of Religions' Peace (WARP) Office, compare them, and find the greatest truth so that there will be no more wars caused by religion. That way, they can be respected as people of religion; otherwise, they might be thought of as soldiers since religion is one of the major causes of war. This kind of religion cannot be a true religion.
The purpose of religion is to learn from God and teach His teachings. Because there is one God, religions should all unite under Him. To this end, the WARP Office was established in different countries, where religious leaders meet and compare their scriptures. I heard the offices are making great progress. Here, participants engage in active discourse, where they answer various questions based on their scriptures. But this work cannot be done with just one or two religions. I would like to ask every religion to take interest and participate in the WARP Office. This is my hope and my request.
When the HWPL World Peace Summit was held in Seoul, South Korea, the guests were supposed to return to their countries on the last day. But I asked leaders of five major religions to stay one more day and talk with me. I said I would cover the traveling expenses for their return and brought them their scriptures. Then I asked them to answer five questions based on their scriptures. I said, "Are these things found in your scripture? I tried searching but could not find them in these scriptures. Please tell me where you can find them." The five questions asked whether the scripture has prophecies that God proclaimed about future events, whether the prophecies have actually been fulfilled and for how many times, and whether there are prophecies still remaining to be fulfilled from now. The religious leaders told me there was no such thing in their scriptures. I am sure they will recall this conversation when they hear me say this.
Why has this world become so evil, and why must people kill each other for their self-interest? This is just tragic. We should endeavor to create a world without war. Now, if I may go back to the conversation I had with the religious leaders, one scripture had prophecies. It also contained things spoken by a prophet, although he cannot be considered a religion. But for the other religions, there was no prophecy or fulfillment. Then it may be a cultural or social institution, but how can it be considered a true religion? A true religion is where people can learn about God's word and the truth from someone who walks with God, a leader who God is with. Isn't that right?
I am trying to say that interfaith harmony is very important, which is one of the reasons why the World Peace Summit was held. It is important in bringing wars to an end and achieving peace. For this peace, the 10 articles and 38 clauses of the DPCW were created with the participation of legal experts and politicians. Everyone wanted this work to be done. We should not forget this day. Through today's commemoration, let us set our minds on the same goal. Achieving peace is not the responsibility of any one individual, but a shared responsibility. Everyone living in the global community should become peace messengers working to create peace. This is the way to bring wars to an end.
I have visited many schools to give speeches on peace and cessation of war. I have done the same at many organizations, police circles, and the United Nations. I also went to China and spoke at a convention hall where the vice-chairperson the CPPCC and ten politicians were gathered. I went to Russia, too. I have visited places all over the world and worked for peace. And every meeting had a purpose. I signed a peace agreement with everyone I met to achieve peace together. I still have those agreements. The World Peace Summit was held for the same purpose on September 18th. Now, we should show our commitment to peace not only in words, but in actions. If we stand united in heart and mind, peace and cessation of war will be possible. I trust that the United Nations and its General Assembly will also approve.
I believe our family of peace all across the globe are joining this peace event today. Let us not forget each other. When the pandemic is over, I will visit your countries again. I look forward to meeting all of you in person and putting our heads together to achieve a world of peace. Thank you very much.