HWPL moves forward through Online Peace Activities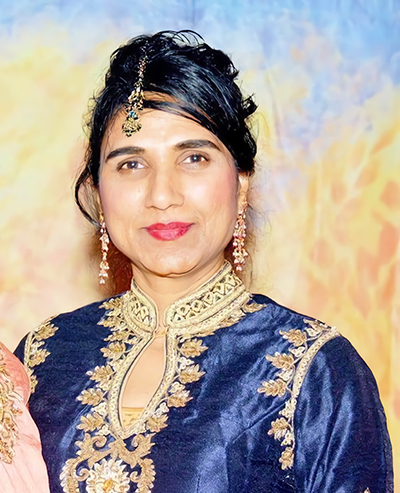 I, Dr. Parina would like to emphasize that my association with HWPL was a short period of time but it seems like I have known them for eternity. I feel a spiritual bond with them. After connecting with HWPL, I feel that I have achieved my destiny to establish Dharma & Peace on this earth.
I missed the HWPL WARP Office dialogues during the lockdown not because I was wanting to speak. I was missing the smiling faces and positive energy of the HWPL staff, spiritual leaders, and others during our monthly meetings which was therapy for me until the next meeting.
In the online HWPL dialogue that resumed on Aug 22nd, 2020, my experience was divine and I felt blessed to be the part of it. I did not feel like I was sitting at home behind my screen but it felt like we were sitting right next to each other. I could see the glow and grace on the face of each person. This is such an amazing thing that people from different states were connected online and they all hug each other virtually with a big smile. I could feel their joy and love from the distance. Online discussions on peace give such strength to all. And I have not seen any conflicts or any kind of negativity from anyone. In fact, the dialogues help people get closer.
It is my belief that there should be more online peace activities and education. I hope more people from around the world will connect at the online dialogues. When we are thirsty, we walk to the well. But now in this pandemic situation, HWPL has become that online well which is trying to reach all those who are thirsty and are in need of moral support and peace.
The current pandemic is similar to the war fought by the warrior Arjuna in the Hindu Epic, Mahabharata (Bhagwad Geeta Chapter 2). In Mahabharata, the battlefield was Kurukshetra. Now, the hospitals are the battlefield. The warriors are the medical workers and spiritual leaders. And the evil we are fighting against is the coronavirus.
I heard that despite going through a difficult time due to the coronavirus, over 4,000 members of the religious group, Shincheonji Church of Jesus and HWPL members who have recovered from COVID-19 volunteered to donate their precious blood plasma. This donation of convalescent plasma is a valuable resource offered to those researching treatment and presents a meaningful stepping stone on the road back to global recovery. I salute their incredible job. In Ramayana, when Rama's brother Lakshman got shot by the Meghnath (Ravan's brother), Sanjeevani was used to cure him. According to Hinduism, Sanjeevani is a magical herb that has the power to cure. So, the donation of plasma will help people as a Sanjeevani against the coronavirus.
As a Hindu spiritual leader, my request to all those who are reading my message is to stay connected with the HWPL organization to establish PEACE. Coronavirus is not going to divide and shake us. If thousands of such epidemics occur, we will break them like a bubble with our spiritual strength and unity. Remember that "United we stand – Divided we fall."
I believe that when we give love, we always gain. HWPL is giving love and peace without a price. So, by the grace of God, HWPL will gain a lot on its path for their good cause. Their efforts will never go wasted. This is my strong faith. One day, the world will recognize them and appreciate their sincere efforts.
So let us all walk with HWPL with our head up and purpose in our lives. Let us all stay connected with HWPL with all our hearts, by all means, to establish peace on this earth.
Let us all become a big one Sanjeevani tree on this earth and become a therapy to establish peace and humanity.
God Bless this world.
Dr. Parina Mehrotra
Hindu Spiritual Leader
(Chicago)