International NGO HWPL signed MOU for "Peace Culture City Project" with Tîrgu Mureş City in Romania
Appeal to Romanian youth and citizens to join in the activities calling for the establishment of an international law for peace
On May 20th, Tîrgu Mureş City of Romania and the UN ECOSOC-affiliated NGO HWPL signed an MOU for the "Peace Culture City Project" in order to develop a culture of peace through cultural exchanges and peace education.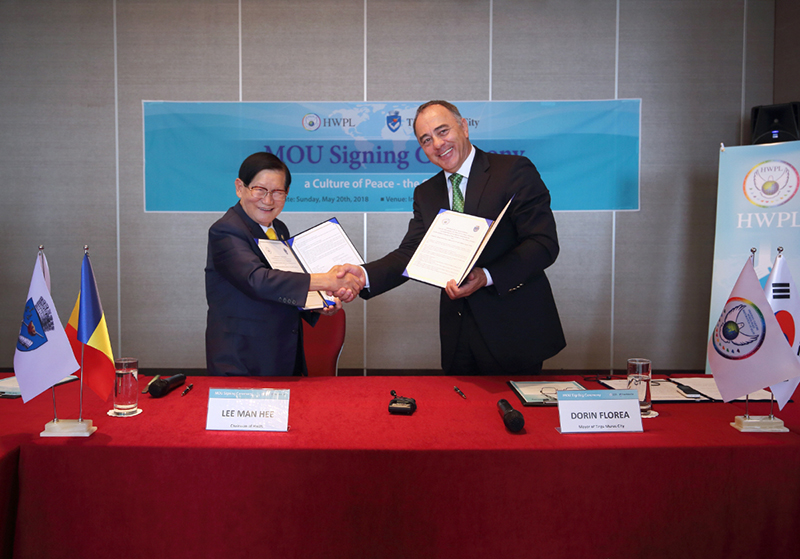 ▲ Chairman Lee of HWPL and the Mayor Mr. Dorin Florea of Tirgu Mures City signed a MOU for 'Peace Culture City Project'
"Tîrgu Mureş City is a multicultural and historic city. HWPL is working to raise awareness of the world in culture, civilization, and history through continuous and constructive peace education [movements] and cultural exchanges. Through this MOU, we hope that Tîrgu Mureş City and HWPL will be able to make each other's culture more beautiful through 'A Culture of Peace – the City project'," said Mayor Dorin Florea.
Regarding this peace-building cooperation, Chairman Man Hee Lee of HWPL said, "I am glad to be able to communicate with the progressive City of Tîrgu Mureş through this MOU." As for the role of individuals in working for peace, he added, "Let us leave peace and a better culture for future generations as a higher state of culture through the exchange of a culture of peace".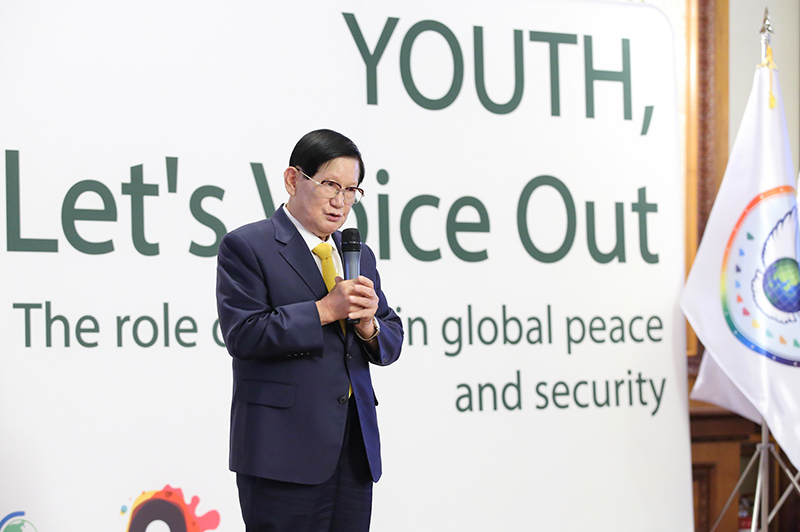 ▲ Chairman Lee of HWPL is delivering a speech to Youth in Romania
Chairman Lee of HWPL and its peace delegation then participated in the youth event entitled "Youth, Let's Voice Out" in the Bucharest Parliament House. The event was jointly hosted by HWPL, its affiliated organization, the International Peace Youth Group (IPYG), and the Romanian youth peace group, Master Peace Ro.
"All mankind desires peace, nobody has wanted war. So, if we become one, we will be able to achieve peace. HWPL exists for the youth. I hope all youth will join in the peace activities of IPYG and leave peace as a legacy for our future generations," said Chairman Lee. "We have all shared to you our experience during a period of huge political, economic, cultural, and scientific, technological transformation. We hope that this working experience will contribute to your future in the next period of big transformation ahead of you," said Hon. Emil Constantinescu, the former president of Romania.
Mr. Dragomir G. Marian, President of Master Peace Ro said, "More than 1,000 youth have signed the DPCW and expressed their support. Today, I am happy to see the culture of peace promoted by the Peace Letter project." He also expressed his hopes for the youth in Romania to continuously promote the activities of spreading a culture of peace with HWPL, such as peace education events and the peace walks.
The DPCW with its 10 articles and 38 clauses includes provisions to avoid war-related actions and achieve peace, including respect for international law, ethnic/religious harmony, and spreading a culture of peace. In order to advocate peace and conflict resolution, HWPL has engaged in peace education and the "Legislate Peace Campaign" to raise awareness of peace among students and citizens around the world.
In this event, which was attended by 200 Romanian youths, HWPL introduced the DPCW that has been proposed as a solution to international conflicts and disputes, and then participants wrote "Peace Letters" urging the president to support the DPCW.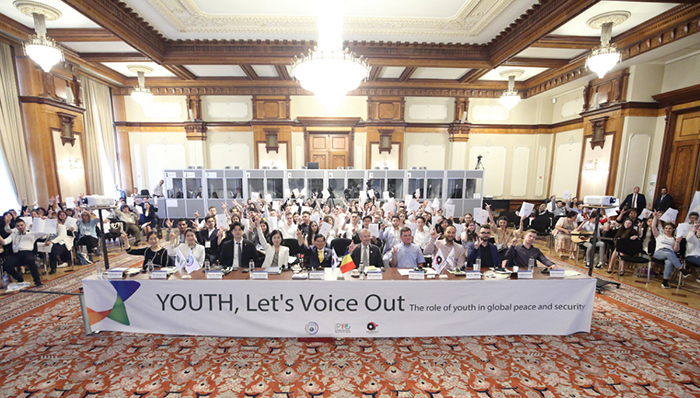 ▲ Group Photo of the event 'Youth, Let's Voice Out'