Palestinian Leaders Seek to Bring Peace through Advocacy Meeting for the DPCW

In Ramallah, Palestine, on October 31st,  social representatives including politicians, leaders of civil society, women's organizations, and the media gathered together to support peace at the advocacy meeting for the DPCW.
At the start of the event, a performance consisting of the singing of three Palestinian folk songs about peace celebrated a deep-seated heart for love and peace, which brought another colorful layer to the advocacy meeting. Afterwards, keynote speakers delivered their main addresses highlighting the value of the DPCW and discussing strategies to further promote the DPCW through the Legislate Peace campaign.
Dr. Mutaz M. Qafisheh, the dean of the law department of Hebron University, said, "The declaration is a great initiative and it is indeed the right time to have such a vital instrument added to the already existing international law."
Through a recorded message, Chairman Man Hee Lee of HWPL elaborated further on the necessity of joining the peace-building efforts by understanding and sharing the core principles of the DPCW. Provisions within the declaration which aim to reduce war potential and repurpose weapons to benefit humanity resonated with many attendees living in Palestine since they have long sought ways to bring peace and reconciliation to their country and beyond.
As the campaign to receive the signatures of support for the Declaration through the advocacy meeting continue to positively influence and empower the young generations, we are getting one step closer to developing the Declaration into a legally binding document with peace as a core principle of international relations.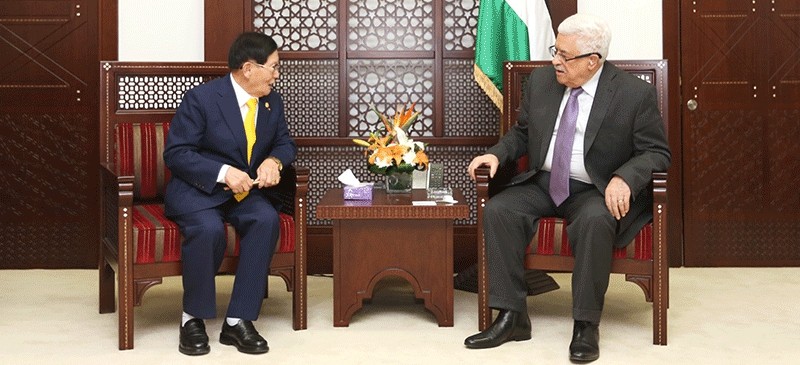 Just last year, President Mahmoud Abbas of Palestine met with HWPL Chairman Lee on to discuss HWPL's proposal on the international law on the cessation of war and peace. The meeting between the two leaders was also to discuss the ongoing Israeli-Palestinian conflict, referred as the world's 'most intractable conflict', which needs a precise but immediate resolution. President Abbas strongly agreed with the urgent need of implementing the an international instrument based on the Declaration of Peace and Cessation of War (DPCW), HWPL's core peace initiative and the steps being taken to overcome the deficits of current international peace laws.
H.E. Ali Abu Diak, Minister of Justice of The State of Palestine participated in the proclamation ceremony of the Declaration of Peace and Cessation of War (DPCW) on March 14 this year. In his congratulatory remarks, he said, "It (the Declaration of Peace and Cessation of War) is considered as a culmination for all International Conventions and Treaties to which the State of Palestine has joined and committed itself to, and we are looking for that this Charter will contribute for the commitment of all States to stop wars, renounce conflicts and achieve peace."