Pan-European Peace Forum Advocates European Leaders' Support for Peace in Korea
European experts and South Korean peace activists voiced their support for the peaceful reunification of the Korean Peninsula at the "Pan-European Peace Forum" held in Frankfurt, Germany. HWPL organized the event to advocate international cooperation for global peacebuilding and support for the peaceful reunification of the two Koreas.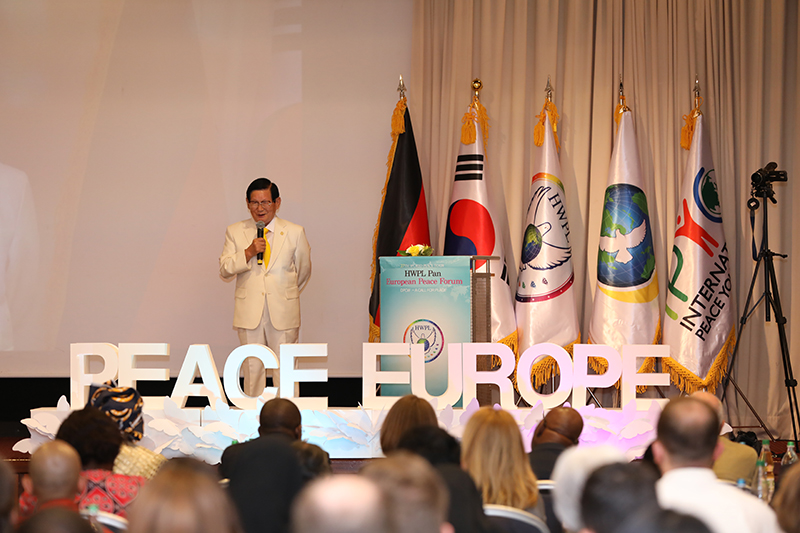 ▲ Chairman Man Hee Lee is delivering speech at the forum
Chairman Man Hee Lee, a Korean War veteran, appealed to all attendants at the forum, "More than anything else, a peaceful world without war would be the greatest legacy to hand down to our children. If a single country achieves peace, it does not mean the world has become peaceful. Peace has to be realized in the entire world. If each person walks on the path towards peace, peace will be accomplished in the global community."
Frankfurt city council member Dr. Manfred F. Welker delivered a speech on the need for civil society's active participation. Recalling the small gatherings in Leipzig that sparked peaceful demonstrations for Germany's reunification, he said that what will bring the two Koreas together is "not just government cooperation but – as we have seen from Nikolaikirche [St. Nicholas Church, Leipzig] – it will be by the collaboration and efforts of the people."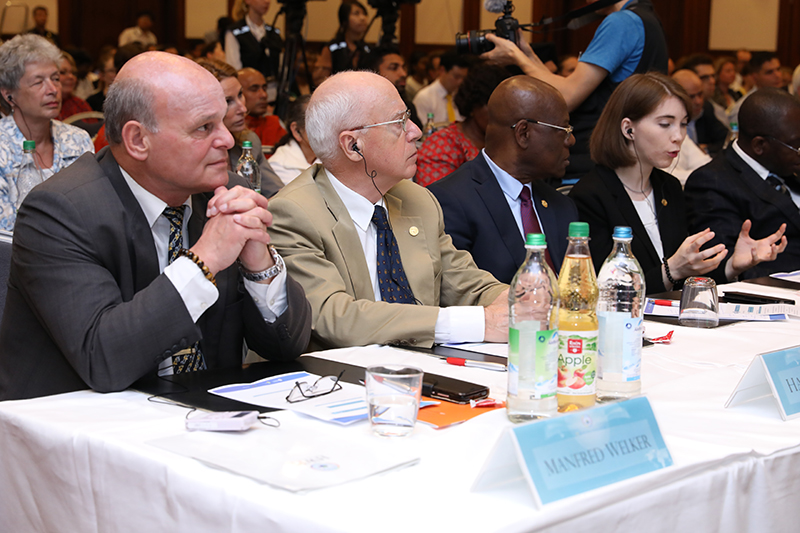 ▲ speakers – Dr. Manfred F. Welker (left side) and Prof. Dr. Hans Kochler (second left)
Prof. Dr. Hans Köchler from Austria, who is president of the International Progress Organization, said the issues of denuclearization and reunification of Korea are mutually reinforcing. He pointed out that the prospect of a reunified Korea will be "the best security guarantee to both the North and the South."
He also maintained that nuclear disarmament should be carried out not only in Korea but also in the rest of the world, saying "there must be no policy of double standards concerning disarmament obligations of states." Dr. Köchler is currently serving as a member of the HWPL Peace Advisory Council, a group of policy makers and experts from civil society for advancing peace in the international community.
At the end of the event, Dr. Welker presented to the HWPL delegation a Letter of Support for the peaceful unification of the Korean Peninsula and global peace. As in line with its advocacy campaign for global peacebuilding, HWPL is collecting these Letters of Support from individuals all around the world, from state officials to civil leaders, with the aim of sending them to the leaders of two Koreas.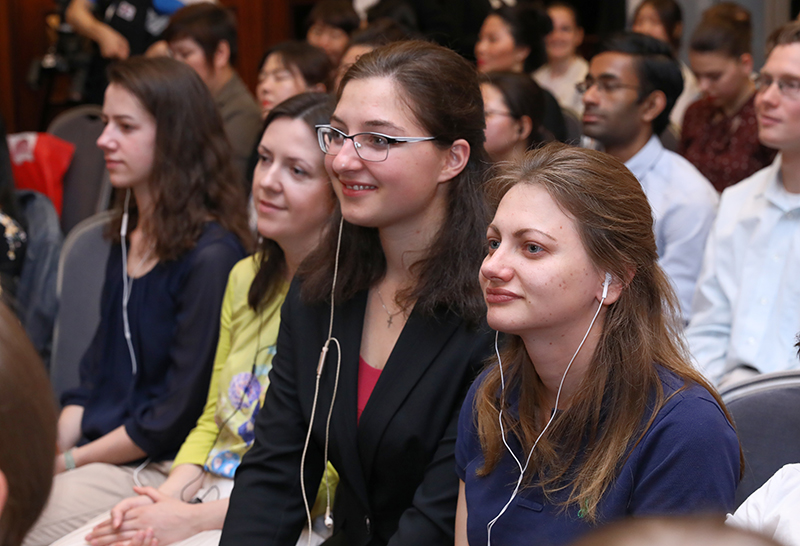 ▲ Participants are listening to the speeches