Peace Forum on International Cooperation for Stability Held in Kyiv
Social representatives advocate the DPCW for international peace-building and reconciliation of the Korean Peninsula and Ukraine
Attended by 200 participants, a peace forum on the subject of "The Way to Unity of Society and Peace in the World" was held to discuss the solutions for conflicts and the consolidation of society in Ukraine, as well as around the world, at the Ukrainian House in Kyiv. An international peace NGO affiliated with UN ECOSOC, Heavenly Culture, World Peace, Restoration of Light (HWPL), and other non-governmental organizations of Ukraine, including the International Spiritual and Moral Civilization Movement, the Women's Union of Ukraine and the Volunteer Foundation of Ukraine, participated in this forum held on May 10.
Starting with the song "Request to Heaven" performed by Anastasia Baginska, Ukraine's representative at the Junior Eurovision Song Contest, the floor was then open for representatives of various sectors of society such as politics, religions, education, and media in Ukraine to give addresses on the importance of peace-building measures, particularly that of implementing an international law for peace.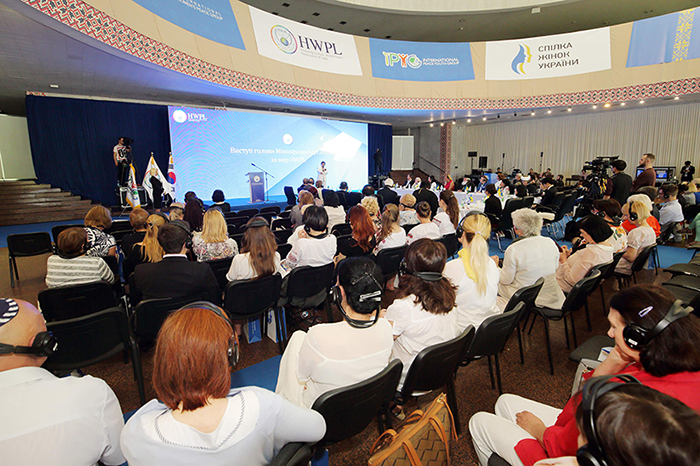 ▲ 200 people including political and religious leaders, women's and youth organizations participated in the forum
Chairman Man Hee Lee of HWPL emphasized the importance of realizing the value of peace, stating "The entire global family must achieve peace and leave peace as a legacy for future generations. In the wake of various global conflicts, we must not be divided but be united hand-in-hand. We must make every effort to achieve peace – not saying it only with our lips but actually making it a reality."
Supporting the Declaration of Peace and Cessation of War (DPCW) as a legally binding document at both national and international levels, a head of the Women's Union of Ukraine, Leokadiia Gerasymenko, explained "The Ukrainian Women's Union supports and gathers the voices pleading with the UN to adopt the DPCW and help establish an international peace law on planet Earth."
The DPCW was drafted by HWPL and experts of international law to propose solutions to global peace and address principles of conflict resolution and international cooperation for peacebuilding such as respect for international law, peaceful dispute settlement, and the spreading of a culture of peace.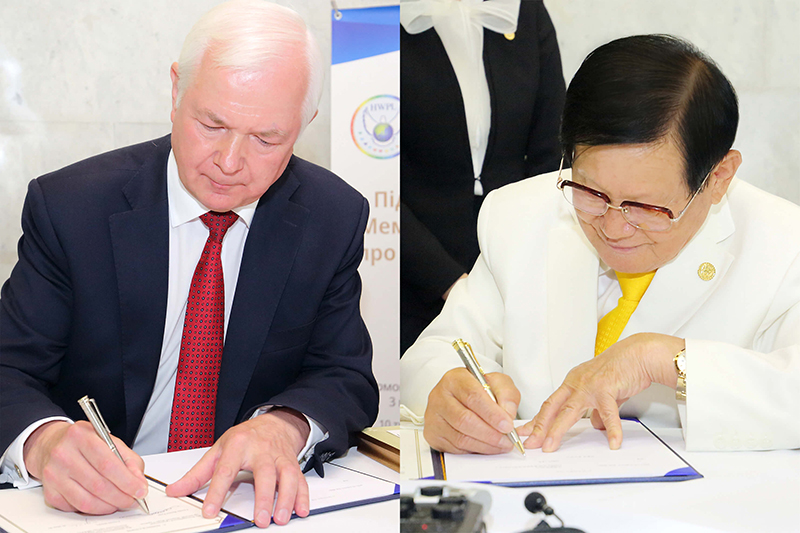 ▲ The head of the People's Assembly of Ukraine(left) and Chairman of HWPL(right) signed an MOA
At the forum, the chairman of HWPL was honored with the "Freedom and Peace to the Universe from Ukraine" by the head of the International Foundation for National-Patriotic Unity and Spirituality. In addition, HWPL and Ukrainian NGOs including the International Spiritual and Moral Civilization Movement and the People's Assembly of Ukraine signed an MOA to expand further peace activities to advocate the DPCW for international peace-building and reconciliation of the Korean Peninsula and Ukraine.