Peace Messenger in Our Time – Didier Drogba
Soccer — a sport that generates massive enthusiasm among the people as they discuss about the games taking place each week, and one that even allows people from all around the world to gather together every four years. The pass that lands directly in the path of the striker's foot, the explosive rally and finally the ball evading the goalie's outstretched arms and entering the goal, causing both the players and fans watching to tremble and cheer for the successful score.
It was exciting events such as these that allowed soccer to create a miracle that was able to establish peace within a country at war. The protagonist of this unprecedented event was the hero of Chelsea, English Premier League (EPL) striker Didier Drogba, who is considered as the best striker of the 20th century from the African continent. He was a participant for Chelsea in the Premier League 06-07 and 09-10 seasons and had additionally scored eight goals during the 2006 World Cup qualifier match in Germany. Drogba became the main character that led during the World Cup finals for the first time.
It was at the same time, however, that the people of Cote d'Ivoire faced a miserable reality. In 2002, religious conflicts between Catholics and those practicing Islam led to a brutal civil war that separated the country, resulting in the deaths of thousands of people and a massive number of refugees that reached around 700,000 people.
It was then that the miracle of Cote d'Ivoire, which had been split as the result of the fierce civil war, took place during the final match of the World Cup qualifier. With the victory of Cote d'Ivoire, defeating Sudan 3:1, Drogba and his teammates knelt to the ground in front of the camera that was streaming live all over Africa. With an emotional speech, he appealed to both sides to stop the war for even just one week.
"Today, we beg you, on our knees… Please lay down your weapons, hold elections, all will be better. We want to have fun, so stop firing your guns.".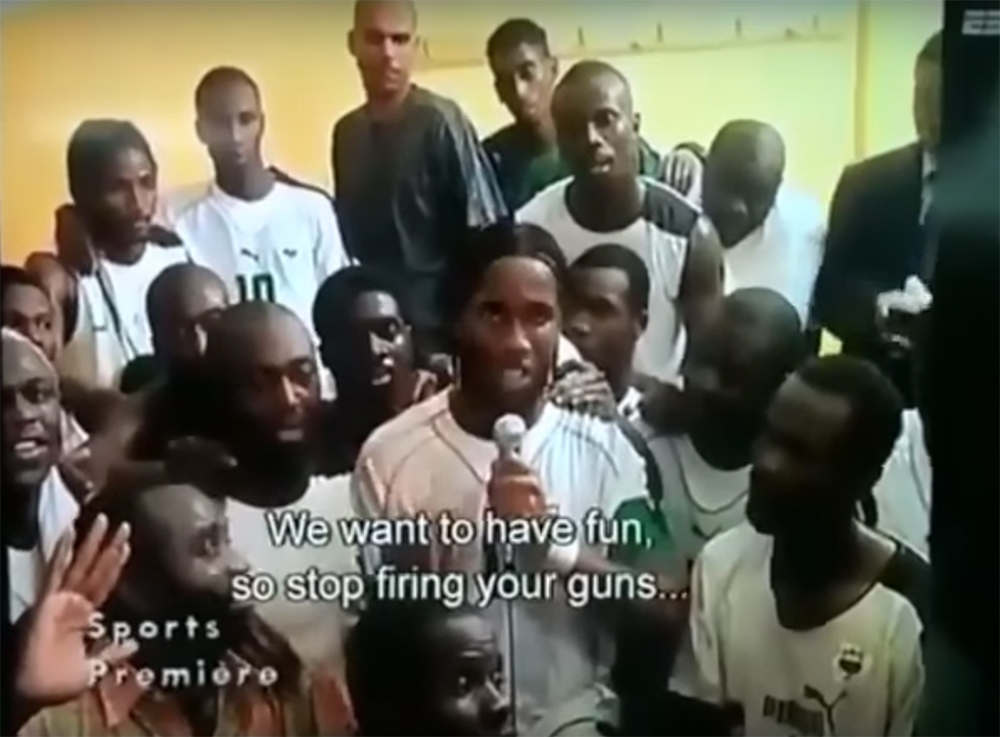 (image from ESPN team interview)
In front of his sincere, pleading voice, the hearts of the people were moved, and both the government and the rebels put down their guns. The civil war that had been raging for four years finally came to an end and the beginnings of peace were witnessed. Despite the failure to advance to the 16th round, Drogba's appeal and efforts in regards to peace were very fruitful, and in 2007 the government and rebel group signed a major peace treaty.
However, achieving peace is not something that is only possible for influential individuals to accomplish. Since the damage caused by war is something that only I can truly bear along with those around me, I can become a messenger of peace and make a change. In fact, HWPL is a volunteer group that has been formed from such individuals who have a sincere heart for peace. HWPL is aimed at resolving disputes through dialogue rather than violence and is in the process of enacting an international legal instrument that covers even the smallest seeds of war. For this purpose, it has been working for many years and has gained the support of citizens from around the world who have been actively participating in the many peace initiatives held. "Let us all become messengers of peace and leave peace as a legacy to future generations."