Progress Report on the Legislate Peace Campaign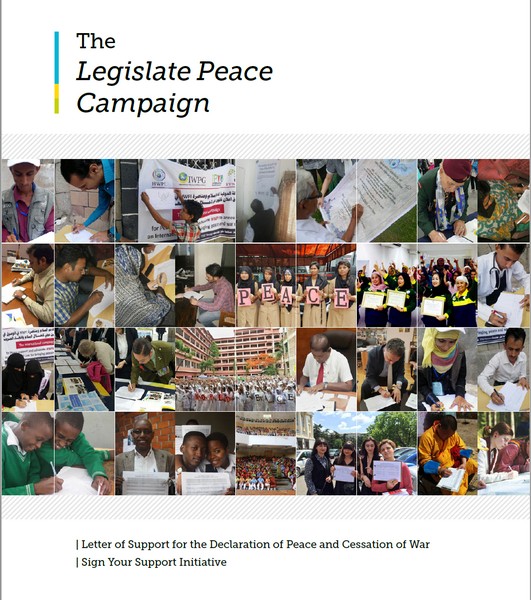 Legislate Peace Campaign is a global peace advocacy movement which aims to bring all wars to an end and promote peace as a culture by establishing an enforceable law compatible with the Declaration of Peace and Cessation of War (DPCW).
It was launched as a campaign to collect signatures of support all around the world after the Declaration of Peace and Cessation of War (DPCW) was first proclaimed on 14 March 2016.
As of first week of July 2016, over 500,000 people from 166 countries signed in support of the Campaign.
1. Inauguration of the HWPL Peace Advocacy Committees
After the proclamation of the DPCW, the HWPL Peace Advocacy Committee was formed to encourage support for the DPCW from the local citizens around the world to effectively materialize legislation of peace based on the DPCW. Currently, the committees have been inaugurated in 33 countries.
By raising awareness in civil society through peace-related seminars, peace-walk events, media coverage and social networking services, elaborating the support for the DPCW and consolidating the efforts into the formation of legal foundation are underway.
2. Peace Walk Events
On May 25, Peace Walk as a support for the DPCW by voluntary participation from the local citizens was held at 105 sites in 52 countries. All the activities during peace walk were oriented toward promoting and receiving signatures of support from both the public and government officials. At the start of Peace Walk, a wide array of performances by volunteers captivated the eyes of those passing by the streets.
Upon hearing about the campaign, many ended up joining the peace walk. Booths were also set up with posters and promotional materials to educate, promote and receive the signatures of support for Legislate Peace Campaign.In the end, peace walks served as a means of reaching out to neighbors in a non-violent manner.
3. Flashmob
A group of passionate youths prepared spontaneous and yet vibrant flash mob in a shopping mall in Tbilisi, Georgia. It was one of first attempts to promote the DPCW as one of popular culture forms, flash mob.
It served as a platform that attracted much public gaze and further promoted the Legislate Peace Campaign. This flashmob triggered a handful of following activities that are inspired by the concept of peace and promote the DPCW.
4. Art and Writing Contests, and Peace Song
When it comes to art and music, youths are naturally talented at expressing their understanding of the concept of peace. This platform engaged youths to freely make art pieces and sing peace songs inspired by visions and objectives of the DPCW. They are also powerful tools to deliver messages of peace to people across different ages, cultures, ethnicities and religions.
Youths and women in Hong Kong, India and Mongolia were the first ones to expand the boundary of promoting Legislate Peace Campaign. Some of their best mural paintings, glass paintings, and poster drawings are exhibited in and around school hallways to remind everyone that peace is no longer an out of reach goal.
5. Peace Education and Seminars
Peace education and seminars serve to strengthen understanding and cooperation for peace building environment with the hope of achieving sustainable and universal peace. It is the most common platform taking place in schools, universities, and town halls organized by the committee members to educate and empower attendants to sign their support.
The peace education and seminars aim to empower women and youth as strong proponents of peace.
The Legislate Peace Campaign has been actively receiving the signatures of support from both public and government officials. At the center of the campaign were members of the HWPL Peace Advocacy Committees and others who have relentlessly dedicated their time and efforts to educate and promote Legislate Peace Campaign. We'd like to take this opportunity to thank the volunteers who made it possible to take its first leap.
To take a greater leap for the campaign, we recognize the significance of collaborating more actively with civil societies and organizations. With this in mind, we'd like to invite all of you to work together to leave sustainable and universal peace as a legacy for future generations.
Let us Legislate Peace. Sign Your Support.