Religious Peace Network 2022, Pakistan, Albania
 On December 17, 2022, at 14:00 and 22:00 Korean time, the "Religious Peace Network 2022" event was held in Pakistan and Albania, respectively. These two events were attended by not only ordinary citizens from Albania and Pakistan but also religious leaders from various countries who are attending the HWPL WARP Office.
A religious peace network is an attempt to build a common front for the harmony and peace of religious leaders around the world. At the Religious Peace Network seminar, we will take a look at the situation of religious peace in a particular country or region. If there is a successful case of religious peace, we will share it and learn from each other. On the contrary, if there are large and small religious conflicts, we would like to share this situation as well, and send a message of religious harmony through dialogue. Seminars within the Religious Peace Network can be used to deliver specific messages of peace that are linked to the real situation of that region.
Religious Peace Network 2022 Pakistan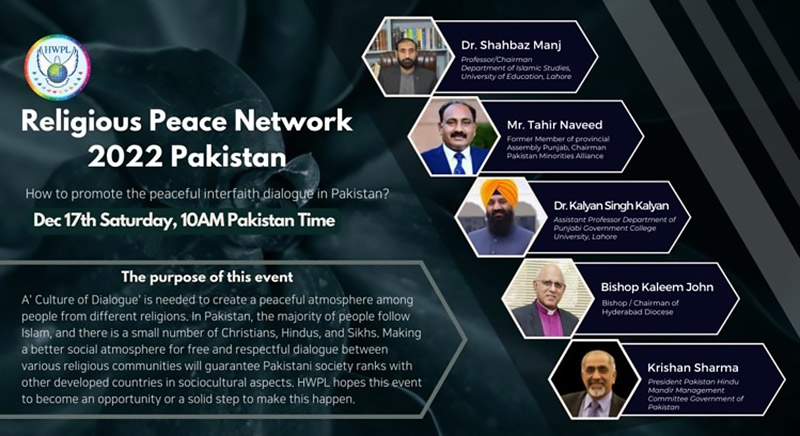 Pakistan, which was originally a united country with India, gained independence from England in 1947, and became its own sovereign country, predominantly for religious reasons. Since Pakistan is an Islamic republic, the human rights violations of minority religious people by Muslims, who occupy the absolute majority, have often been witnessed and are emerging as a social issue.
Although Pakistan is an Islamic republic, not only Muslims but also Christians, Hindus, and Sikhs are living in it, forming communities. The heads of each religious community interact with each other and communicate based on understanding and respect. However, ordinary citizens have not yet reached the level of consciousness that they must respect and understand each other.
At the Religious Peace Network 2022 Pakistan event, high-level figures from the Muslim, Christian, and Sikh communities met and had a conversation on the topic of "How to Promote Peaceful Interfaith Dialogue in Pakistan." Dr. Shahbaz Manj, the head of the Department of Islamic studies at the Lahore University of Education, Pakistan; Tahir Naveed Chaudhary, a lawyer and president of the Pakistan Minority Association (PMA); Dr. Kalyan Singh Kalyan, Professor of Government College University, Lahore; and an audience of 70 members from Pakistan and South Korea also joined the event.
Dr. Shahbaz Manj, who serves as the head of the Department of Islamic studies at the Lahore University of Education said, "Pakistan came into being on the basis of the ideology of Islamic teachings but it does not mean that Pakistan is only for Muslims," and he also said that they should be respected.
"I know that HWPL continues to do great peace work, such as the case of peace in Mindanao, Philippines," said Tahir Naveed Chaudhary, the president of the Pakistan Minority Association (PMA). "I think because HWPL has a solid document like the DPCW, they can continue to do great peace works. Following this document is the way to create a culture of peace in Pakistan," said Mr. Chaudhary.
HWPL emphasized that "A culture of dialogue is needed to create a peaceful atmosphere among religions, and free and respectful dialogue between various religious communities will guarantee Pakistani society ranks with other developed countries in sociocultural aspects," and all speakers agreed with it.
The three speakers agreed that interreligious dialogue in Pakistan should be much more active than it is now. In 2023, we decided to promote interreligious dialogue in Pakistan with more people.
Religious Peace Network 2022 Albania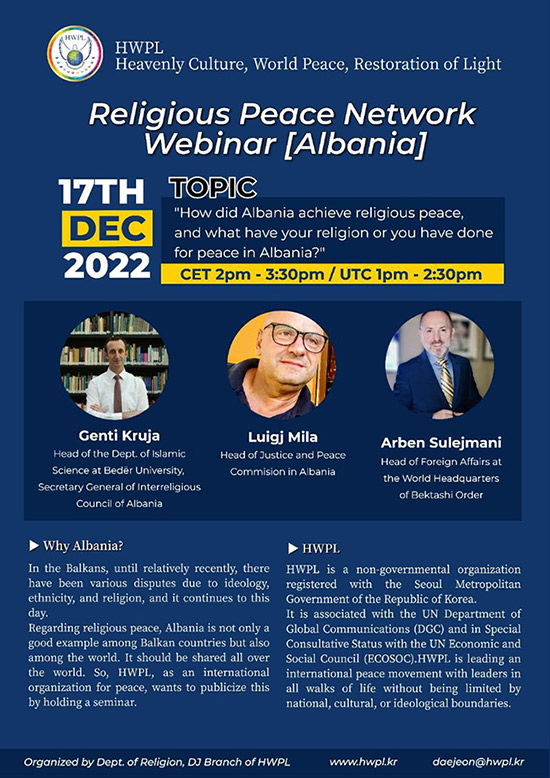 The Balkan Peninsula, where Albania is located, is a place called the powder keg of Europe. Historically, it is a region where the East and the West have met and many peoples, cultures, and religions have been intertwined and war has never ceased. Ethnic and religious conflicts continue to this day. However, despite its location in the Balkans, Albania has maintained interreligious peace. At the "Religious Peace Network" event, high-level figures from the Albanian religious circle were invited to share the secret. Seventy-five audience members from Albania, Croatia, Portugal, USA, and more participated in the event.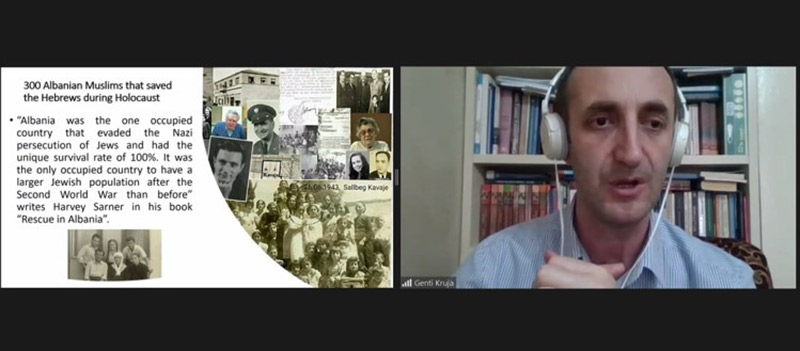 Dr. Genti Kruja, Secretary General of the Interreligious Council of Albania (IRCA) said, "In many urbanized societies, interfaith conflicts are a major problem in many phases such as, social and political, religious and psycho-cultural. The Albanian religious tolerance that has been built over the centuries must be conserved and maintained in the future inside the people's inherited mentality."
He also gave concrete examples of how five religions (Catholicism, Orthodox, Judaism, Sunni Islam, and Bektashi Islam) have historically created a culture of peace in Albania. Audiences were greatly surprised to learn that during the Nazi occupation, people of other religions helped the Jews, and it made Albania become the only country with a larger Jewish population than before the outbreak of World War II.
Luigi Mila, Head of Justice and Peace Commission of Europe said, "The strengthening of relations should come naturally through contribution, cooperation, and mutual respect," and deeply sympathized with the purpose of HWPL, which emphasizes the value of interreligious dialogue. Arben Sulejmani, Head of Bektashi Community in North Macedonia said, "Albania had a difficult time under Communism, but we rebuilt our country through religious harmony, peace, and national unity. We always help our neighbors and do the best we can for them."
Unlike other countries with a mix of Croatian, Bosnian, and Serb populations, Albania has a relatively high proportion of ethnic Albanians. Also, Muslims account for the majority. Therefore, Albania's case may be so unique that it cannot be applied to other Balkan countries. However, the culture of tolerance and dialogue between religions does not have to be determined according to specific conditions but has an absolute value that precedes all situations and conditions. All participants at the Religious Peace Network 2022 Albania event also agreed with it.
In 2023, Religious Peace Network seminars will be hosted in other Balkan countries. At this time, the three presenters decided to actively cooperate to help bring a culture of religious peace to the Balkan region.