South Korean Peace Activist Visits Sweden to Advocate Global Peacebuilding and Stability in the Korean Peninsula
Efforts of peace and stability in the Korean peninsula have been facilitated by the inter-Korean summit, which is to be followed by the highly anticipated North Korea-US summit in Singapore scheduled for June 12. Exchanges and communication between the two Koreas suggested by the Panmunjom Declaration are expected to be on the rise across civil society groups as part of the peacebuilding process.
HWPL also hosted peace events in Sweden. As part of a peace tour around Europe, the delegation of HWPL led by Chairman Man Hee Lee visited the country for four days starting from May 13.
Religious Dialogue for Peace
On May 14, the "Religious Leaders Conference" was held with participants from Buddhism, Christianity, Islam and Hinduism to discuss the further development of inter-religious dialogues for peacebuilding. Through the "World Alliance of Religions' Peace (WARP) Offices", with 218 locations in 124 countries, HWPL has carried out this peace project to find the role of religion in peacebuilding through comparative studies on scriptures conducted by religious leaders who can become "bridge-builders of peace", considering the recent phenomena showing that today's conflicts are caused to a large degree by a lack of ethnic and religious understanding.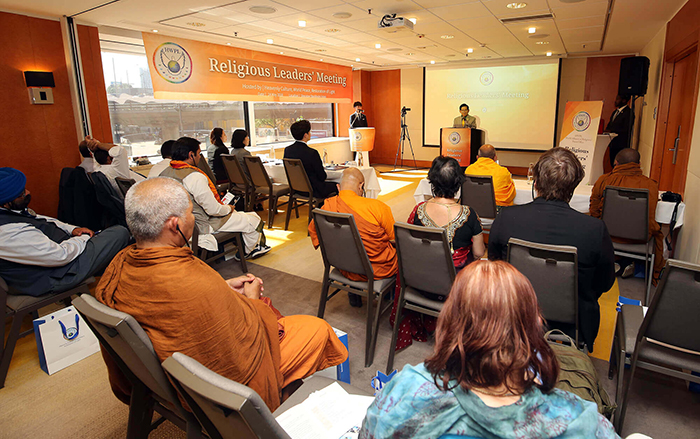 ▲ Buddhist, Christian, Muslim, and Hindu religious leaders attending the Religious Leaders Conference
"Everything that religious leaders discuss at the WARP Office must clearly be based on what is written in the scripture, which needs to be comprehensively analyzed and studied for the true alliance of religions. We have to gather all religious scriptures and work to define a trustworthy scripture with a legitimate standard. The word is invisible, but it does a lot of work. Scriptures play a significant role in the alliance of religions," said Chairman Lee.
During the event, exchanges between youth coming from different religious backgrounds were proposed. HWPL is currently hosting Religious Youth Peace Camps globally as a means of developing interfaith reconciliation, so young people can experience peace as a common value permeated in all religions. Starting with Cambodia in April of last year, the camp was later held in India, Lithuania, Myanmar, and the Netherlands to assist the youth in learning about the culture and spirit of different religions.
As a special session, a signboard hanging for a peace library open for students in Myanmar to raise awareness of peacebuilding was officially offered by Ven. Ashin Htavara, Abbot of Yatanaraungmye Monastry in Norway who visited Sweden for this event.
Giving Thanks to Swedish People from the Korean Youth
Organized by the International Youth Peace Group (IPYG) affiliated with HWPL, the "Positive Change for Tomorrow" was held at the Nobel Museum on May 15. This event was organized to recall the history of peaceful exchanges between Korea and Sweden, from the time when the Swedish Red Cross Field Hospital was dispatched during the 1950s Korean War to the Neutral Nations Supervisory Commission (NNSC) in 2018, and to urge the youth of both countries to cooperate for the realization of world peace.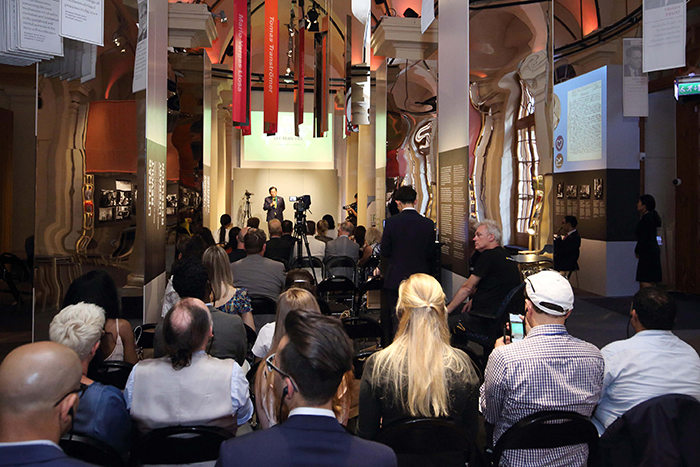 ▲ The chairman Lee of HWPL is giving a speech in the 'Positive Change for Tomorrow' seminar held at the Nobel Museum
First of all, Prof. Carl-Henrik Heldin, Chairman of the Nobel Museum in Stockholm delivered the congratulatory message, "It is Nobel's spirit that makes the advancement of mankind's skills in science, literature and medicine contributes to a better world. Sweden and Korea, and further the vision of IPYG working for peace are synonymous with the spirit of Nobel. I hope that this event will be a great opportunity to bring peace on the Korean peninsula."
There was also a technical commentary on the special peace exchanges between Korea and Sweden. Prof. Gabriel Jonsson, an associate professor of Stockholm University (Asia, Middle East, Turkish Department, Korean language), addressed in his speech that "Since the ceasefire of the Korean War, Sweden has taken the leading role as the Neutral Nations Supervisory Commission (NNSC) located at the border of the two Koreas, the Joint Security Area (JSA) of Panmunjeom where the South-North Summit was held last month, including a touching episode at the Swedish Field Hospital."
Mr. Man Hee Lee of HWPL expressed his gratitude to these Swedish efforts and noted that Sweden as a neutral country and the Republic of Korea as a ceasefire country should cooperate more for the sake of peace in the world. "Who can bring about peace while we stand still? By putting an end to war, a world of peace can be established. It is our responsibility to establish a world of peace as a legacy for future generations, which is the very task of every one of our global family members."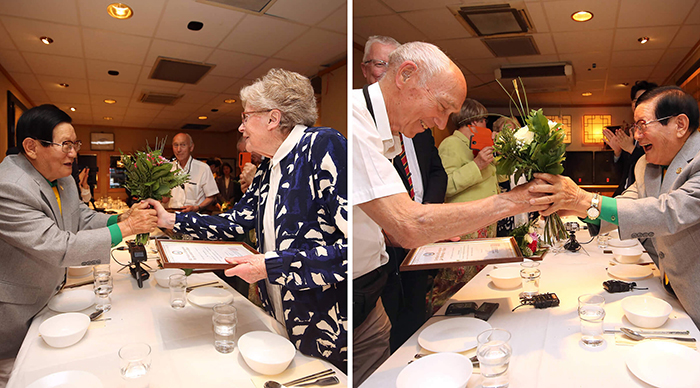 ▲ The Korean war veteran is giving a testimonial to the bereaved family of the swedish medical team. 6.25