The meaning of 1.24 HWPL Peace Day and the influence of the Development of Peace Education on Society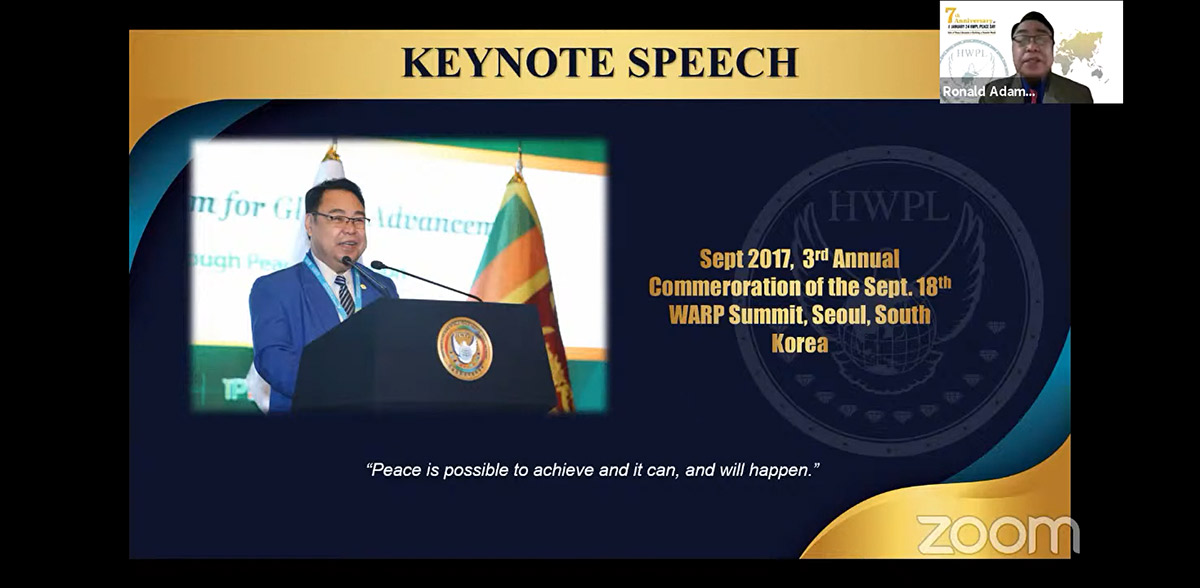 Chairman Man Hee Lee,  John Rommel Garces, HWPL officials, members and staff, Our Distinguished Guests, Ladies and Gentlemen, a warm welcome to everyone from the Philippines, greetings of Peace and Mabuhay!
It is my great honor to take part today in another historic event in World Peace Education. Thank you Heavenly Culture, World Peace, Restoration of Light, I am humbled for the invitation to speak on the 7th Anniversary of the January 24 HWPL Peace Day celebration.
Time flies so quickly, my spirit of hope is high, it begun a few years ago on September of 2017, as a Commissioner I had the great opportunity to represent the Commission on Higher Education of the Philippines during the 3rd Annual Commemoration of the September 18th World Alliance of Religious Peace (WARP) Summit in the capital of peace, Seoul, South Korea.
The peace summit had been attended by respectable and high profile leaders from around the world who have exchanged knowledge of their best practices and experiences. I was lucky to join with all these participants and bring home hope on World Peace through education and the relevance that can be achieved using small steps of inculcating to our children and youth how peace works using our classrooms.
Now, we know that peace is possible to achieve and it can, and will happen.
My friends, we owe these efforts and tireless dedication to the Messenger of World Peace, the Heavenly Culture, World Peace, Restoration of Light also known as HWPL who organize summits and peace talks in the spirit of Renunciation and Cessation of wars and international armed conflicts through Peace Education.
HWPL has been carrying out these three main peace initiatives:
• the International Law for Peace
• Inter-faith Dialogue Meeting
• and Peace Education.
Going back to the year 2014, a messenger of peace had intervened and hosted a Peace Agreement Ceremony to bridge the gap between our Catholic and Islamic leaders in Mindanao. HWPL Chairman Man Hee Lee visited the Philippines and urged our local leaders to negotiate a Peace Agreement. Mindanao, a land that had suffered from a 40-year conflict, had finally settled the long time disputes in the region.
Chairman Lee hosted the Peace Walk in the downtown area of General Santos on January 24, 2014, seven years ago today.
After the Mindanao peace deliberation between Fernando Capalla, the representative of the Catholic church, former Archbishop of Mindanao-Davao and Esmael Mangudadatu, the Islamic representative and governor of Maguindanao and Islamic Autonomous District in Mindanao with HWPL Chairman Man Hee Lee., who joined the event, transcending the boundaries of religion and nationality for the first time in this region. Peace then came to Mindanao.
A monument of peace was then erected in the region, which all of these contributed to the Moro Islamic Liberation Front (MILF) handing over their weapons to the government, and festivals of peace are continuing.
World peace can be achieved through the implementation of the international convention and the unity of religions. In order to continuously spread HWPL's peace initiatives across Mindanao, the Moro Islamic Liberation Front (MILF), through the leadership of Chairman Al-Haj Murad Ebrahim, who is now the Chief Minister of Bangsamoro Autonomous Region in Muslim Mindanao, established the 2nd HWPL peace monument in Camp Darapanan and confirmed January 24th as the HWPL Day of Peace.
Since then, January 24th has become a significant day for the global family of peace of HWPL.
Now, more than ever my life's passion on educating people and changing lives through peace became more apparent to me. I felt that I have to do more to help change the outlook of our future.
With this in mind, as an educator and a peace advocate, I did not waste any time. The following year on January 23, of 2018, as a Commissioner of Commission on Higher Education (CHED) of the Philippine government, I instigated and signed a Memorandum of Agreement with HWPL, an affiliate with the United Nations Economic and Social Council, to teach university students a spirit of peace and train them to be messengers of peace.
In reflection to my thoughts that day during the signing of our agreement I remember, and I will quote myself … "Children easily imitate war through toys like war weapons, but they don't know how to play and imitate peace. Promoting peace education through the CHED will affect many Philippine educational institutions and play a crucial role in promoting peace in the Philippines."
As a man of peace, I have contributed significantly in the timely issuance, seven months after concluding CHED and HWPL Memorandum of Agreement an initiative to integrate peace education and indigenous peoples' studies into the tertiary curricula. Successfully, on August 7 of 2018 through the Commission on Higher Education, CHED Resolution Number 435 and 436 respectively.
The Commission on Higher Education have finally issued CHED Memorandum Order No.1 Series of 2019, which is the 'Integration of Peace Studies into the Relevant Higher Education Curricula'. And that shall be implemented amongst state universities and colleges, local universities and colleges, and private higher education institutions across the Philippine archipelago.
This aims to broaden the reach of the integration of peace studies and education with its nationwide implementation. The curricula integration will enable students and teachers to advocate peace with structured training.
While, the Integration of Indigenous Peoples (IPs) Education into the relevant higher education curricula to provide knowledge about indigenous peoples' culture. With this curriculum the students and educators will be made aware of Indigenous Peoples culture and rights and will be able to understand cultural diversity.
HWPL's Philippine branch have plans to build partnerships with every school in the Philippines, in doing so teachers and mentors can be properly equipped with the right techniques and approach to peace education.
HWPL hopes that peace education is implemented throughout the Philippines and the citizens of peace are trained so that peace can be established as soon as possible. This initiative by the way, my friends, will have absolutely no training costs whatsoever for the schools.
Inspired by World Peace Education I never stop thinking of ways to spread and disseminate peace education, how to work effectively hand in hand with the help and support of the thousands of people volunteering and clamoring for peace.
Through my initiative, VIP – Volunteer Individuals for Peace, has been created and became the partner peace organization of HWPL in the Philippines and composed its theme song entitled "We Are One." The grand launching of VIP, which was attended by Chairman Man Hee Lee kicked off successfully at the Philippine Sports Stadium, in Bulacan, on the bright sunny day of February 15, 2019. The launch with its theme: "We are One for Peace to attain Sustainable Development" coincided with the nationwide peace movement throughout the country's state universities and colleges.
This event was attended by at least 30,000 people, mostly local youth and international peace activists. Overwhelmed with the incredible participation I would like to share with you a relevant peace education quote that I authored "Peace education raises our youth to become peacemakers – the much-needed values the youth as future leaders must have to effect change for world's positive transformation."
I can't help but notice where you can see over the years how the youth have actively joined in many organized events promoting peace just like this one. These young people will actively participate on the front line of the peace process, but not with guns. Youth will fight for peace but are not given yet enough skills and understanding or opportunity to talk for peace.
I whole heartedly support HWPL Peace Education, it raises the awareness of our youth to become peacemakers – the much-needed values the youth, as future leaders, must have to effect change for the world's positive transformation. Our children need to be educated on how Peace building works effectively.
I quote myself…
"Peace is a great asset. But peace resulting from suppression is injustice." A more active approach uses education as a means of creating a more stable and peaceful culture.
The concept of diversity supports acceptance and respect. It requires an understanding that each individual is unique, and recognizes that every person is different. These could include race, gender, sexual orientation, socio-economic status, age, physical abilities, religion or political beliefs. The exploration of these differences in a safe and nurturing environment brings about a better understanding of each other.
May I quote myself with one of the quotes I have written in my book and soon to be published entitled "100 and More Inspiring Quotes to Live By". "Imagine how close to perfection this world could be, if there is peace and there is development… Education can make it happen". That is why I am here. Through education, the building of a truly peaceful world can one day become a reality.
As I have expressed in my peace talks before, and I take the liberty of quoting myself, I say…"Peace is as sacred as life, because peace provides the right condition and environment where life could grow, blossom, and prosper."
With the help of HWPL, CHED and the Volunteer Individuals for Peace (VIP) our education will equip every child with peacemaking and communication skills, identify conflicts and create mediation action plans. It will give them tools for interacting with respect, trust, kindness and non-violence with others.
The "Role of Peace Education in Building a Peaceful World" is our guide to building a better tomorrow for our children to live in. Our dream, together hand in hand, we can achieve!
Mahatma Gandhi once said, "If we are to reach real peace in this world we shall have to begin with the children."
As a servant of World Peace and educator, I will author and seek for the approval into law to declare January 24th of every year as a National Peace Day in the Philippines, to commemorate this peace education, joyfully celebrate peace and remind the whole world that we are one!
Peace and Development through Education, along with my other advocacies namely; Indigenous Peoples Studies, Federalism, Agriculture and Good Governance will remain my highest priorities.
Inspired with all these, I have composed a song entitled "We Are One" dedicated to all peace makers in the world because I know we are!
I know that – If there is PEACE, there is LIFE: Where…….
In closing, I will vigorously promote "The Role of Peace Education" and wish the greatest of success to the 7th anniversary celebration of Heavenly Culture, World Peace, Restoration of Light! To everyone, I wish you the best of health and happiness. May Peace reign in your hearts!
Thank you, Fiyo Bagi and Meuyag, Best wishes and Mabuhay!
Dr. Ronald L. Adamat
Commissioner of the Commission on Higher Education in Philippines