To Mindanaoans and all members of the family of peace from around the world!
Warm greetings—this is Man Hee Lee, Chairman of Heavenly Culture, World Peace, Restoration of Light (HWPL).
Mindanao has become a world's model for peace, and the whole world is watching you at this hour not as a region once marked with relentless conflicts, but a place of flourishing peace. I sincerely welcome you to the 7th Anniversary of the January 24 HWPL Peace Day for your participation in commemorating such a monumental day in history.
As all of you are already aware, HWPL has been working tirelessly to achieve world peace and cessation of war around the world, going beyond national boundaries, religions, races, and ideologies. Then one day, a Catholic archbishop from Mindanao—a place known then for its decades of conflict and over 120,000 lives sacrificed—reached out to me with an earnest request for HWPL's peace movement to be present in his region. Soon after, the peace messengers of HWPL were sent to Mindanao to lay down the foundation for peace. And finally in 2014, I personally visited Mindanao and hosted peace seminars and peace walks, with students marching alongside me as we shouted for peace together. During my visit, I invited the representatives from Catholicism and Islam to a public event with citizens of Mindanao from various walks of life. I asked the citizens in front of the two leaders, "Do you wish for peace? Or do you wish for war?" Can you imagine their answers? There was not a single person there who wished for war over peace! On that very day, and on that very stage, the two religious leaders personally signed a peace agreement together and promised to fulfill peace in Mindanao.
Mindanaons and the family of peace whom I admire! That was the day peace began in Mindanao. The Mindanao Peace Agreement is a promise for all to become one, transcending one's own religion, culture, language, or ethnic group. The people of Mindanao had been living in conflicts for too long, but they never gave up their hope of seeing their time in peace one day soon. The peace agreement was a confirmation of their shared hope for peace, and to commemorate this important day in history, a peace monument was set up in Buluan, Maguindanao Province in 2015, with a second peace monument set up in 2016 inside the MILF's Camp Darapanan in Sultan Kudarat. And today—January 24th—has been proclaimed, "HWPL Peace Day."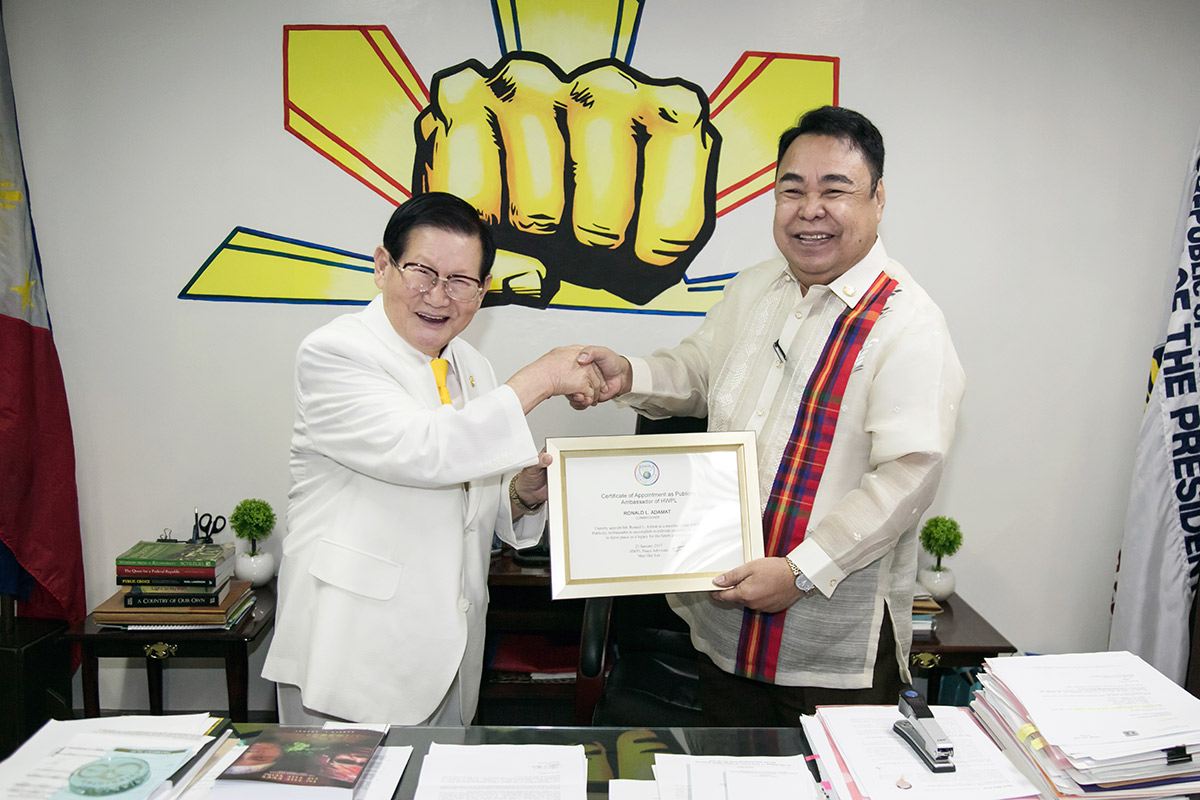 Today, Mindanao is no longer a place of conflict; rather, it has become a model of peace to which the world looks. Once, the people of this region used to point guns at each other—now, they share food together while sitting at the same table, despite their differences in religion and ideologies. Students who were once being trained to kill are now learning the precious value of life and peace through HWPL Peace Education. From here on, Mindanao will forever be remembered for its achievement of peace, and serve the role of giving hope to many who are still living in conflicts.
Family of peace, the citizens of Mindanao—I love you. Let us all become the messengers of peace and fulfill our most valuable duty to love life and blossom peace, as people who are born on this planet of life. Every woman should join the International Women's Peace Group, and every youth should join the International Peace Youth Group. If we work together with one heart and purpose to make peace a reality for all, we can make every war disappear on earth. What will only remain then is peace, which we will proudly pass on to the future generations. On that momentous day seven years ago, HWPL was there to bring out the historic Mindanao Peace Agreement, and we promise to continuously press on at the very frontline of working for peace. Our march for peace will never stop.
Once again, I extend my sincere gratitude to all those in attendance at the 7th Anniversary of the January 24 HWPL Peace Day. My prayers are always with all of you, for your health and security. Thank you. We are one.