We've come to Learn about Peace, Georgia Peace Camp
Instructors and students from Cervantes Gymnasium Aia-Gess, Georgia visited the Republic of Korea between the 14th and 23rd of February to systematically learn about HWPL peace education through a peace camp and experience Korean culture.
The peace camp taught them how the core values of promoting peace from HWPL peace education can be applied in their daily lives. One of the programs implanted in them the heart to cooperate, love, and express gratitude, through which they realized that each one of them should become a messenger to bring peace, which is not far from them.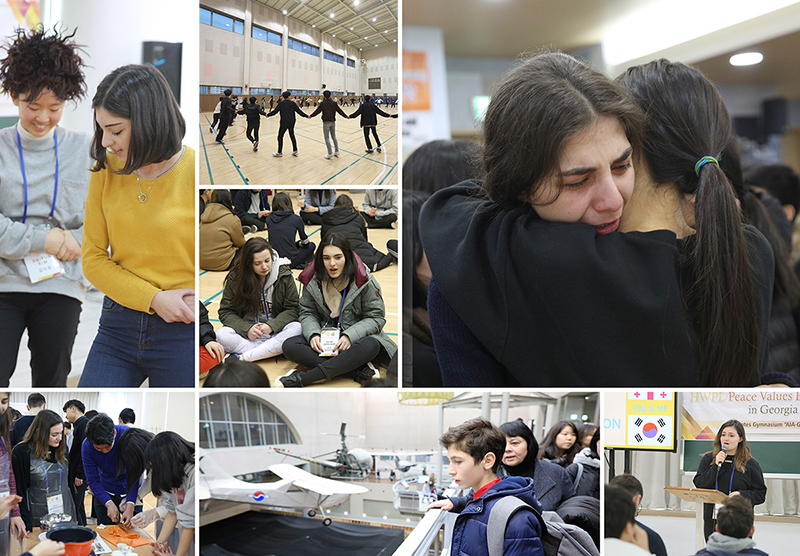 Students from Georgia actively interacted and exchanged culture of Korea. Through the peace education, they have become able to accept differences among people as well as recognize each other as global citizens who ought to live in harmony which were the key elements to end conflicts and disputes.
The students also took time to truly discover the values of peace by listening to the explanation of HWPL's Peace Education. Also, during the time of learning about "mutual cooperation" they were divided into teams and had the opportunity to participate in a variety of sports that required cooperation. In particular, they were able to directly experience the importance of unity through a traditional Korean cultural activity that is similar to tug-of-war. One student in the class emphasized the importance of cooperation by stating, "Today's activity taught us how to love one another, have respect for each other and become one."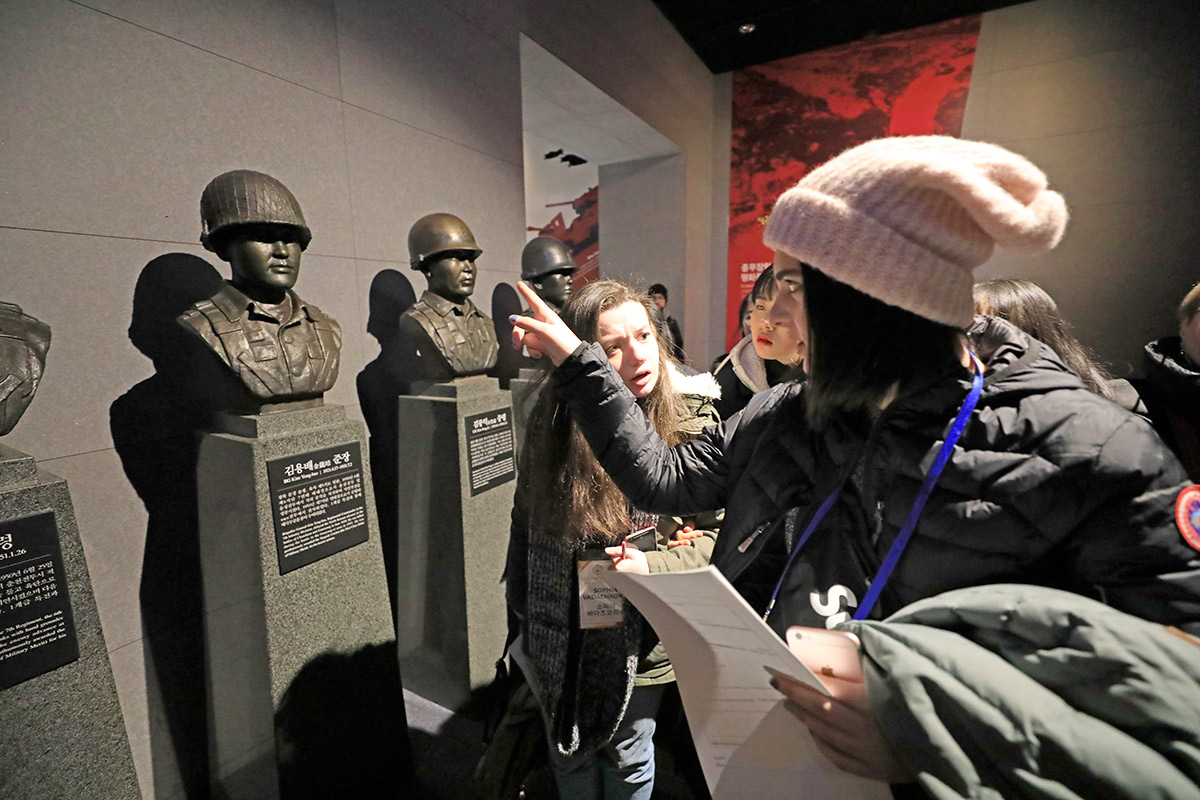 Another field trip took place in the Yongsan War Memorial of Korea. While Georgian students indirectly experienced the brutality of war through the history of the Korean War, Korean students could also share mutual empathy for the tragedy of war with Georgian students after learning about the 2008 Russo-Georgian War.
"I imagined one of our students, the smallest boy who is fourteen-years-old. When I imagined him in the war, it was so hurtful for me," said Mairam Lomauridze, who wanted to share with her peers the true meaning of peace and the heart for peace she felt at the camp after she went back to Georgia.
Food also brought them together. The Georgian and Korean students cooked and shared both the Georgian traditional dessert, Churchkhela, and the Korean traditional food, Bibimbap. They also expressed their grateful heart for their parents and teachers by making carnations at the session.
On the last day of the camp, a 'Mini WARP' was organized, modeled after the WARP Summit which takes place every September with the leaders of each sector of society hosted by HWPL. Performances choreographed to express the sincere heart for a peaceful world without war deeply touched the Georgian students. They took solidarity in working together in the hope of bringing about world peace when they go back home.
Rusudan Bolkvadze, Director of Cervantes Gymnasium Aia-Gess and instructors including Darejan Lordqipanidze and Tamar Lolishvili were designated as peace education instructors who could actively implement HWPL peace education. Tamar Lolishvili, English teacher of Cervantes Gymnasium Aia-Gess, who has closely communicated with HWPL, highlighted the importance of peace education, "We must teach our students to take care of the world. They can't do anything without knowledge. I am against wars…against fights. The best tool in this case is education."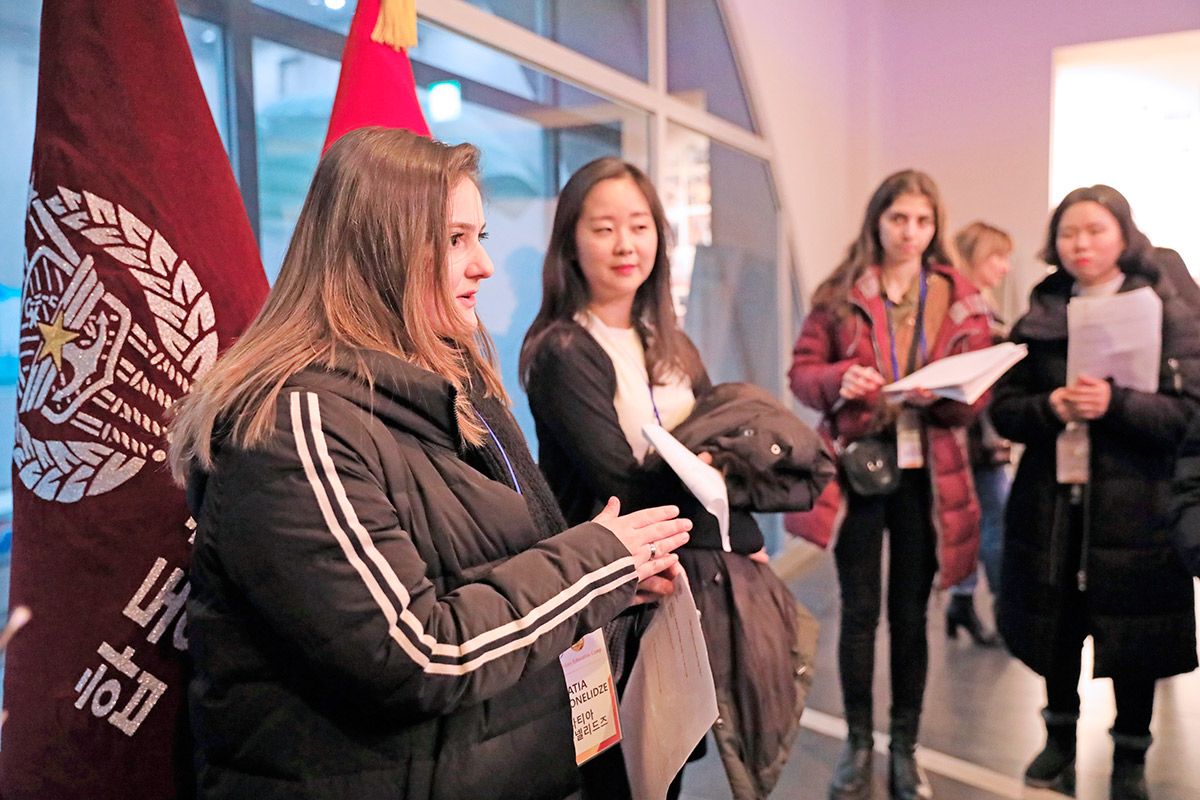 The instructors also promised to teach their students to become peace messengers through special lectures in Georgia. Students promised to take the responsibility of spreading and teaching the core values of HWPL peace education, such as understanding, respect and cooperation, to other student organizations.
After they returned, instructors and students continued teaching the core values of peace based on HWPL peace education curriculums.